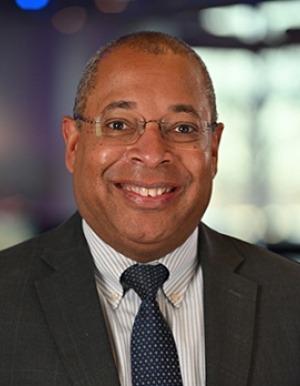 Chief of Operations, The Leadership Compass
Biography
Dr. Jones is the recently retired president of the Technology Services Sector for Northrop Grumman and a former member of the company's Corporate Policy Council where he led a $4b organization of more than 13,000. He was responsible for supporting a diverse customer base, including: the U.S. departments of Defense, Energy, Homeland Security, State and Interior; NASA and the U.S. Postal Service.
Dr. Jones also directed and oversaw engineering, technology development and integration into aircraft, avionics and other aerospace systems for the U.S. Army, U.S. Air Force, U.S. Navy, Royal Air Force and Royal Australian Air Force. His organization supported more than 60 major subsystems and different type-model-series of aircraft, including bombers, fighters, unmanned aircraft, helicopters, electronic aircraft, cargo and refueling aircraft and commercial-derivative aircraft.
Dr. Jones was instrumental in the airborne early warning and battle management command and control, where he was responsible for all U.S. E-2 Hawkeye support and international E-2 Hawkeye programs. He provided technical leadership during the aircraft design, development, production and fielding, and was a key member of the technology insertion and integration teams.
Prior to joining Northrop Grumman, Dr. Jones worked at Sikorsky Aircraft Corporation, where he led analysis, flight tests and research on innovative rotorcraft technologies. He was Sikorsky's technology lead on the RAH-66 Comanche helicopter program and served as chief systems engineer for the Naval Hawk program.
As an active duty Air Force officer, he worked as a systems analyst at Wright-Patterson Air Force Base, where he performed analysis on foreign ballistic missile and space systems. He was a member of the Connecticut Air National Guard for 14 years, and participated in military deployments, including Operation Noble Eagle and Operation Enduring Freedom.
Dr. Jones serves on the Board of Directors for the Norfolk Southern Corporation, the Board of Visitors for the University of Maryland, College Park's A. James Clark School of Engineering, the Museum of Aviation National Board of Advisors and the Smithsonian National Air and Space Museum Board. He previously served on the Board of Directors of the National Action Council for Minorities in Engineering (NACME), the Georgia Tech Advisory Board, and the Georgia Tech Foundation Board of Trustees.
Dr. Jones was elected into the National Academy of Engineering's Class of 2021 for his leadership of defense logistics, sustainment, training, and system readiness in support of U.S. national security.
Research
Mentor Expertise Areas
Fixed Wing Aircraft Systems
Flight Dynamics or Control Systems
Rotorcraft or Vertical Flight Systems
Mentor Focus Areas
Advice related to graduate school
Advice related to maximizing success at GT
General career mentoring
Government Agency (e.g. NASA, FAA, ONR, etc.) career perspectives
Military career options
Non-AE career options
Private industry career perspectives