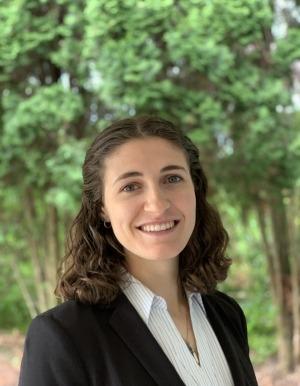 Systems Development Engineer, Moog
Biography
Katie Blake is a systems development engineer in the aircraft group at Moog in East Aurora, NY, where she is responsible for the design, modeling, testing and certification of various aerospace systems. These applications range from energy storage systems on small electric aircraft to actuator systems on military rotorcraft and full fly-by-wire flight control and actuation systems on commercial aircraft. She also helps to develop and maintain simulations for automated testing used for verification and certification with multiple regulatory agencies. As a co-op at Moog, Katie served as a lead test operator in a full iron bird lab for safety of flight testing. Prior to re-joining Moog, she worked at Boeing as a flight controls engineer where she coordinated integrated lab and flight testing as the team's primary control law focal. She also supported onboard and telemetered flight tests, and designed and reviewed performance and robustness tests for various control law functions.
Katie earned her bachelor's degree in aerospace engineering from Georgia Tech in 2019. During her time there, she was the chair of SAESAC (2017-2019) and actively involved in the Yellow Jacket Flying Club, earning her instrument rating, commercial license and flight instructor certificate. She also participated in undergraduate research, studied in Spain for two semesters and co-oped at Moog (Systems Engineering), GE Aviation (Propulsion/Maintenance and Casting Technology) and Garmin (Flight and Systems Test).
In her free time, Katie enjoys flying, softball, hiking, gardening, cooking and spending time with her husband and two cats.
Research
Mentor Expertise Areas
Fixed Wing Aircraft Systems
Flight Dynamics or Control Systems
Mentor Focus Areas
Advice related to maximizing success at GT
General career mentoring
Private industry career perspectives