Georgia Tech's Daniel Guggenheim School of Aerospace Engineering (School) boasts highly ranked and rigorous programs. #1 Undergraduate Aerospace Engineering Program in the nation (US News). #4 Graduate Aerospace Engineering Program in the nation (US News). The School enrolls more than 2,000 students who engage in high quality classroom, laboratory and research experiences which equips them with the skills & abilities to meet the demands of the workplace. When you attend the AE Career Fair you are connecting with the best aerospace engineering students in the country!
Recruiter Info
Fall 2023 Aerospace Engineering Career Fair
Image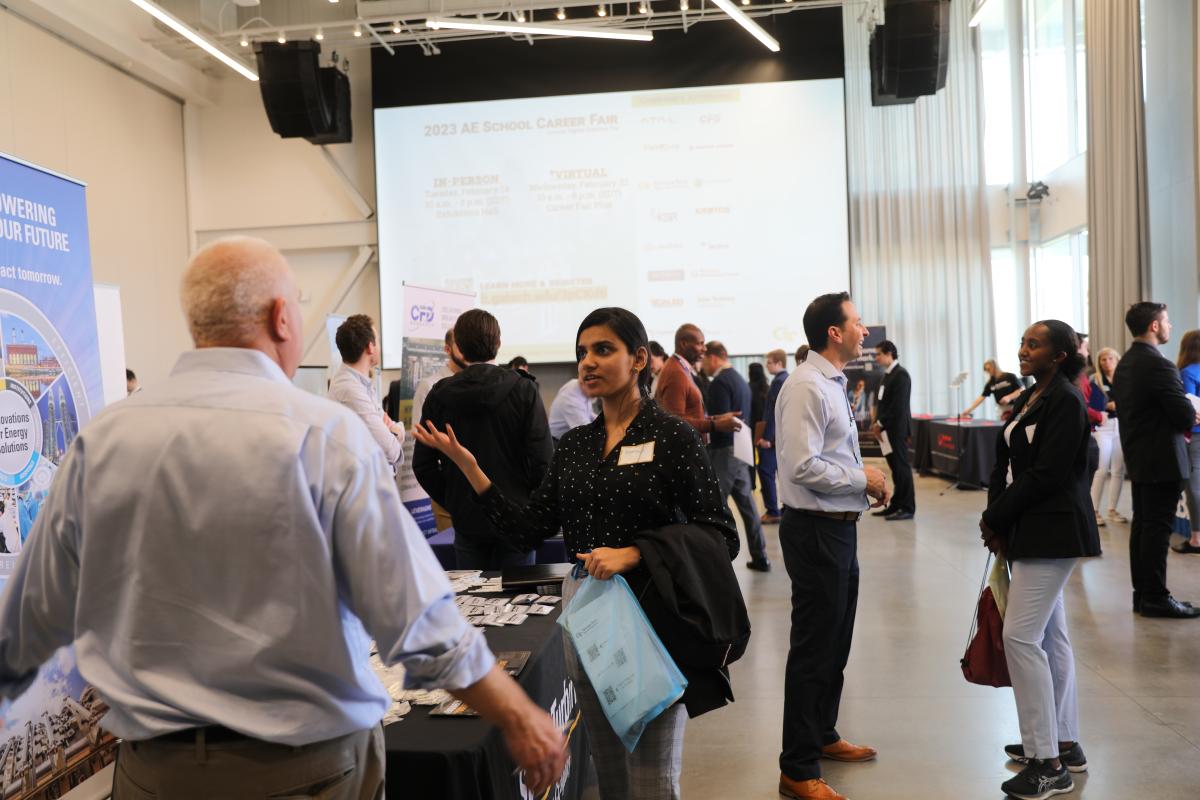 Wednesday, September 20
10 a.m. - 3 p.m.
Exhibition Hall 
460 Fourth Street NW, Atlanta, GA 30332
The career fair package comes with the following: 

 
(1) 6ft table

 

 

2-4 recruiters

 

Ability to meet with students face to face 

 

Continental breakfast & lunch

 

Interview space on campus

 

Info session

 
Registration & Payment Info:
To take advantage of the early registration fee of $795, please register and pay by September 6. After that day, the late registration fee of $995 will apply. Booths are released on a first come, first serve basis. Attendance at the career fair will be confirmed once payment is received.
Interview Space:
If you would like a space on campus for interviewing and meeting with potential candidates, we recommend you reserve space through Career Buzz. If space isn't available, let us know and we can assist with finding a space on campus. https://career.gatech.edu/on-campus-recruiting/interviews   
Directions & Parking:
The in-person fair will be held at the Exhibition Hall. The physical location for the  Exhibition Hall is 460 Fourth Street NW, Atlanta, GA 30332. See map.
Visitor parking closest to the Exhibition Hall is:
Visitor Area 3: Student Center Parking Deck (W02)
Parking address is 355 Ferst Dr. NW, Atlanta, GA 30313
Parking rates and more information can be found here.
 
Shipping Information:
Packages should be delivered between September 8 - 15
If you are shipping display items for your career fair booth, send to the address below.
Georgia Tech - School of Aerospace Engineering 
c/o Lydia Pendleton 
620 Cherry St. NW 
ESM-G10 
Atlanta, GA 30332 
Important: It is the responsibility of each employer to contact their respective carrier to arrange for items to be picked up and returned at the conclusion of the fair. You will need to bring a return shipping label with you.
Carrier Phone numbers: 
FedEx: 1-800- 463-3339 
UPS: 1-800- 742-5877 
Cancelations:
The last day to cancel & receive a refund is September 6, 2023. Cancelations must be made in writing to Lydia Pendleton at careers@ae.gatech.edu. Failure to cancel in writing by this date will result in your responsibility for the full amount on your invoice. Cancelations by phone or voice messages will not be accepted.
Become a Corporate Affiliate Partner
If you're interested in taking your recruitment & engagement to the next level, then check out the Corporate Affiliate Program which allows companies to engage year-round with students in aerospace engineering. The AE Fall & Spring Career Fairs are included with partnership benefits.