For Andrew Ollikainen, BSAE '07, giving back to his alma mater is a labor of love
Wednesday, 28 September 2016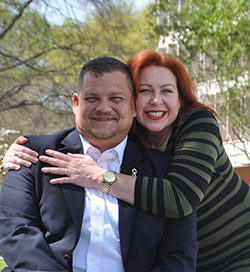 Andrew and Stephanie Ollikainen during a recent visit to Georgia Tech
The road that took Andrew Ollikainen from working construction to earning three engineering degrees and a career at Northrop Grumman starts --and ends-- in the same place: hard work.
Along the way, he learned that finding the right work – and a good woman – could make that road a whole lot easier to travel. That part of the lesson he got while at the Georgia Tech School of Aerospace Engineering.
"Coming to Georgia Tech changed our lives forever," says Ollikainen, BSAE '07. "Opened doors. Made things possible for us…"
Andrew's wife, Stephanie, continues her husband's thought…
"I would say we were struggling before, but, really, we were just working hard. That's what we do. And when Andrew decided he wanted to be an engineer, we worked really hard to get into Georgia Tech." 
Almost on que, the couple erupts into laughter.
"And we worked really hard to get out of Tech, too."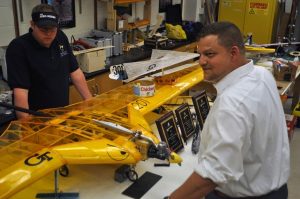 During a recent visit to campus, Andrew Ollikainen, BSAE '07, was invited into the ASDL to observe the work of design students.
Their shared sense of purpose – and gratitude – recently prompted the Ollikainens to make an estate donation to GT-AE. Their relatively young age belies the couple's mutual commitment to a timeless legacy.
"We do not plan to have children, but we want our lives to have meant something to someone else," says Stephanie, a medical aesthetician and a firearms instructor.
"And if we leave it to [GT] aerospace, it will really be there forever, a little something for someone else's future."
There is no need for Andrew to confirm his wife's lofty sentiments. A quiet nod tells listeners that the couple is completely in sync. She smiles as he continues:
"Georgia Tech extracted everything I could give it. It was the best experience I could have had. Now, I didn't graduate cum laude or anything like that, but my grades were good enough to get into graduate school. They were good enough to get me into a profession that I love."
'Good enough' might be an understatement. 
After leaving Tech, Andrew Ollikainen was scooped up by an Air Force contractor, MacAulay Brown to support the Special Operations Command (AFSOC) in electronic warfare. From there, he transferred into the Air Force Civilian Service to work as a structural engineer on C-130s, and C-17s at Robins Air Force Base.
It was a far cry from his days as a manual laborer, and he'll not soon forget it.
"When I was working construction –sweaty, muddy, and exhausted out in the field all day– I would see the site engineer drive up in his shiny white truck, with his clean blue jeans and white safety helmet. He'd get out, check some things off on his clipboard, and drive away again in his air-conditioned truck. And I would think to myself, 'Man, that guy has the life!, '" he says.
Andrew Ollikainen laughs at this memory.
"Well, as an aerospace engineer, I do keep a reflective belt and hard hat handy, but I don't work out of pickup trucks or construction sites--I get to work on jets."
While with the Air Force, Ollikainen completed a master's degree in mechanical engineering and another in military operational arts and sciences in joint warfare. 
"That's one that the Air Force usually reserves for captains and majors, but they opened it up to Air Force civilians, and I was interested, so they let me in."
Even then, Andrew's aspirations were set on yet another target.
"Since graduating from Tech, I've become something of a perpetual dreamer – drives Stephanie crazy sometimes – but I just don't feel like I'm done. I knew I wanted to keep going in school and I had to find a way to do it."
That 'way' materialized Northrop Grumman, where Andrew Ollikainen now works as a senior structural integrity engineer. The position meant the couple had to move to Florida. It also meant Andrew would be supported in pursuing a doctorate, which he began in January of 2016.
Andrew and Stephanie Ollikainen roll their eyes in unison. Laughter ensues.
"I remember when he got accepted to Georgia Tech, we knew our lives were going to change. Forever," says Stephanie. "And the adventure continues."