As AE students participate in Career Week, we asked a successful AE alum to share his thoughts on how to make it all work
Friday, 09 September 2016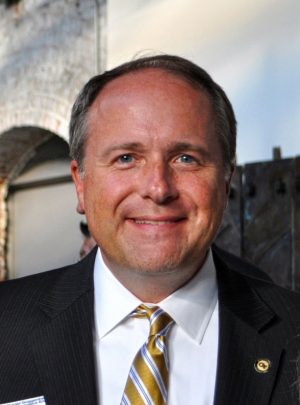 John E. Laughter
Vice President for Corporate Safety, Security, and Compliance
Delta Airlines
Right about the time John E. Laughter, AE '93, was graduating from Georgia Tech, the market for aerospace engineers was tanking.

"The only company interviewing aerospace engineers at the Georgia Tech Career Fair that year was a consulting firm," says Laughter, now Delta's senior vice president for corporate safety, security, and compliance and the chair of AE's advisory council (AESAC).
"And they were interviewing engineers from all of the schools."

As fate would have it, a fraternity brother's father worked at Delta - a connection that led to a job offer from the airline giant. Laughter was less than impressed by his good luck, however.

"I couldn't have written a job description that was less desirable than this one," says Laughter. "It was in structural engineering - and I was interested in aerodynamics and controls. And it was shift work – from midnight to 8. If I'd thought about it too much, I might not have accepted. But considering my options, I took it."

The rest of the story is an unlikely tale of ambition spawned from challenges – and wisdom borne of passion. Laughter's advice to today's graduates draws heavily from the ironies of this period in his life.

"The odd hours ended up giving me time to pursue my goal – to train to become a commercial airline pilot. And the job itself involved operational support – something I ended up valuing quite a bit. I worked closely with the mechanics on how to do repairs. This is where I learned to appreciate the craftsmen who are working in the industry. While I knew the theory of engineering, I didn't know what they knew: the art and the skill of doing structural repairs. I quickly came to love what I was doing."
The irony?

Three years later, when Laughter was qualified to accept an offer to become a commercial airline pilot he turned down the offer. Along the way, he'd found something more interesting.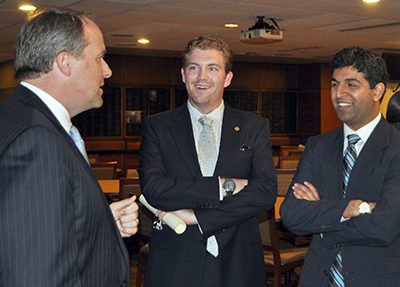 John Laughter
originally delivered this message during the Spring 2016 Senior Banquet. He is seen here talking with two students after giving that address.

"That job at Delta taught me that my engineering theory needed to be married up to their skills for me to become a better engineer, a better leader. And this was really at the core of what I learned was servant leadership – the notion that everything you do as a leader should make everyone who works for you successful."

Servant leadership is at the heart of the "Seven Things You Should Know" we culled from John Laughter. Here are his thoughts:
1. Have a trade.
Go deep on your first job. Plan to spend some time on your first job if you can. You may move soon enough, but if you are given the chance to build expertise in an area it will stay with you forever.
2. Start finding mentors right away.
There will be more than one during your career so don't over-think the selection process. Get a couple of people whom you respect and develop a dialog with them where you can get some coaching and advise.
3. Practice "Servant Leadership" early.
As an engineer, you will bring some important expertise to the workplace, but so will the people making and repairing the products. Treat them like the most important people you've ever met.  Your job is to support the men and women that are actually doing the work and you don't have to wait until you are a manager to start thinking this way.
4. Focus on the job you've been given.
Keep your eye on the next thing but never take your eyes off the task in  front of you. Too often we see people focused on the next job or the next promotion and their current job suffers. The best way to get that next job is to focus on the one you've got.
5. If you are going to run an operation, you'll have to admit that industrial engineering is important. Very important.
I never appreciated disciplines other than aerospace engineering until I was in the workplace and realized I needed some of these other skills. Actively search out those skills from your colleagues.
6. Leadership and communications skills can be learned and sharpened.
Take charge of that early. Seek out opportunities to learn and train on these critical business attributes.
7.  Find  your passion.
Don't ask what the world needs. Ask what sets you on fire. Because what the world needs is people who have come alive.