Announcement of Costello's appointment comes after a rigorous, months-long, national search
Professor Mark Costello has been appointed as the new William R. T. Oakes School Chair for the Guggenheim School of Aerospace Engineering, effective August 15, 2018.
Currently a program manager in the Tactical Technology Office at the Defense Advanced Research Projects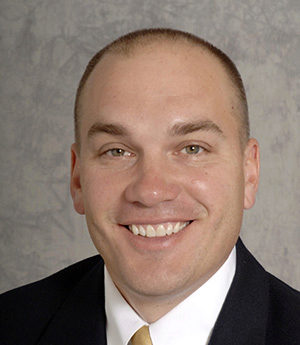 Prof. Mark F. Costello
Agency (DARPA), Costello holds the David Lewis Professorship of Autonomy in the schools of Aerospace Engineering and Mechanical Engineering, where he has taught and mentored students in the areas of dynamics, controls and design. He is also the director of AE's Center for Advanced Machine Mobility.
"Mark has a deep understanding of academic excellence, as well as faculty and student needs," said Dr. Steve McLaughlin, dean of the College of Engineering and Southern Company Chair.
"Since research and education are critical to the success of the Guggenheim School of Aerospace Engineering, Mark is ideally suited to fill this important role as school chair. He brings with him a great set of teaching, research and outreach skills, which will ensure that the school advances and builds on its accomplishments."
McLaughlin's remarks were echoed by many of Costello's AE colleagues.
"The field of aerospace engineering is changing rapidly - becoming more interconnected with other disciplines - and I think Mark Costello really understands that," said AE professor E. Glenn Lightsey. "His career - at Tech, at DARPA, and as an entrepreneur - reflects a very modern perspective that is right for the future."
Prof. Karen Feigh agreed, adding:
"I think the entire faculty is happy to have him back from DARPA because we know he has great vision -- not only for the AE School, but for the field of aerospace engineering."
Prof. Marilyn Smith said she was likewise thrilled with the choice, adding:
"I am confident that Mark Costello will be able to bring the AE School  - our faculty, our staff, our alumni, and our sponsors - to a new era of excellence."
As the new chair, Costello will oversee a school that is consistently ranked as one of the nation's most prominent programs of its kind in both graduate and undergraduate education. The School is one of the largest producers of aerospace engineers in the United States, with an enrollment of nearly 1,500 undergraduate and graduate students. In FY2017, AE faculty members acquired more than $30M in research grants and contracts from government and industrial sources.
"I am truly honored to have the opportunity to serve the faculty, students, and staff in the School of Aerospace Engineering as we chart a course for continued excellence in our education, research, technology transition, and service endeavors," Dr. Costello said. 
"It is an incredibly exciting time to be an aerospace engineer.  As a society, we are quickly approaching a scenario where humans inhabit other planetary bodies. Closer to home, many of our cities are growing into mega cities and require new paradigms for transportation including air vehicles that operate in a complex three dimensional space. Working with others in a multidisciplinary manner, aerospace engineers will lead the way in shaping this future. It is also an exciting time to be in the business of educating the next generation of aerospace engineers."
In looking forward to his role as school chair, Costello also said,
"With the information explosion that has occurred over the past 10 or more years, we now have instant access to content that was not possible in the past. Fundamentally, new ways to leverage this information to engage students in the learning process are needed. Georgia Tech is poised to lead the way in educating future engineers, and not just while they are students at Tech, but throughout their lives."
Costello earned his B.S. from Pennsylvania State University, and his M.S. and Ph.D. in aerospace engineering from Georgia Tech. He previously taught at Oregon State University and the U.S. Military Academy.Costello came to Georgia Tech in 2006 as the associate director for the Center of Excellence in Rotocraft Technology and an associate professor in aerospace engineering and mechanical engineering. He accepted an assignment with DARPA in the summer of 2017.
Reached in Ireland, where he was on travel, the current chair, Dr. Vigor Yang, had nothing but praise for Costello.
"He will do a superb job as AE chair. I am fully behind Mark to support his success," he said.
Associate chair Jeff Jagoda agreed that Costello would bring a fresh perspective to the AE School's future.
"I couldn't be happier to have him back in a leadership role. He can combine his knowledge of the AE School with a focus on the future of the discipline."
Costello founded and serves as the CEO of Earthly Dynamics Corporation, a company that develops and fields new guided airdrop system technology. He also co-founded the Persimia Corporation that provides web-based environmental impact assessment analysis tools for wind energy system installations.
He is a Fellow in the American Society of Mechanical Engineers; associate fellow in the American Institute of Aeronautics and Astronautics; and received a Meritorious Civilian Service Medal from the U.S. Military Academy.
Costello's research team is noted for creating innovative new technologies, such as robotic landing gear for rotorcraft, bleed air control of parafoils, and direct impact control of smart projectiles. His research focuses on inventing, understanding, and improving aeronautical and mechanical devices that are often actively controlled during operation, including missiles, projectiles, parachutes, parafoils, kites, fixed wing aircraft and rotorcraft.