Boeing executive and AE graduate Larry Schneider had high praise for his alma mater during a Nov. 8-9 review
Thursday, 29 November 2018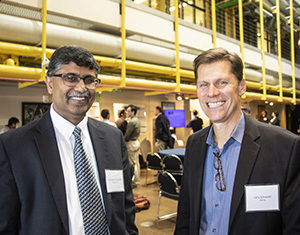 Shreyes Melkote and
Larry Schneider
For more than 10 years, the Georgia Tech and Boeing Strategic Technical Universities (STU's) have been training the next generation of technical leaders through a collaboration that develops transformative design and manufacturing technologies as a part of its curriculum. At their annual program review, Nov. 8 and 9, leaders from Tech and Boeing agreed that there's still plenty to do.
"Ultimately, this relationship brings together our need to conduct cutting edge research and our need to develop highly skilled engineers for the future," said Larry Schneider, a 1985 graduate of Georgia Tech's Daniel Guggenheim School of Aerospace Engineering and Boeing's vice president for Commercial Airplanes.
"In that regard, we are very happy to work with the AE School, because the students are so advanced," he said.
Boeing leaders gathered at Georgia Tech's Fuller E. Callaway, Jr. Manufacturing Institute (GTMI) to review the progress made by the teams of Georgia Tech student researchers who have been working with Boeing engineers on more than a dozen projects over the past year. Overseeing the two-day meeting were GTMI associate director, Shreyes N. Melkote and Boeing associate Technical Fellow Howard Appelman. Joining them were faculty from Georgia Tech's College of Computing, the Institute for Robotics and Intelligent Machines (IRIM), and the schools of Aerospace, Mechanical, Material Science, and Industrial Systems engineering.
The projects range in complexity and goals, but are generally focused on developing next generation manufacturing technologies including design, automation, materials and systems integration. 
Olivia Pinon Fischer, a research faculty in the Daniel Guggenheim School, said her team's project, "Future Factory Manufacturing and Supporting Applications for Equipment and Process Health Monitoring" has been working on the development of digital twins -- virtual representations of physical assets that integrate data-driven and physics-based models to help assess machine health and optimize operations throughout the factory.
"While our approach this year was implemented on a machine here at Georgia Tech, we hope to be able to transition this capability to Boeing machines in the near future," she said.
"Meanwhile, our students are getting the experience of working on a problem that is very relevant to this industry right now. And they are getting the experience of explaining their work not only to subject matter experts, but to executives as well."
Spread out across the 11 years in which the SUP program has been in existence, the scenario that Fischer describes has had a major impact on the educational experience of many Georgia Tech students. All told, the SUP program estimates it has involved 75 doctoral students, 40 master's students, 46 undergrads, six post-docs, and four research engineers. It has generated more than 180 papers and presentations, 14 faculty and student awards, and 10 invention disclosures.