This launch marks the 4th and 5th Georgia Tech Satellite Missions to Reach Space
Tuesday, 21 December 2021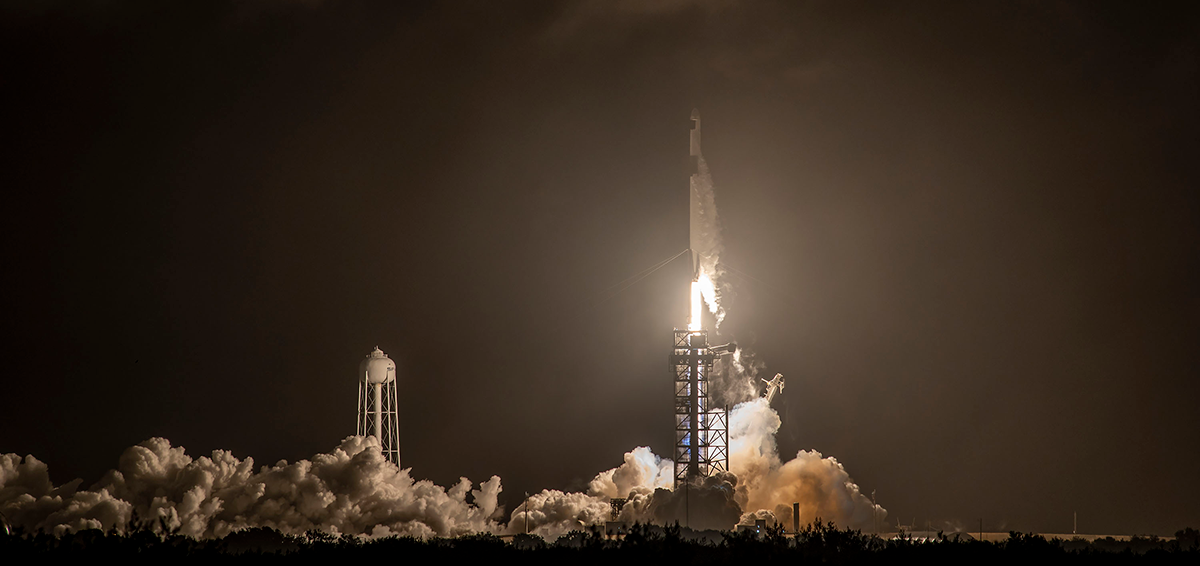 All systems a go: TARGIT and GT-1 launched without a hitch under cloudy skies from NASA's Kennedy Space Center. Photo: SpaceX.
---
Two CubeSats created in the Space Systems Design Lab (SSDL) launched on December 21 onboard a SpaceX Falcon 9 rocket from NASA's Kennedy Space Center in Cocoa Beach, Florida. The launch was part of the SpaceX Commercial Resupply Mission-24 which included - the Tethering And Ranging Mission Of The Georgia Institute Of Technology (TARGIT) and GT-1. 
Launching off the historic Launch Complex 39A, the Falcon 9 hauled a used Cargo Dragon, Christmas gifts, 6,500 pounds of supplies, scientific experiments, and hardware for the crew of Expedition 66. In attendance included Daniel Guggenheim School faculty, students, and recent graduates who worked on either CubeSat.
About eight minutes after liftoff, the Falcon 9's first stage returned to Earth, landing on one of SpaceX's drone ships called, Just Read the Instructions. Meanwhile, Dragon has a longer commute and is headed to the International Space Station (ISS) where it is expected to connect with the ISS crew on December 22 around 4:30 a.m. (EST), just 24 hours after launch. 
Once the crew loads TARGIT and GT-1 into the CubeSat orbital deployer the CubeSats will make their way to low Earth orbit. While in low Earth orbit, Tech students and researchers in the Mission Control Center located on Tech's campus will begin running a series of tests and analysis before carrying out their missions, expected in early 2022. 
TARGIT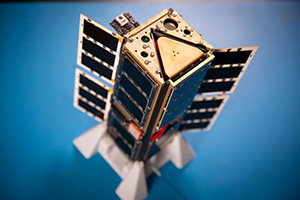 Tethering And Ranging Mission Of The Georgia Institute Of Technology (TARGIT)
The 3U CubeSat was developed through support from the NASA Undergraduate Student Instrument Program (USIP), which gathers U.S. university proposals to develop an Earth or space science payload that will fly on a NASA suborbital vehicle. It was selected for a launch opportunity in 2017 through NASA's CubeSat Launch Initiative (CSLI). 
The team at Georgia Tech - made up of more than 100 undergraduate students and led by Prof. Brian Gunter - has been developing and testing the solar-powered CubeSat to house a compact laser altimetry system. By using light detection and ranging (LiDAR), scientists will be able to determine various distances by targeting an object with a laser and measuring the time for the reflected light to return to the receiver. 
TARGIT aims to act like a technology demonstration for more complex LiDAR imaging missions. The advanced technology and measuring capabilities of the LiDAR system onboard will allow scientists to view the topography down to the centimeter from as far away as 10 meters. This type of accuracy will enable future planetary small satellite missions to gather valuable topographic, navigation, and reconnaissance data with a low size, weight and power (SWaP) instrument. 
When TARGIT is deployed from the ISS and finds its way to low Earth orbit, it will deploy a small inflatable secured by a six-meter tether. The inflatable is a regular tetrahedron measuring approximately 1 meter on each side. The orange color - selected to optimize detection from the on-board computer vision system - and size will give scientists a chance to test the camera's accuracy. It will create a 3D image of the inflatable using a miniaturized LiDAR imaging camera on the CubeSat. 
Additionally, the mission will demonstrate a series of experimental spacecraft technologies, including active tether and inflation systems, 3D-printed components, horizon sensors using low-resolution thermal imagers, and a set of nanocarbon-based solar cells that were developed by Prof. Jud Ready's group at the Georgia Tech Research Institute (GTRI). 
GT-1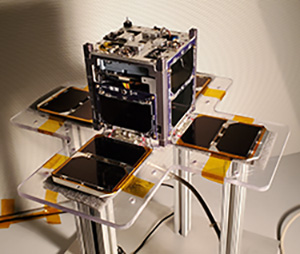 GT-1
The GT-1 marks the first of a series of four CubeSats to be developed annually at Georgia Tech, giving students the opportunity to design, construct and operate an active CubeSat. GT-1 is a 1U CubeSat developed in the Space Systems Design Lab under the direction of Prof. Glenn Lightsey. Its primary mission is to demonstrate a rapid cradle-to-grave life cycle so that scientists can better understand environmental impact of spacecraft. 
The CubeSat boasts experimental deployable solar panels and a deployable ultra-high frequency (UHF) radio antenna which will allow HAM operators from around the world to communicate with the spacecraft as it orbits the Earth. GT-1's deployable solar panels support 23 solar cells, more than double the surface area that a typical 1U can support, allowing future 1U missions to hold a heavier payload. 
After GT-1 completes its mission it will slowly breakdown over a seven-month period until it disintegrates when it reenters Earth's atmosphere.