The nine-person team conceptualized a mission to the Martian moon - Phobos


Phobos Internal Characteristics Analysis and Regolith Determination (PICARD) Wins Best AE Project: from left Brittney Brown, Graham Jordan, Jerry Schweiger, Ava Thrasher, Chandler Clemmons, Blake Berge; not pictured Sergio Acosta, Jacob Chmielarz, and Jake Anderson.
---
Team PICARD, a nine-person space exploration team, won the best overall aerospace engineering project at Georgia Tech's Spring 2022 Capstone Design Expo.
The AE School hosted 12 teams each tasked with solving a complex aerospace engineering challenge or problem. Undergrad teams chose between space, vertical lift, or a fixed-wind aerospace engineering courses to determine and facilitate the semester-long senior project.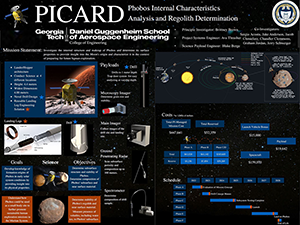 Team PICARD's Poster
Aptly named in honor of Star Trek's Starfleet Admiral Jean-Luc Picard, team PICARD wanted to better understand Phobos – one of Mars' two moons. With the help of their AE 4342 Space System Design course, taught by AE associate professor John Christian, Team PICARD decided to design a "hopper" vehicle that would travel to Phobos and take samples of its regolith. This approach would allow them to understand Phobos' origins as well as determine if this moon could serve as a staging space for future human space exploration missions.
"The PICARD team came up with a great concept for a Phobos exploration mission and I am pleased to see their excellence recognized at this semester's Capstone Design Expo. Congratulations to the PICARD team and to all the other teams that participated in the Expo," said Professor Christian.
"We went with a hopper design rather than a rover design because we don't know what the terrain of Phobos is like, so the hopper gives us a bit more versatility in terms of where we can go," said PICARD structural lead Chandler Clemmons.
Their hopper is equipped with five science instruments including a drill, microscopy imager, main imager, ground penetrating radar, and a spectrometer. "We took a lot of inspiration from existing technology on Earth, reimagined in a space application. Our drill is based on the Olds Elevator screw conveyer used in agriculture," added PICARD's science instrumentation lead Blake Berge. The hopper's main objective is to travel to four different locations and use the drill to dig up samples that will be tested under the microscopy imager and spectrometer to determine the composition stability.
"Our drill can perform to about one meter into Phobo's regolith, but with the ground penetrating radar we can get a reliable picture of what the inside of Phobos looks like, up to 100 meters," explained Clemmons.
Though PICARD came out on top, the project had its share of challenges.
"The most challenging, but also most rewarding parts of this project are the level of communication and teamwork that has to take place in order to be successful," said Clemmons. "Everyone had to talk to everyone all the time, about everything, because no one person could make a change without it affecting everyone, so we had to work closely as a team and work through everything together".
"We had to design and incorporate a lot of innovative technology to meet the requirements of the hopper architecture," said PICARD's propulsion lead Jerry Schweiger. "Phobos is essentially shaped like a potato, so besides multiple landings, we had to figure out how to deal with a complicated gravitational environment."
In the end, it was a group effort and a lot of learning in AE 4342 that allowed PICARD to take home the top AE prize. PICARD's systems engineer, Ava Thrasher, shared "the team's dynamic was critical to this project's success. Everyone worked constantly to make sure no one was taking on too much, and everyone kept an enthusiastic attitude during team meetings."
[VIDEO::https://www.youtube.com/watch?v=5fwyMgW4m2A]
The overall winner of the expo was Tired Techies, an interdisciplinary team comprised of computer, electrical, and mechanical engineers who created a sleep-monitoring mask and smart alarm that reduces drowsiness by waking the sleeper during the correct stage of the sleep cycle. That team was one of three that focused on getting a good night's rest, perhaps a sign of the high-achieving college students' daily struggles.
To learn more about Georgia Tech Capstone Design Expo visit expo.gatech.edu.