Captain BuzzBeard and Stratobuzz fly high at the collegiate competition


Flying into First: The Design Build Fly team at Georgia Tech wins big at the SAE Aero Design East Competition 
---
Georgia Tech's Design Build Fly (DBF) team soared in the Society of Automotive Engineers (SAE) Aero Design East competition held May 20-22, 2022, in Fort Worth, Texas, and earned multiple victories. According to SAE, the event aims to give undergraduate and graduate engineering students "real-life" engineering challenges. SAE rates teams on three main categories: mission performance, design report, and design presentation. The Georgia Tech team, with Carl Johnson as faculty advisor, has been dominating this competition for years with great success and this year was no different.  
Micro Class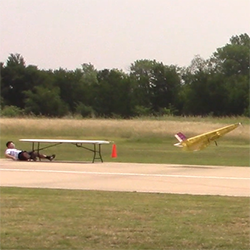 Andrew Nguyen watches Captain BuzzBeard fly after securing the aircraft for takeoff
Led by Andrew Nguyen, the team came in first overall for the Micro class with their aircraft Captain BuzzBeard. The team came in first in mission performance, second in design report, and third in design presentation. The goal was to fly an optimal ratio of small pizza boxes and metal payload plates as fast as possible to a designated target at 300 feet while taking off from a 4' by 8' table. The Georgia Tech team had the second fastest aircraft but carried the most payload, beating out the competition. Mission accomplished. 
The team won the competition last year, so the challenge was to enhance the aircraft design and make improvements to ensure another victory.  
"Our team success is not centralized on one individual; each person carries a specific skill set that brings different solutions to the problems we encounter," Nguyen assessed.
Advanced Class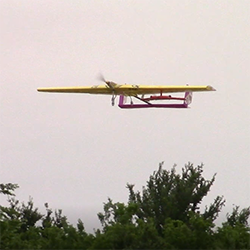 Stratobuzz soars just below the stratosphere 
The Advanced class, led by Dalton Vega, earned second place overall and came in second in mission performance, second in design report, and third in design presentation with Stratobuzz. This year was particularly demanding due to an SAE rule change.  
"For the first time, we had to use a Real Time Kinematics-Global Positioning System (RTK GPS), which eliminates most of the error in GPS by using two antennas instead of one. One is on the ground, and one is in the air. Developing the integration is the key. It seems pretty simple, but in practice, there are many variables, and the interface and code are obtuse, so it's difficult to troubleshoot issues. We had to use our flight computer, tune it, and adjust parameters to the target," Vega explained.  
The advanced class was charged with hauling a large amount of water on a primary aircraft while also carrying a smaller electric-powered autonomous delivery aircraft (PADA) weighing less than one pound. The PADA becomes fully independent after being released from the main aircraft and has a large suite of sensors that helps guide it to its target zone. The aircraft also had to independently navigate within 15 feet of a target on the ground. This year's drop area was 90% smaller than in previous years. StratoBuzz was able to carry about 20 pounds of water each flight. "Overcoming numerous hurdles, the team made some unprecedented strides towards working with new technologies that will be useful for the upcoming two years and beyond," Vega said.  
The winning teams included: Tilahta Agbere, Ashkar Awal, Grant Ewing, Benjamin Gomez Del Campo, Carl Johnson, Andrew Nguyen, Ishan Padmani, Elvin Puchuela, Vedant Ruia, Maria Cayetana Salinas Rodriguez, Nikita Shakhraichuk, Salil Sodhi, Dalton Vega, Gowtham Venkatachalam, Ryan Wijaya, and Ryan Warner.