Marietta, Georgia native will receive $15,000 award and lifelong astronaut network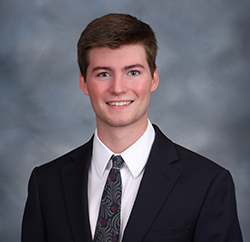 Colin Burnett
Aerospace Engineering undergraduate, Colin Burnett, has been awarded the Astronaut Scholarship from the Astronaut Scholarship Foundation (ASF). Burnett was one of 68 students, including fellow Yellow Jacket Jim James, selected into the 2022 Astronaut Scholar Class. The Marietta, Georgia native will receive up to $15,000, a paid trip to the ASF Innovator's Weekend, and a lifelong network with astronauts and ASF alumni and supporters. Recommendation letters and support from professors John Dec, Vigor Yang, and James J. Wray contributed to Burnett receiving the prestigious award.
In August, Burnett will accept the award and present his research at the Innovators Week and Gala in Orlando, Florida. He's currently involved in two research areas that he hopes to present at the conference. One includes aerobraking maneuvers under the guidance of Dec, professor of the practice. According to NASA, "Aerobraking is a spaceflight technique wherein an orbiting spacecraft brushes against the top of a planetary atmosphere. The atmosphere's friction against the spacecraft's surface slows down and lowers the craft's orbital altitude. The solar panels provide the maximum drag in a symmetrical position that allows some control as the spacecraft passes through the atmosphere."  
The other area includes Compact Reconnaissance Imaging Spectrometer for Mars (CRISM) image analysis with Prof. Wray in the School of Earth Atmospheric Sciences. CRISM is a mission-based reconnaissance instrument from NASA. "These infrared images are from the Mars Reconnaissance Orbiter," Burnett added. He will be looking at them to determine the minerals in certain locations on Mars.
By the way, his favorite astronaut is Sandra "Sandy" Magnus, who was inducted into the U.S. Astronaut Hall of Fame last weekend. Magnus is a professor of practice in the AE School, the School of Materials Science and Engineering, and the Sam Nunn School of International Affairs. Burnett has met several times with Magnus through the AE School's Mentors in Residence program which encourages AE undergrad and graduate students to meet with a mentor and talk about anything from research to career aspirations.
The aspiring astronaut plans to pursue his master's degree at Georgia Tech through the AE BS/MS Honors program and then work in the space industry. He is also considering earning a Ph.D. in either planetary sciences or geotechnical engineering. "I love doing research, and I'm just excited to see where this path will take me," said the rising fourth year.
--
The Astronaut Scholarship Foundation was founded in 1986 by Mercury 7 astronauts Scott Carpenter, Gordon Cooper, John Glenn, Walter Schirra, Alan Shepard, and Deke Slayton, as well as Betty Grissom (widow of astronaut Virgil "Gus" Grissom), Dr. William Douglas (Project Mercury flight surgeon), and Henri Landwirth (Orlando businessman and friend). The Foundation was started to ensure that the United States would continue to lead the world in science and technology by supporting students in those fields.