From dreaming of space to landing dream job at NASA


Heidi Brewer (fifth from front-left) poses with fellow Yellow Jackets working at NASA's Johnson Space Center (2010). Source: NASA
---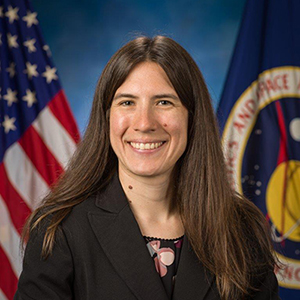 Heidi Brewer, BSAE 2005
Source: NASA
It's been almost 50 years since NASA launched Apollo 17, the last crewed mission to land on the moon. As the world prepares for a lunar return with the Artemis missions, a new generation of space enthusiasts are on the horizon. One of them is Heidi Brewer, AE 2005.
Brewer is one of the seven new inductees in NASA's 2022 class of flight directors, stationed at NASA's Johnson Space Center (JSC) in Houston, Texas. In her new role, she will lead human spaceflight missions to the International Space Station (ISS) and prepare for a multitude of others including Artemis.
"I am excited about everything. "This role is a perfect combination for me. It's technical work, while also allowing me to work with people and solve problems. That's everything I've ever wanted to do," shared Brewer.
Taking flight
The Marietta, Georgia, native found her love of aerospace at an early age while growing up near Dobbins Air Force Base and the Atlanta airport. "I also had the chance to go to the NASA Space Camp in Huntsville, Alabama, as a kid and see what space operations were like. Aerospace has always been a lifelong passion of mine."
But perhaps what inspired Brewer the most as a child was her mom, Rosario Gerhardt, an engineer and current professor in Georgia Tech's School of Materials Science and Engineering. "While sitting at the dinner table, we talked a lot about mom's science, her research, and the classes she taught at Tech. It was really inspiring to see a successful woman in STEM. That made me want to study engineering," she added.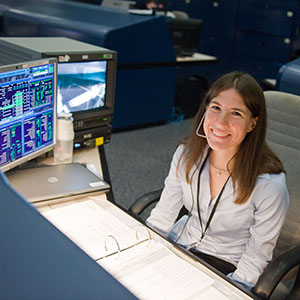 Brewer at NASA Johnson Space Center
Source: NASA
Brewer played the clarinet in the Yellow Jacket Marching Band and was involved in the Tech chapter of AIAA, the student government association, and the Mars Society. The Mars Society gave Brewer an opportunity to go to the Mars Desert Research Station (MDRS) in Hanksville, Utah, where she began a two-week long simulation of living on Mars. She learned about airlocks, getting into spacesuits to conduct spacewalks, and troubleshooting problems, including malfunctioning generators. These are the same problem-solving skills she uses today at NASA.
As a student, Brewer was most impacted by an aeroelasticity class taught by professor Marilyn Smith. "Aeroelasticity felt really methodical. I love the logic of math and it seemed very straightforward to me," Brewer said. "There's something elegant about having math concepts that embody flight and what's happening in the real world. It's magic to me."
Shortly after graduating, Brewer began her career at NASA in the Space Shuttle Instrumentation and Communications Officer group. She supported 19 shuttle missions and was a lead for the final flight, STS-135, which included fellow Yellow Jacket alumna, astronaut Sandy Magnus.
In 2011, she transitioned to the Space Station Integration and Systems Engineer group, working as a specialist in integrating operations and training with SpaceX. She supported more than 20 Dragon missions for NASA's Commercial Resupply Services and Commercial Crew Programs, serving as a lead for multiple SpaceX resupply missions to the station for NASA, and Axiom Mission 1. She also served as a lead operations integrator for the Bigelow Expandable Activity Module, the Common Communication for Visiting Vehicles ship-to-ship radio system, and most recently, the Artemis human landing system.
Teamwork makes the dream work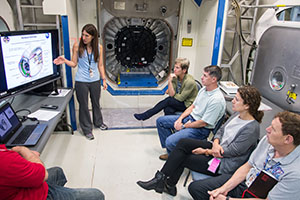 Brewer teaching team, including fellow GT graduate, astronaut Shane Kimbrough (MS in Ops Research 1998) about the Bigelow Expandable Activity Module (BEAM)
Source: NASA
NASA plans to launch Artemis 1 as soon as the end of the month. Brewer said the importance of teamwork and collaboration is stronger than ever.
"You could try and do it by yourself, but it's never going to come out as well as if you work with a team," she said. "I look at it as, I am part of a team - a really smart team - that's going to solve problems. As we solve problems, we will improve together and it will allow me to work on my own blind spots. All of this is why teamwork is so important and something I don't shy away from."
Though Georgia Tech is about 800 miles away from Brewer's office, the Yellow Jacket presence is strong at NASA JSC. "It's pretty common for me to run into another Tech graduate at NASA. At least once a week I will work with someone from Tech and I expect that I'll see even more as program support expands and we work towards Artemis," said Brewer.
Message to students
Brewer has advice for current students who hope to be a part of future NASA missions. She encourages them to apply for NASA internships and openings to get hands on experience and launch their careers.  
"One thing that Georgia Tech instilled in me was resilience," she said. "High school was super easy for me. At Tech, the competition was higher, the classes were harder, and I struggled the first couple of semesters until I got my bearings. It's ok if you struggle a little."
"I learned two things from those struggles. One is that you can pick yourself up and get back on your path. The second is that sometimes you don't get what you want the first time through, and you must revaluate your path and personal goals to move forward. I didn't get my dream job on the first time. When I went through the interviews, I had to take the feedback I received and think about whether this job was something I wanted for myself. I determined it was and applied again. Now I have my dream job. So don't give up."