The team's design enhances space access and services.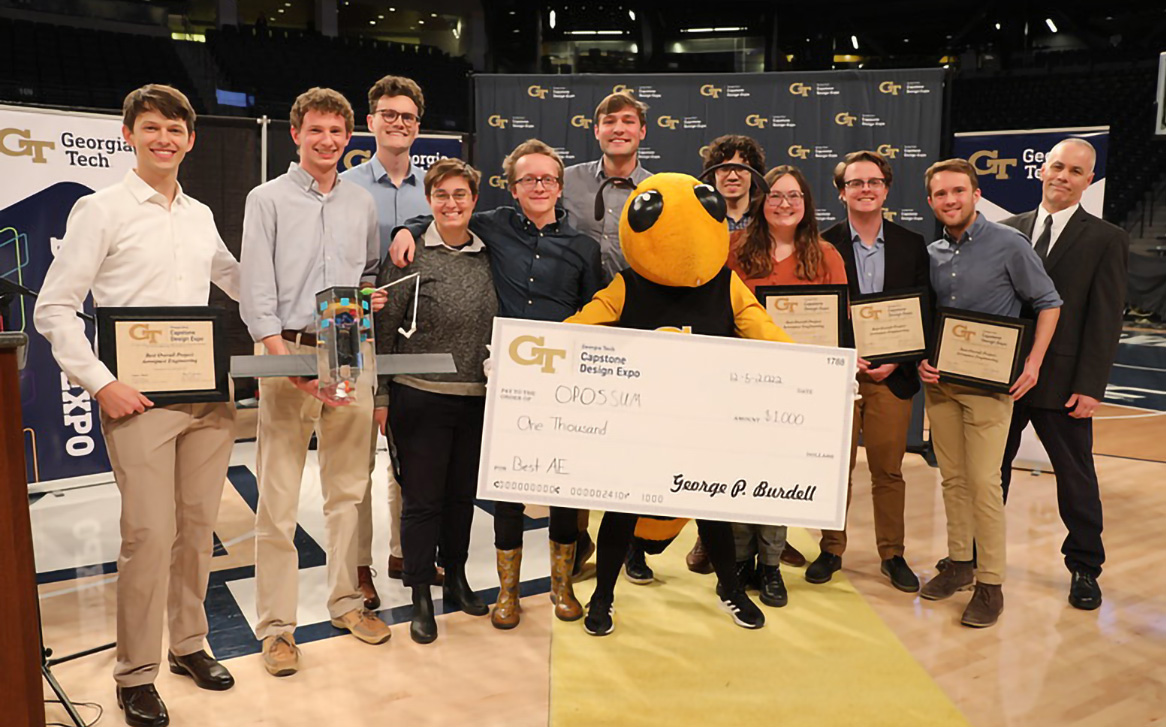 Team OPOSSUM (from Left): William Boynton, Jacob Evans, Simon Pahlsmeyer, Maggie Stewart, Crispin Gambill, Jason Smith, Buzz, Jose Andrade, Katie Wyers, Carson Coursey, Gavin Garland, and AE Associate Chair Joseph Oefelein
---
Team O.P.O.S.S.U.M. won the best overall aerospace engineering project at Georgia Tech's Fall 2022 Capstone Design Expo, competing against 14 other aerospace projects. The winning AE team includes Jose Andrade, William Boynton, Carson Coursey, Jacob Evans, Crispin Gambill, Gavin Garland, Simon Pahlsmeyer, Jason Smith, Maggie Stewart, and Katie Wyers. Overall, 110 teams from seven College of Engineering schools competed in the event.
In line with NASA's Strategic Objectives, the team was tasked with enhancing space access and services.  The teams were able to select between two missions, one related to the mission to Mars and the other related to space servicing.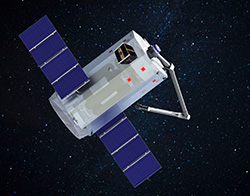 OPOSSUM
"I'm extremely proud of this team. They have worked really hard this semester to mature their Earth-Moon Lagrange point 1 (L1) station design, facing all sorts of technical challenges before coming up with a robust and commercially attractive product. Thank you, OPOSSUM, for a great semester," Professor Álvaro Romero-Calvo said.
OPOSSUM stands for Open Platform for Orbital Space Servicing and Uplink near the Moon. Several factors, including humor, helped the team select the final name. "Opossums are known for carrying their young on their back, and the platform would similarly be hosting payloads, so the title seemed to fit," Coursey shared. He added that teammate Gambill wore a sweater with an opossum on it in the project's early stages, which could have subliminally sparked their idea for the name. Romero-Calvo credits the team with having one of the funniest logos of the competition.
The OPOSSUM platform will provide power, communications, station-keeping for docked satellites, L1 space domain awareness for U.S. agencies, live video feeds of the lunar surface, and lunar surface relays to Earth. The L1 point lies, on average, about 320 thousand kilometers away from Earth, about 86% of the way to the Moon. NASA has identified this location as a unique juncture for heliophysics, astronomy, astrophysics, exoplanets, fundamental physics, and material science research. The arm of the OPOSSUM platform will take smallsats and place them onto itself into a docking port where the smallsats will live for the duration of the mission, and then after their mission, the robot arm will put the smallsat back on the rideshare or toss it off into space.
In addition, as a part of the space domain awareness mission, the autonomous platform will assist with detection, tracking, cataloging, and identifying satellites, debris, or near-earth objects, as well as predicting the location of decaying objects re-entering the Earth's atmosphere.
[VIDEO::https://www.youtube.com/watch?v=P8o0BR7gHVw]
"We've been learning the theory of design, but this
 project propelled us into putting theory into practice. It was cool because it was so challenging," Coursey shared.
A compelling factor to the project is that OPOSSUM will save end users critical time, mass, and money for their mission. The savings will be significant, especially for minimally funded projects such as a CubeSat for a university. Moreover, with these reductions, cislunar space will be more accessible to a larger number of companies and institutions.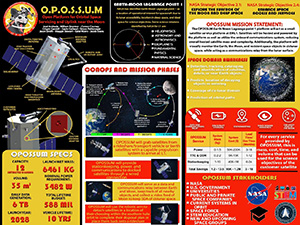 Team OPOSSUM's Poster
One of the project's biggest challenges was the debate on refueling that had been mentioned in NASA's Revolutionary Aerospace Systems Concepts Academic Linkage (RASC-AL) competition guidelines. The team analyzed whether they should add this refueling component to their Capstone project. "We had to flesh out the technical aspects of refueling because that's what we've been trained to do," Coursey explained. However, adding fuel would reduce the cost savings of the platform, among other factors, so the team decided to keep the original concept.
"The group has successfully coordinated a large, multidisciplinary team. They have acquired a high-level perspective on Space Mission Analysis and Design (SMAD) and learned about NASA's priorities," Romero-Calvo added. Team OPOSSUM plans to use their winning design to compete in NASA' RASC-AL competition next spring.
--
The best overall project at the Expo went to Team Racoon Eyes for their project, Real-Time Audio, and 3D Reconstruction for Food Waste Management. The project aims to reduce food waste in university dining halls. The team used a talking trashcan that scans the plate, identifies the volume of food thrown away, and then asks questions for dining hall staff to review to inform them about future food preparation.