Buzzgiorno and Incombuzztible become champion aircraft for 2023
Image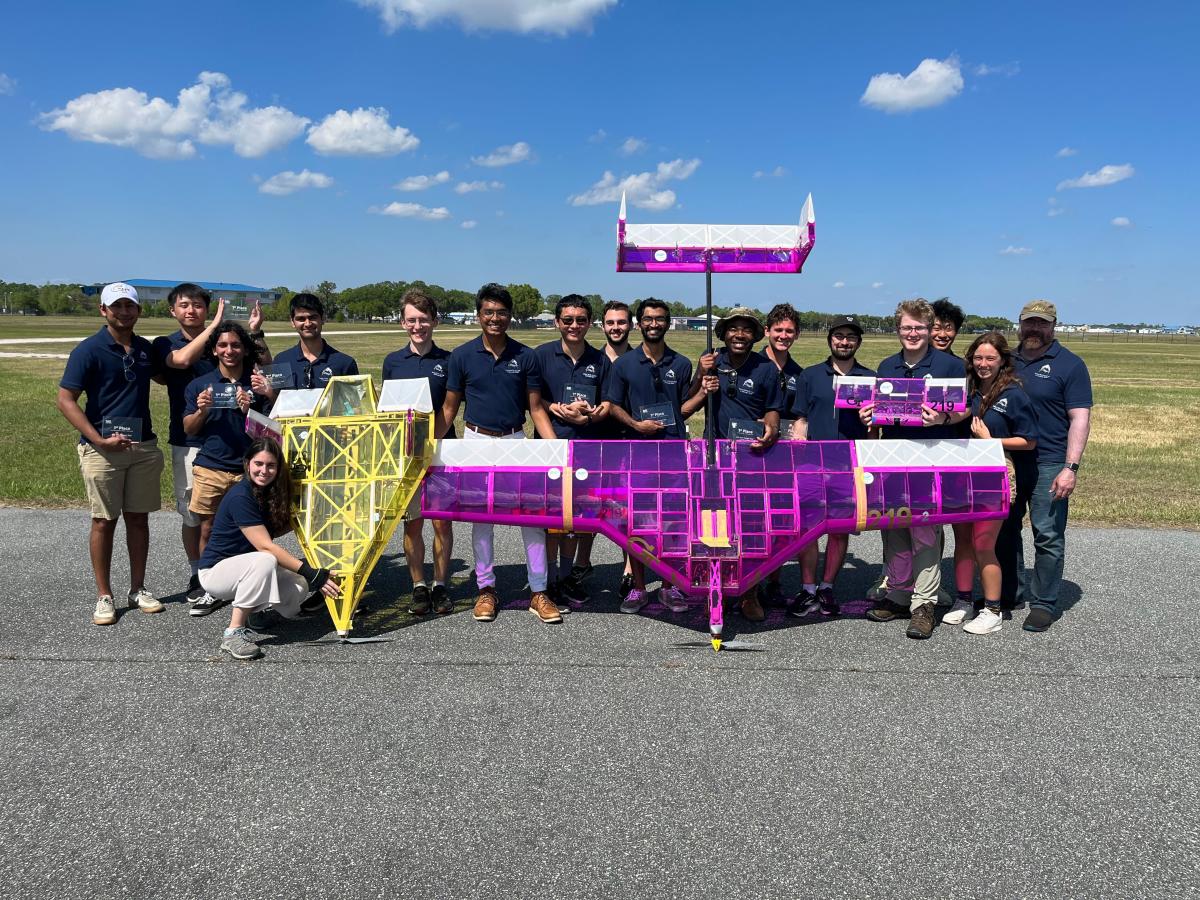 Pictured here with their entries, Buzzgiorno and Incombuzztible, on the left side we have, the Micro Team (from left) Vedant Ruia, Ryan Wijaya, David Shaji, Cayetana Salinas, Salil Sodhi, Michael Francesconi, and Gowtham Venkatachalam (pilot for both teams). On the right side, we have the Advanced Team: (from left) Yubo Fu, Grant Ewing, Ishan Padmani, Tilahta Agbere, Ryan Warner, Max Kramer, Ira Rosner, Albert Lee, Malia Trask, and the team's faculty advisor Carl Johnson.
The Design Build Fly (DBF) Team traveled to Lakeland, Florida and dominated the Society of Automotive Engineers (SAE) Aero Design East Competition Awards, placing number one in both the Micro Class and Advanced Class. The competition was fierce, with 40 teams from all over the US and the world, including Poland, Brazil, the Czech Republic, and India, vying for the number one spot.
"The Georgia Tech team continues to do well in this competition. It is more than just finishing in the top-ranked teams, though. It is about the experience that the students have," said team sponsor Prof. Dimitri Mavris. "Competitions like this provide students with real-life engineering challenges that complement what they learn through our curriculum, both in terms of academics and teamwork."
Micro Class
DBF has a long history of success at SAE, taking first place in the Micro Class for nine out of the last eleven years. This year's Micro Class team was led by Salil Sodhi and Vedant Ruia and won first place overall with their aircraft, Buzzgiorno. They came in first in design report, and presentation, and second in flight performance. The mission was to design and build an aircraft that could take off from a table 2 feet from the ground and fly with speed while carrying pizza boxes and a steel payload. The aircraft had to meet certain specifications; it could only have up to a three-foot wingspan and 450 watts of electric power for propulsion. The team determined the delta wing design would work best for the mission. Buzzgiorno used a vortex lift, which is not typical of general aircraft; however, most fighter jets use it.
Nine months of preparation paid off. Even before the rule set was released, the team was hard at work building a team, and training members on CAD, design tools, and analysis tools.
"The little details are so important because if you miss one thing, your aircraft design can change. It's like the butterfly effect in aircraft design," Ruia explained.
In addition, they researched different propulsion systems and tested motor propulsion combinations. Unfortunately, they crashed the aircraft a couple of times because of crosswinds during testing. However, it prepared them for some of the challenges they would face in competition.
"The Micro class team ran into a lot of problems at the competition and were able to adapt and overcome them," said Carl Johnson, ASDL research engineer, and DBF Team advisor.
They not only had to compete against other teams, but they also had to battle the elements. The crosswinds presented the biggest challenge for the team. "You can't control the wind," Sodhi said. Luckily, they were prepared with three aircraft (two backups).
Sodhi attributes the team's success to Ruia's excellent project management, Gowtham Venkatachalam's skilled piloting, and the team's hard work, expertise, and dedication.
The Micro Class Team includes:
Michael Francesconi, Vedant Ruia, Cayetana Salinas, David Shaji, Salil Sodhi, Ryan Wijaya, and pilot Gowtham Venkatachalam
Blank Space (small)
(text and background only visible when logged in)
Image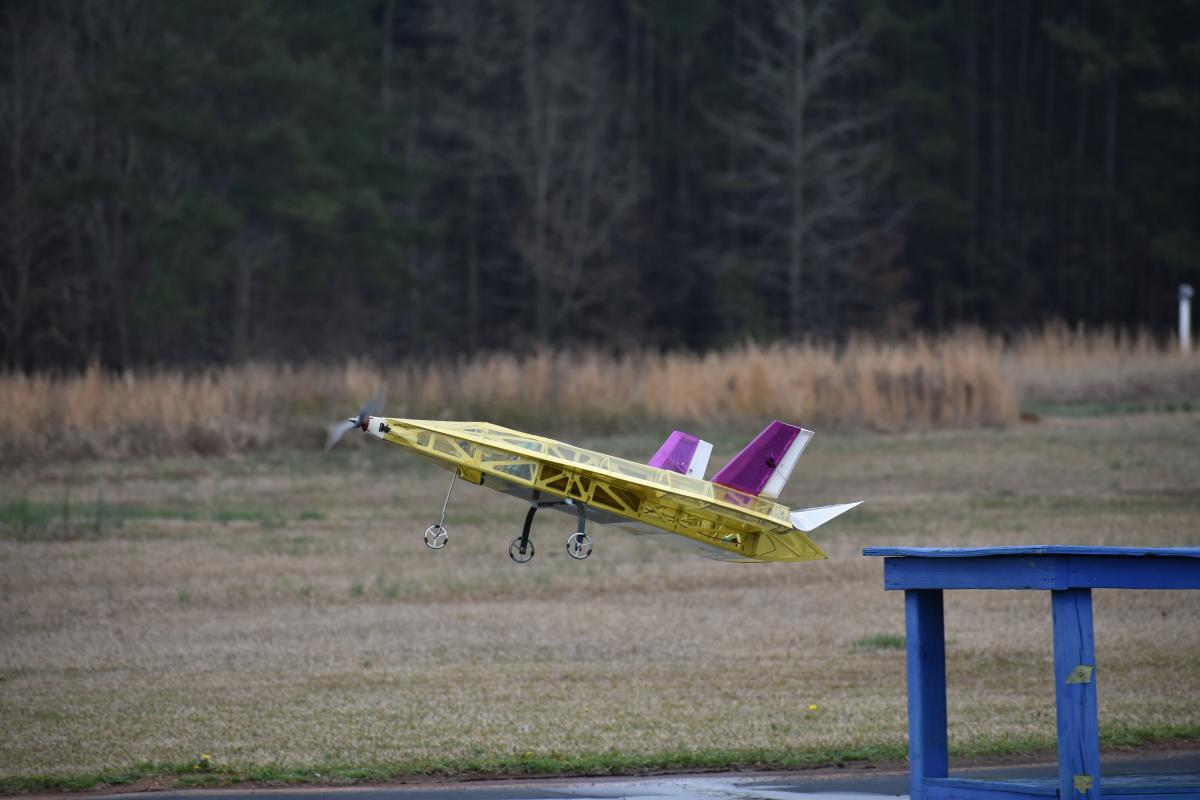 Blank Space (small)
(text and background only visible when logged in)
Image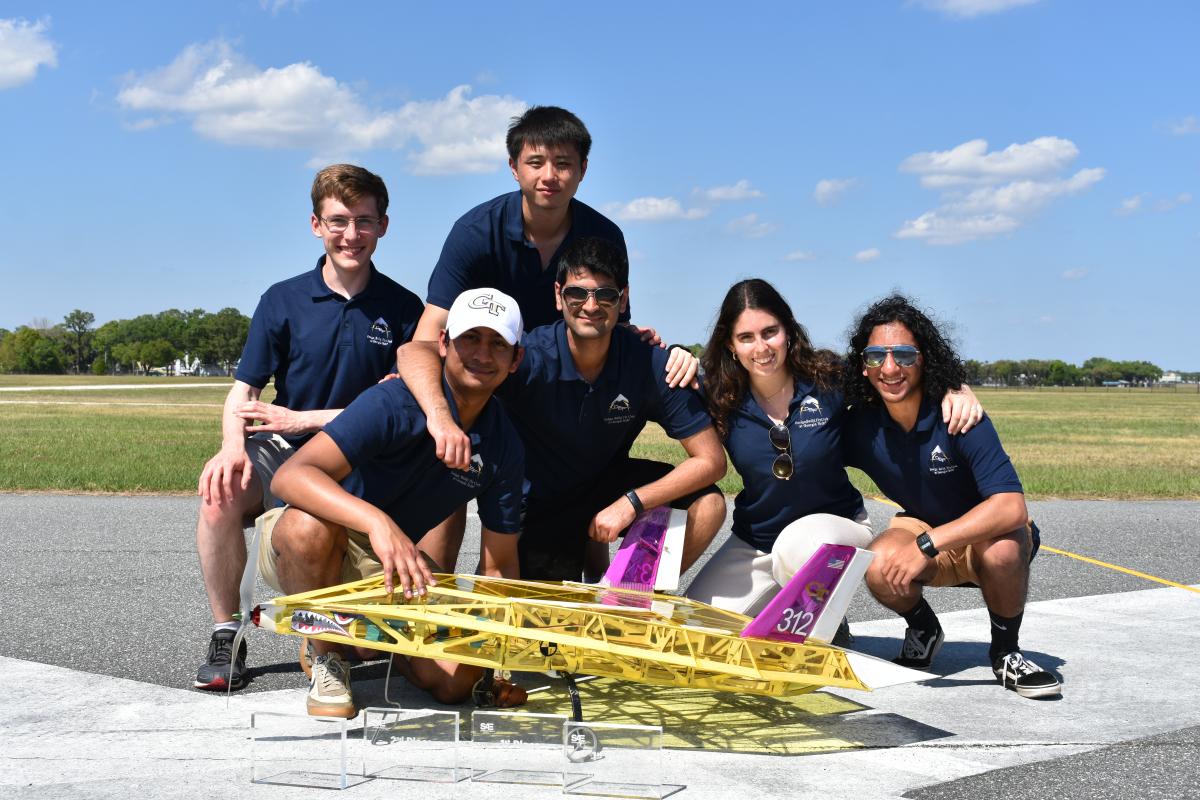 Micro Class Team: 
From left to right: Michael Francesconi, Vedant Ruia, Ryan Wijaya (standing up), Salil Sodhi, Cayetana Salinas, and David Shaji
Image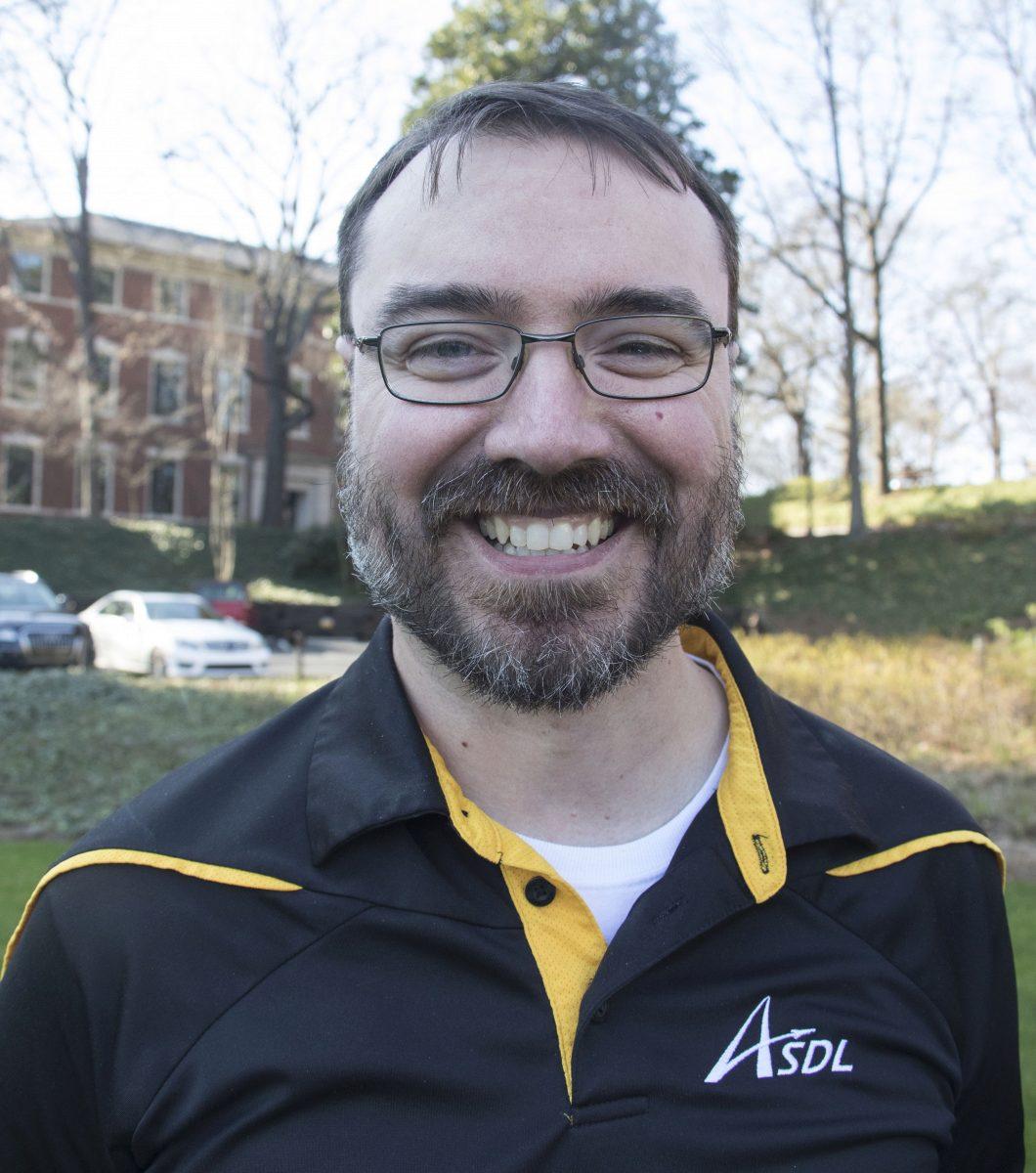 Carl Johnson, ASDL research engineer, and DBF Team advisor
"Overall, I'm very proud of the entire team. They worked incredibly hard throughout the year."
Advanced Class
Georgia Tech has taken first place in the Advanced Class for seven of the last eight years. This year's team placed first overall, first in a design report, presentation, and in-flight performance with their primary aircraft Incombuzztible under the leadership of Grant Ewing and Ishan Padmani. The firefighting nature of the competition mission inspired the name of the aircraft - Incombuzztible.
The Advanced Class Team had to design and create an aircraft with up to a ten-foot wingspan using no more than 750 watts of electric power for propulsion. Incombuzztible had to carry water, a data system to communicate with a ground station, and a smaller autonomous aircraft payload. The smaller aircraft was limited to one pound and had to be dropped from the primary aircraft at least 200 feet away and below 50 feet in altitude from a target and then autonomously navigate to the target location. The drop had to be commanded and recorded by a separate ground station that communicated data to both aircraft. To facilitate this type of mission, the primary aircraft had a camera on top of it to allow for the ground station operator to guide the Incombuzztible pilot to the right drop location verbally.
"For this year, the design process was highly iterative. It took a lot of rapid prototyping and flight testing to come up with the final design," Ewing said.
The group started work as soon as the rule set was released and finished their prototype in October. They spent most weekends working on it and conducting flight tests in a flight field just south of Atlanta; this helped them to improve upon the aircraft throughout the year.
"The Advanced Class team pushed the plane harder than we had at flight testing and made everything work with an incredibly complex system," Johnson said.
The team included students from different majors, not just aerospace engineering. There were students from civil and mechanical engineering as well.  "I think our collaborative nature helped us win. We built off each other, took each other's ideas, and incorporated them into the project. No one person was making the aircraft; it was the entire team with multiple skills working together to create a highly functioning aircraft," Padmani explained.
Padmani is a senior and believes this project further developed his ability to communicate effectively and work well with a team. "We wouldn't stand a chance if we didn't communicate and collaborate with team members, faculty advisors, graduate members, and even previous members." He will carry these skills and experiences with him after he graduates. 
The Advanced Class Team includes:
Tilahta Agbere, Grant Ewing, Yubo Fu, Max Kramer, Albert Lee, Ishan Padmani, Ira Rosner, Malia Trask, Ryan Warner, and pilot Gowtham Venkatachalam.
Blank Space (small)
(text and background only visible when logged in)
Image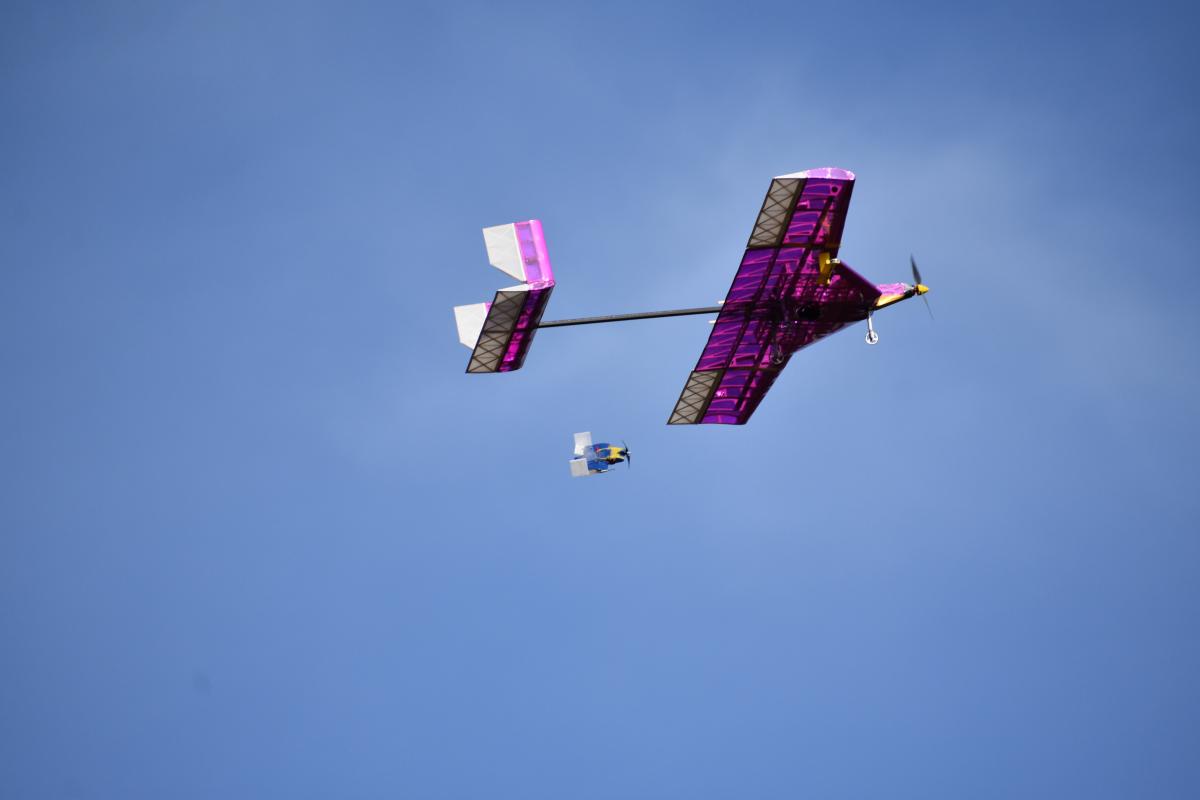 Blank Space (small)
(text and background only visible when logged in)
Image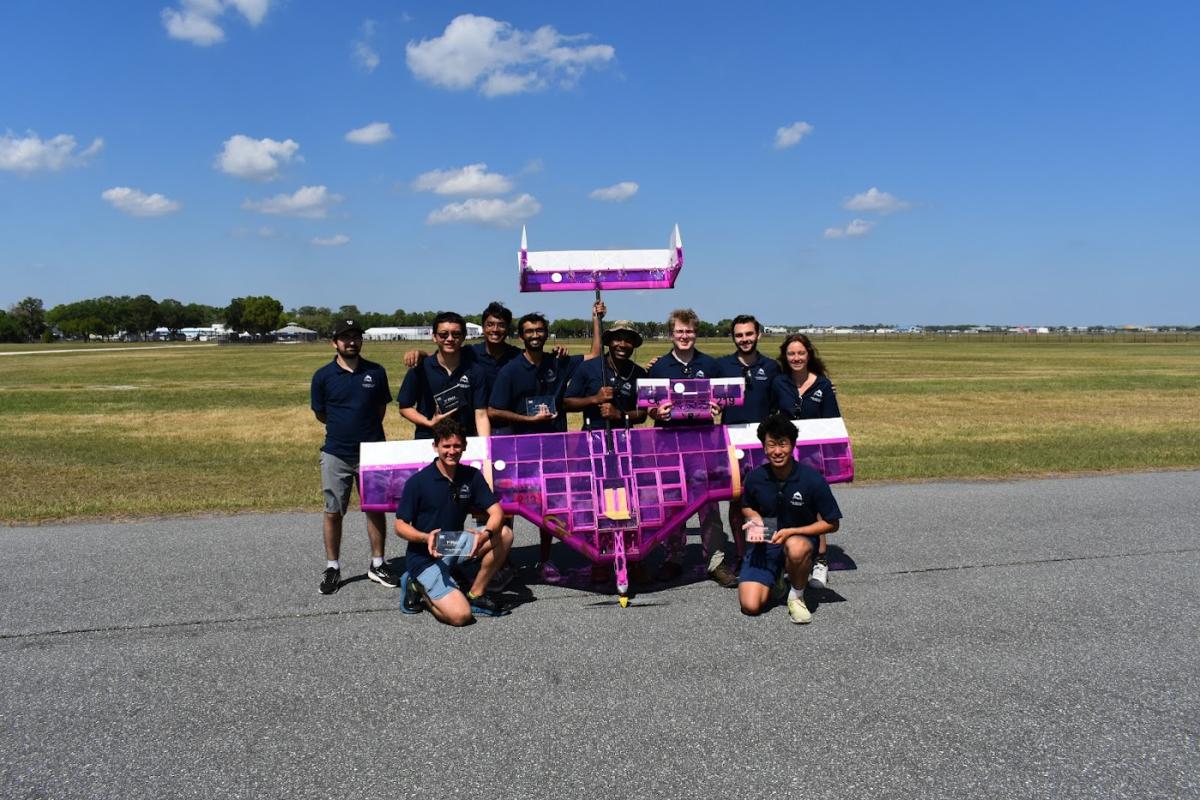 Advanced Team:
From left to right: Max Kramer, Yubo Fu, Gowtham Venkatachalam, Ishan Padmani, Tilahta Agbere, Ira Rosner, Grant Ewing, and Malia Trask