Team TRTL and Team COAST Land on the Top
Team TRTL (Taxi Rendezvous, & Taxi Launcher) took first place, and Team COAST (Crewed Orbit and Ascent Surface Transport) took third place in this year's AIAA Undergraduate Team Space Design Competition. The challenge was to design a two-lander concept to support returning two crew members from Mars to Earth. NASA plans to crew a mission to Mars by 2040. Enter the ambitious aerospace engineering students from teams TRTL and COAST with their trusty advisor, Assistant Professor Álvaro Romero-Calvo, with a master plan to help bring this goal to reality.
Team TRTL will be awarded $750, and Team COAST $500. Team TRTL will also receive a $750 travel stipend to send a representative to present at the American Institute of Aeronautics and Astronautics (AIAA) ASCEND Conference in Las Vegas, NV, from October 23-25, 2023.
"It takes a lot of dedication to write a 100-page report at the end of the semester, but TRTL and COAST did it and won. They worked hard to make this happen, and seeing their effort recognized by the AIAA is very rewarding. These awards show, once again, that our aerospace engineering students leave our classrooms prepared to tackle real-world problems with ingenuity and technical rigor. Working with them is a real privilege," Romero-Calvo said.
Team TRTL is no stranger to victory and adds the AIAA prize to their achievements. They recently won the best aerospace engineering project at the Spring 2023 Capstone Design Expo. The team includes George Blackwell, Jurist Chan, Sparsh Desai, James Farmer, Reid Fly, Aaron Hammond, Pessi Laensirinne, Eleanor Smith, and Lonnie Webb.
They designed the project with a different approach than the original AIAA challenge. The initial challenge was to design a Mars Ascent Vehicle (MAV) system which would include landing the MAV and fuel in two separate landers and designing a transport system to deliver the fuel to the MAV. TRTL, however, recognized a lot of risk in this approach and proposed instead a single lander concept, delivering only 16 tons to the Mars surface (as opposed to two 25-ton landers). In order to achieve this mass reduction, their concept delivers an orbiting taxi to Mars orbit and then lands a single-stage MAV without fuel, to the Mars surface. An In-Situ Resource Utilization (ISRU) system then generates enough fuel for the MAV to launch up to the orbiting taxi at a low, 250km orbit. This taxi would then boost the MAV up to the final orbit, where the Deep Space Transport (DST) vehicle would be waiting to take the astronauts back to Earth.
"It's critical to take a detailed approach to project planning. Although, as you map it out, you discover that each area has to be broken down even further," Farmer stated.
According to Farmer, the team didn't make many adjustments after Capstone, but they did have to go into deeper specifics about TRTL in their lengthy proposal. To get the work done, they divided sections into specialty areas, much like they did in designing TRTL. The project gave each member a deeper understanding of space design.
"Because these systems are so integrated, they affect each other differently. So, the second you add a component, it changes the mass of the whole thing, and then that changes the guidance, navigation control, structures, and more. If you alter one thing, everything possibly changes," Smith said.
The team met regularly about work but also hung out after hours and developed close friendships. Learning each person's dynamic helped them to communicate and be more productive as a team. Multiple team members highly recommend getting into these competitions early.
"I've been doing competitions since my first year at Tech, and they provide the best experience. You can't beat the knowledge you gain from competitions like Revolutionary Aerospace Systems Concepts – Academic Linkage (RASC-AL), AIAA Design Competitions, or NASA's Big Idea Challenge.  Some things you can only learn by going through and doing it," Smith emphasized.
After graduation, Smith will go on to Lockheed Martin to work in business development strategy, "I'm working in the commercial, civil space and either specializing in the habitation or the lunar mobility or the infrastructure and power areas."
At the same time, Hammond will be heading to SpaceX, working on propulsion. Farmer and the rest of the team will return to AE for graduate school, armed with the experience of creating an award-winning space vehicle.
One of the judges said, "Well done. Good concept, original, well thought out, and executed. You folks are going to Mars one day!"
Image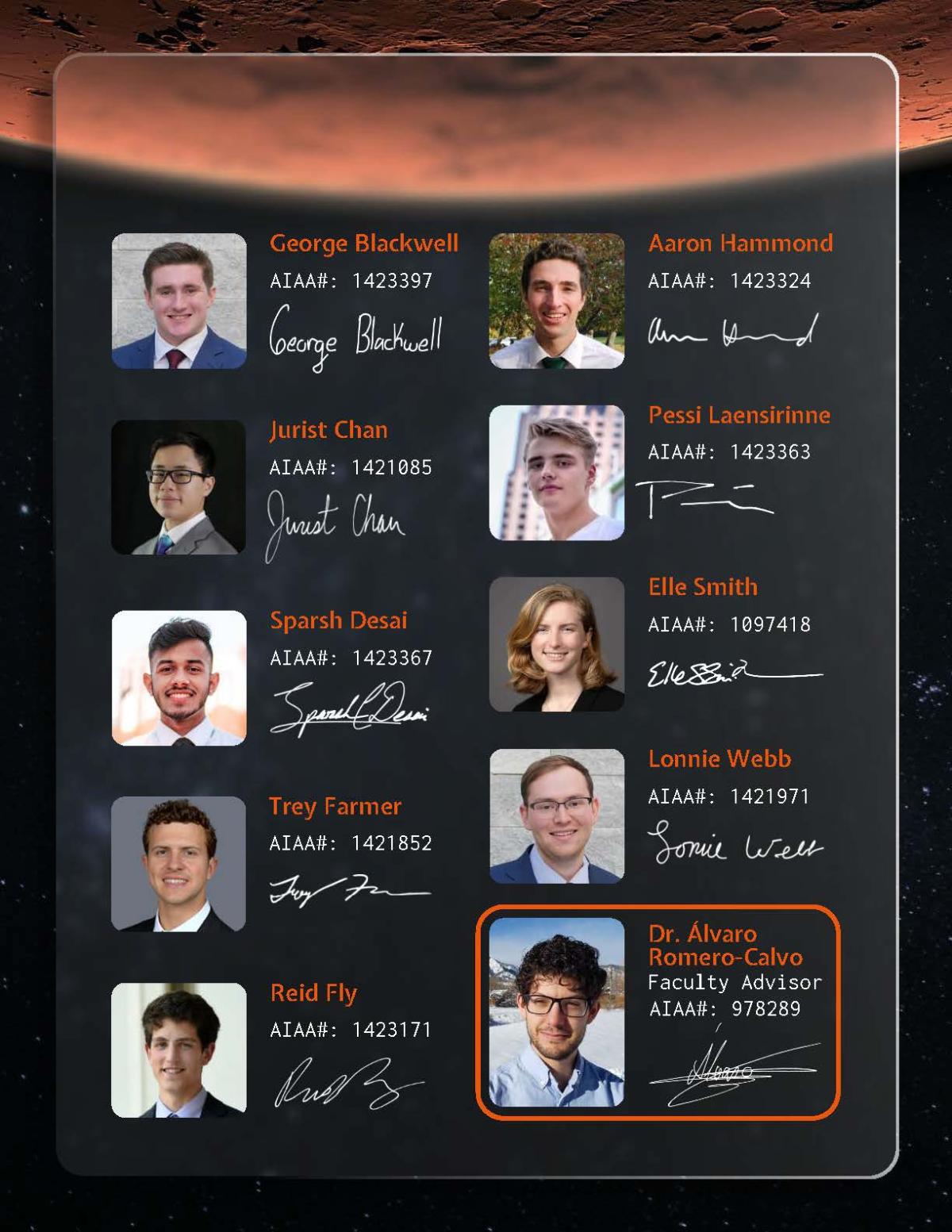 Image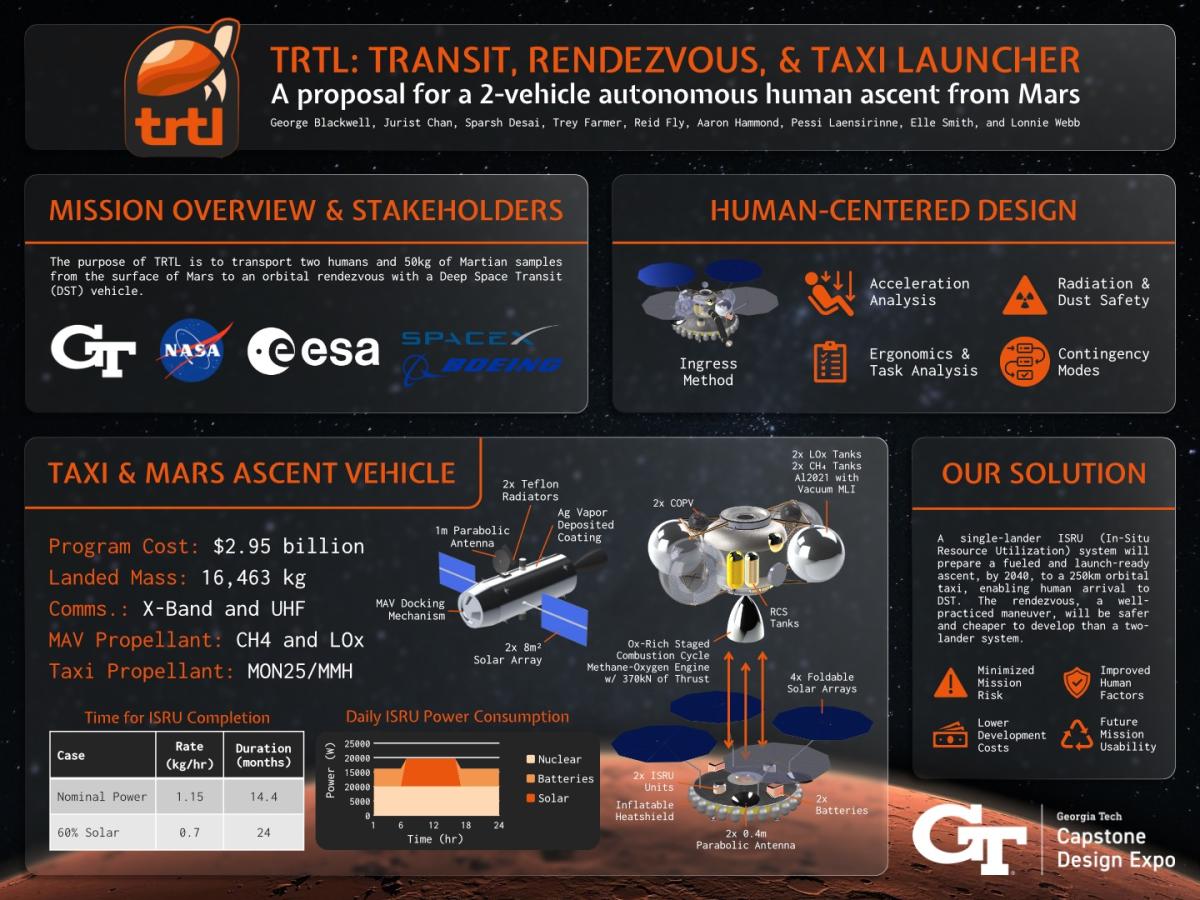 TRTL Mission and Animated Concept of Operation
Expect the Most with COAST
Placing in a national competition is a phenomenal accomplishment. Judges couldn't stop saying how well done and well thought out their plan was. Thanks to the hard work of team members: Tabitha D'Amato, Rebekah Geil, Lachlan Holliday, Landon Jarrel, Claire Keller, Michael Keraga, Braden Kerstin, Satvik Kumar, Jonathan Lin, and Kendall Seefried, they placed third.
Team COAST tackled the challenge with two landers for its mission. One lander for the MAV that will return to Earth, and the other lander to store the propellant. Both landers will be stationed on Mars. While on Mars, they will transfer the propellant from one vehicle to the other to fuel the MAV headed back to Earth. 
"To transport the propellant, we used three rovers we called PHISH (Propellant Hauling Integrated System Hardware). We wanted to design a fleet of smaller ones to have that redundancy. We used three in case one broke down because we could accomplish the mission with two," Geil explained.
During that time, the MAVs would also use ISRU technologies to produce oxygen using a scaled-up version of NASA's Mars Oxygen In-Situ Resource Utilization Experiment (MOXIE). COAST called its version SMOXIE and would use the carbon dioxide from the Mars atmosphere. Working with this technology saved them the weight of bringing an oxidizer.
"Working with a ten-person team was challenging, but we met frequently. We learned a lot about the importance of communication since we were in charge of a different subsystem. The subsystems had to interact because it's a spacecraft, and it's complicated. You have to have a lot of margins for error so that if anything fails, you're not stranding astronauts on Mars," Geil said.
Geil worked specifically on the environmental life support system because that was her interest, and she was able to go a lot deeper into the subject with this project. She advises anyone working on these types of teams to get started early, use your resources, and ask many questions because it's a learning experience.
Image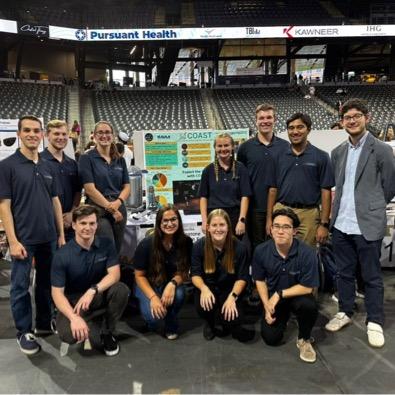 Image