The School remains #1 among public institutions.
Monday, 18 September 2023
Image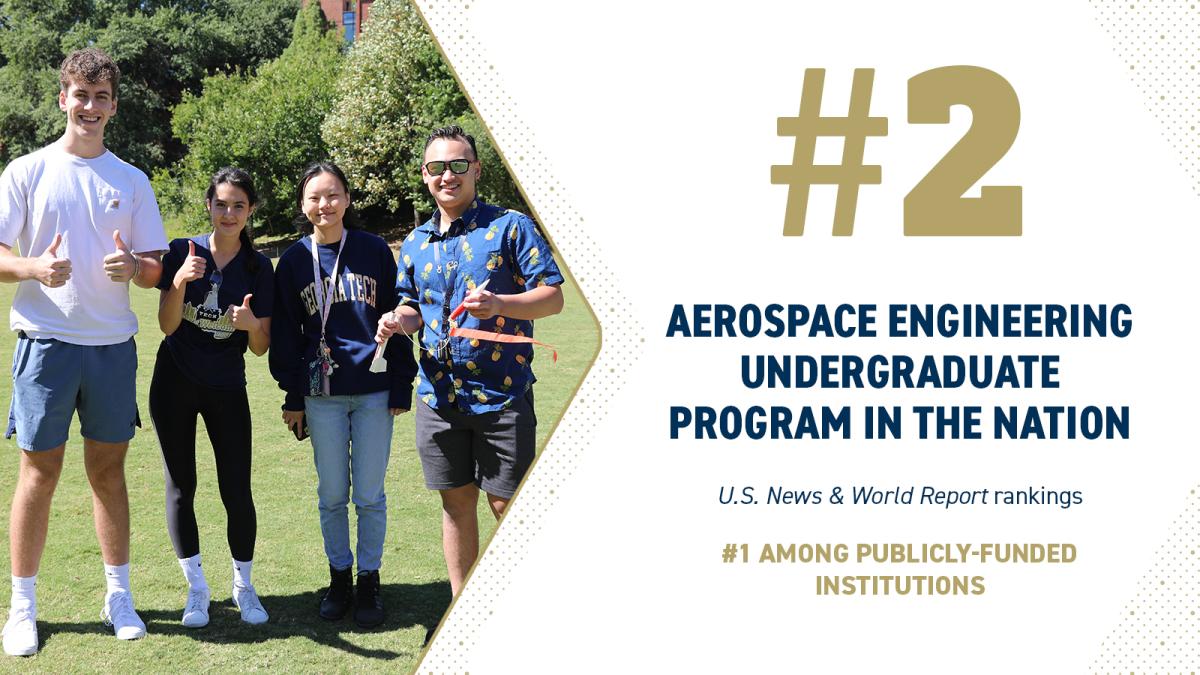 The undergraduate program at the Daniel Guggenheim School of Aerospace Engineering (AE) is ranked #2 by the U.S. News and World Report's 2024 Best Undergraduate Aerospace Engineering Programs and remains #1 among public institutions. The program has consistently been ranked in the top three for the past 23 years.
"We are incredibly proud that our program continues to be ranked in the nation's top tier of aerospace programs. It is a testament to our commitment to excellence in education, research, and innovation and to the dedication of our faculty, staff, and students, said Tim Lieuwen, interim chair and AE professor. "This recognition inspires us to strive for new frontiers in aerospace engineering as we prepare the next generation of students who will shape the industry's future."
The engineering rankings are decided by deans and senior faculty at peer institutions. U.S. News surveys deans and faculty members of undergraduate engineering programs accredited by ABET, the engineering accrediting body.
The 2024 rankings also placed Georgia Tech's College of Engineering as the #3 in the nation, tied with the University of California, Berkeley.
"Our College community continues to find new ways to innovate education in and out of the classroom, while also conducting research that furthers the human condition. I'm grateful to work alongside our faculty and staff and am always inspired by our students' determination and successes," said Raheem Beyah, Dean and Southern Company Chair.
Georgia Tech's College of Engineering is home to 11 undergraduate majors in 8 schools that were also ranked in the survey.
College of Engineering: 3rd (4th last year), 1st among publics

Aerospace: 2nd (1st last year) 1st among publics

Biomedical: 1st (2nd last year)

Chemical and Biomolecular: 2nd (unchanged) 1st among publics

Civil: 2nd (unchanged) 2nd among publics

Computer: 5th (4th last year) 2nd among publics

Electrical: 4th (2nd last year) 2nd among publics

Environmental: 3rd (unchanged) 2nd among publics

Industrial and Systems: 1st (unchanged)

Materials Science: 6th (5th last year) 4th among publics

Mechanical: 2nd (unchanged) 1st among publics