Image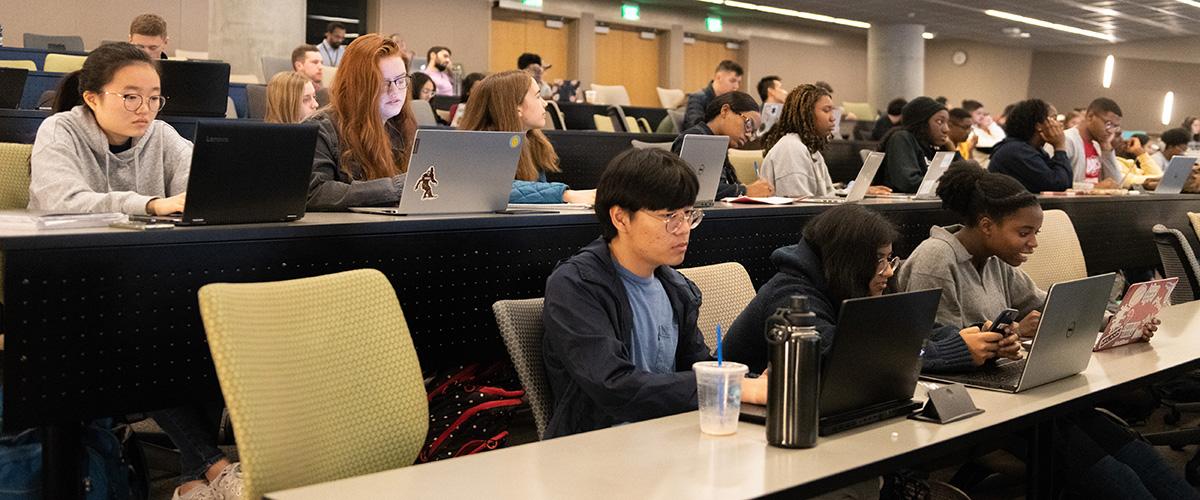 All MS students in the AE School pursue either a Non-Thesis or a Thesis degree, both of which require the completion of 33 credit-hours of coursework and research.
The chart and explanations, below, summarize the overall distribution of credit-hours that all MSAE students must follow.
MS Credit-hour Requirements
MS without Thesis
(33 cr. hr. total)
MS with Thesis
(33 cr. hr. total)
AE Graduate Seminar
AE 8002*
AE8002*
Formal Courses
(not including thesis, research AE 8900)
30
24
12
9
6
6
6
3

6000-level or above (minimum)

21
15
Research Coursework
3
(AE 8900)
9
(AE 7000)
NOTE:
The AE School does not require its grad students take specific classes. Graduate students are expected work with their advisors to map out a rigorous and individualized educational program that includes research in one or more of the eight multidisciplinary research disciplines and meets the following requirements:
AE8002 (1 credit-hour. P/F) is required during your first year in residence in the graduate program at Georgia Tech but it does not count toward the 33 credit-hours needed for your degree. This requirement is waived for Distance Learning students and all students who started the program before the Fall 2018 semester.
Completion of at least six (6) credit-hours of mathematics; No more than nine (9) credit-hours may come from the Senior Undergraduate (4000) course level;
Transfer students may bring no more than six (6) credit-hours from an accredited school in US or Canada. All transfer credit award decisions will be made by the Graduate  Curriculum Committee.
Graduate-level courses may be chosen from the current Georgia Tech course catalog, as well as from the appropriate Special Topics courses listed on the Registration page.
The preceding is a brief summary of the requirements and is not meant to cover all aspects of the curriculum. Students should visit the AE Graduate Handbook for a complete description of the requirements for the MSAE degree.
Blank Space (medium)
(text and background only visible when logged in)