For more than a dozen years, the undergraduate program rankings of the Daniel Guggenheim School has been in the top 5
Tuesday, 13 September 2016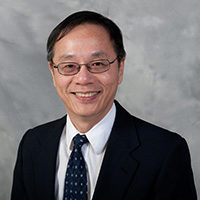 Vigor Yang
The release today of US News & World Report's annual undergraduate program rankings has once again placed the Daniel Guggenheim School of Aerospace Engineering at #2 in the nation.
The Daniel Guggenheim School shares its top rating with all of the Georgia Tech engineering schools, all of which were ranked 6 or higher in their respective disciplines. Two schools -  Industrial & Systems Engineering and Biomedical Engineering - grabbed the #1 spots, while the College as a whole climbed one spot to #4, where it is tied with the California Institute of Technology.
"We are humbled and inspired, both, by this finding," said AE School Chair Vigor Yang. "Because we collaborate with our many peers, we know the quality and rigor of our cohorts. With this ranking, we are motivated anew to earn their continued respect for our work."
Find out more about Georgia Tech's CoE  rankings.
Undergraduate program scores for the US News rankings are based on surveys of deans and faculty members at other universities. The rankings can carry heavy influence among current undergraduates, professors, prospective students, peer institutions and the media.
Here at Georgia Tech, the rankings announcement elicited some School pride and an elevated sense of confidence from the students, alumni, and job recruiters who were gathered at the Campus Recreation Center for this week's Georgia Tech All Majors Career Fair.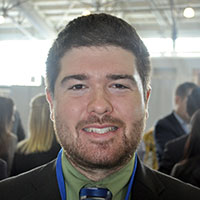 Gregory Hopkins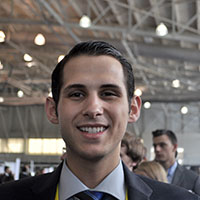 Tarazi Salah
"A lot of this has to do with the fact that we have the best professors in the country," said Gregory Hopkins, a senior who was waiting in line to speak with a recruiter. "And the School really invests in the students."
Those sentiments were echoed by Tarazi Salah, who will graduate next May:
"I got a few offers from other schools, but there was no question I was going to go to Georgia Tech. It's the school that employers are excited about. They know our graduates can meet their standards."
Fifth year senior Richard Craig similarly credited the School's rigorous academics with giving him an edge in the job market.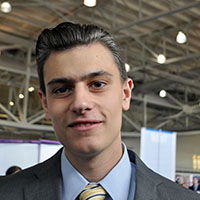 Richard Craig
"Because our professors push us to the limit, I find that my friends studying aerospace at other schools don't come close to what we are expected to deliver at Tech.  When they see our coursework, it's over their head," he said.
"But the most important part is after college, when employers know that Tech grads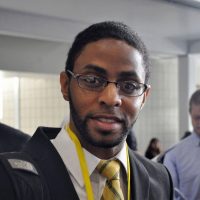 Colton Thomas
can work in teams, apply theories, and find solutions."
Colton Thomas, who graduated in May, agreed with his former classmates:
"Georgia Tech pushes its students to do the best, and its professors are outstanding," he said. "Before I enrolled, I read up on the research that the professors had done on the Mars Rover, and the heat shield. That's when I realized I would be able to find out about those things from people who'd actually worked on them. That's something that not a lot of schools can do."
These observations matched up with comments we gathered from the recruiters at the Career Fair.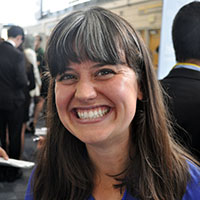 Scottie-Beth Fleming Lindsley, PhD AE '16
"I'm not surprised that [Georgia Tech's] AE is rated so highly," said Logan Snow, a recruiter from the Naval Nuclear Laboratory. "The aerospace students I've spoken with have demonstrated a diverse and in-depth knowledge of fluid dynamics. And in some ways, they are more suited to our needs because they have are groomed to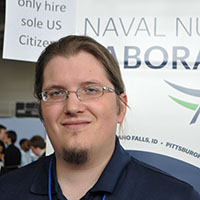 Logan Snow
work in tough environments. That's what we need."
None of this surprised the recruiter from Sandia National Labs, Scottie Beth Fleming Lindsley, PhD AE '16.
"The critical thinking skills in the AE students are second to none," she said. "They are really prepared for their next challenge, and it shows."