AE School Professor unanimously chosen by Vertical Flight Society
Tuesday, 21 December 2021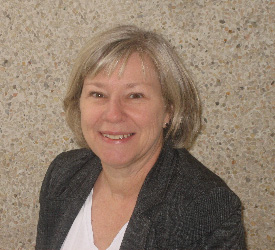 Marilyn Smith
Georgia Tech Professor Marilyn Smith was unanimously selected by the Vertical Flight Society (VFS) to give the 2022 Alexander A. Nikolsky Honorary Lectureship. Smith, a faculty member in the Daniel Guggenheim School of Aerospace Engineering (AE School), will give the 42nd Nikolsky Lecture this coming May in Fort Worth, Texas.
According to the VFS, the honor is awarded to "an individual who has a highly distinguished career in vertical flight aircraft research and development and is skilled at communicating technical knowledge and experience."
Smith directs Georgia Tech's Vertical Lift Research Center of Excellence (VLRCOE), where she leads a seven-university team of experts in vertical lift research for the U.S. Army, U.S. Navy, and NASA. In addition, she is Principal Investigator for two other major multi-partner awards including the first Georgia Tech-led NASA University Leadership Initiative (ULI) program in urban air mobility and a five-year NASA Rotorcraft Vertical Lift Technology Demonstration (RVLTD) award just announced in December. In addition to her own awards from the Office of Naval Research (ONR), Army Research Office (ARO), National Science Foundation (NSF), Department of Defense (DoD), and industry, her Georgia Tech career includes partnering with the Georgia Tech Research Institute (GTRI) resulting in externally funded research for both organizations that total more than $200 million.
Smith is the fifth person from Georgia Tech to be selected for the honor during its forty-two year history.
"I am honored and humbled to join the ranks of Nikolsky lecturers who have made significant contributions to Vertical Lift, including Georgia Tech's own eminent professors Robin Gray, Robert Loewy, Daniel Schrage, and Dewey Hodges," Smith said.
Smith's Nikolsky Lecture will be titled "Computational Vertical Lift Aeromechanics and Its Future in the 21st Century" and will be given at the VFS's 78th Annual Forum & Technology Display on May 10, 2022. In addition, the three-time Georgia Tech graduate will be presented with the Alexander A. Nikolsky medallion and certificate during the Forum 78th Annual Grand Awards Ceremony.
In addition to the two events, Smith's will author an authoritative peer-reviewed treatise on the topic for the Journal of the AHS, the world's only scientific journal dedicated to vertical flight.
"The Nikolsky lecture is an incredible honor to showcase not only Dr. Smith's thought leadership in vertical lift, but her impact on the next generation of aerospace engineers," said Mark Costello, chair of the AE School.
The VFS is the global professional society for engineers, scientists, and others working on vertical flight technology. The group brings together industry, academia, and governments to address the toughest challenges in vertical flight. It has been the primary forum for interchange of information on vertical flight technology for more than 75 years.