Jesudunsin Awodele, Emily Herrmann, Joshua Ingersoll, and Margaret Kilpatrick accepted into the prestigious program

Daniel Guggenheim School of Aerospace Engineering students Jesudunsin Awodele, Emily Herrmann, Margaret Kilpatrick and alumnus Joshua Ingersoll (BSAE 2018, MSAE 2019) have been selected for the 2022 Aviation Week Network's 20 Twenties program. 
Now in its eighth year, the prestigious awards program honors 20 students in their twenties currently enrolled in a bachelor's or master's degree program in science, technology, engineering, or math (STEM). A total of 149 different colleges and universities around the world have participated by nominating students on the basis of their academic performance, broader civic contribution, and the value of their research or design project. This unique program brings together technology hiring managers, students and faculty around the world to recognize what's needed for business and academic success.
Awardees will formally receive their award on November 3 at the Aviation Week Network's 65th Annual Laureate Awards and Dinner at the National Building Museum in Washington, D.C.
---
Jesudunsin Awodele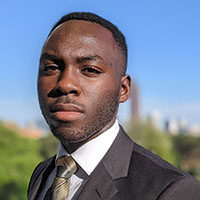 Jesudunsin Awodele
The AE senior is a cadet in the Georgia Tech Air Force ROTC. He's worked as a research assistant with the Aerothermodynamics Research and Technology Lab and this past summer interned with the Georgia Tech Research Institute (GTRI) as a system modeling intern.
He grew up always loving airplanes and especially loved fighter jets, the F-22 being his favorite. He loves how aerospace constantly defies what we thought was possible and when it came time to deciding on a school to study at, Georgia Tech was an easy decision.
"This award is less a validation of my self-worth and more a reminder that if I can keep grinding and pursuing my passion, I really can do anything I set my mind to. I have come to realize that it is ok to fail, because that just means you are challenging yourself to do new things outside your comfort zone," he said.
After graduation, he plans on commissioning as a second lieutenant and starting his master's degree as part of the AE School's BS/MS program. After completing his studies, he hopes to go to test pilot school and become a flight test engineer in the Air Force.
---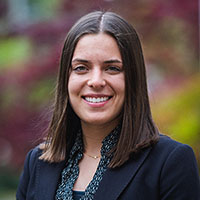 Emily Herrmann
Emily Herrmann
Herrmann is a second year AE master's student and graduate research associate in the Aerospace Systems Design Lab (ASDL). She loves working on things that fly and credits her love of science and problem-solving combined with the support of her parents with her pursuit of studying aerospace engineering.
"I'm honored to be selected. This award validates that I'm on the right path! As an engineer, I try to make my big career choices – what to major in, what job offer to take, which graduate program to attend – based on objective criteria, but most often have wound up following my gut," she said.
In her spare time, she plays a variety of intramural sports with her ASDL lab mates and is also a member of the Georgia Tech Society of Women Engineers.
After graduating in December with her master's degree, she plans on starting her doctoral studies in ASDL where she will work on defense, hypersonics, conceptual design, and architecting of advanced vehicles and systems.
---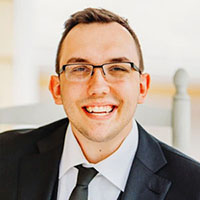 Joshua Ingersoll
Joshua Ingersoll (BSAE 2018, MSAE 2019)
While completing his master's degree in aerospace engineering at Tech, Ingersoll served as the president of the GT Glee Club, member of Pi Epsilon Phi Choral Service Fraternity and the Students for the Exploration and Development of Outer Space (SEDS). The AE alumnus is currently completing a double master's degree at the George Washington University in space policy and business administration. His research pursuits include developing regulatory structures to help support the commercial space industry.
"While being recognized will always feel great, there are two things about the 20 Twenties award that stand out to me. First, the award highlights community impact. During the pandemic I established a digital learning curriculum focused on Space in tandem with my 7th grade science teacher Jeanine Tedesco dubbed "Stellar Science with Josh"… Second, while I was ecstatic to learn I was part of this year's cohort, I was *over the Moon* when I got a call from my close friend and mentee Jesudunsin "Dunsin" Awodele proclaiming that he too was an awardee this year," said the AE grad.
In his spare time, he volunteers with both the Matthew Isakowitz Fellowship Program as a special projects lead and the Space Generation Advisory Council (SGAC). He is currently working as a Satellite Regulatory Engineer at Amazon's Project Kuiper in Crystal City, Virginia.
---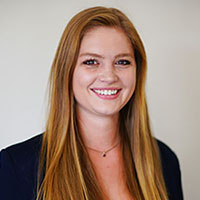 Margaret Kilpatrick
Margaret Kilpatrick (MSAE 2022)
The AE summer graduate just completed her master's degree in aerospace engineering this month. As a student she participated in graduate research in various fields including aircraft electrification, satellite network propagation, and advanced aircraft configurations.
"It is an honor and humbling to be considered one of the top women in engineering. I love the opportunity it will give me to meet other top students in the field and to be able to keep motivating younger students, especially women, to learn about STEM," said the recent graduate.
What attracted her to studying aerospace was the infinite possibilities within the field and wanting to become an engineer that will make the technology that will move humans to an interplanetary species and beyond. Later this year she will begin working for Lockheed Martin as a propulsion controls engineer.