Natasha Schatzman receives prestigious Vertical Flight Society award.
The Vertical Flight Society (VFS) announced that Daniel Guggenheim School alumna Natasha Schatzman, BSAE 2011, MSAE 2014, PhDAE 2018, is the 2023 recipient of the VFS François-Xavier Bagnoud Award. The award is given annually to a VFS member who is 35 years old or younger for outstanding career-to-date contributions to vertical flight technology.
Schatzman was recognized for outstanding vertical lift research, extensive contributions to the VFS technical community and local VFS San Francisco Bay Area Chapter, and outstanding mentorship in the rotorcraft field.
"When I heard that I was receiving this award, I first felt huge gratitude to my Georgia Tech professors and NASA mentors. There are many professors to thank, but I especially want to recognize Professor Narayanan Komerath (graduate advisor), Professor Lakshmi Sankar, Professor Marilyn Smith, Professor Daniel Schrage, and Professor Jechiel Jagoda," she shared. She went on to note, "Each of these professors taught me about engineering, but more importantly helped me realize the importance of mental health."
Image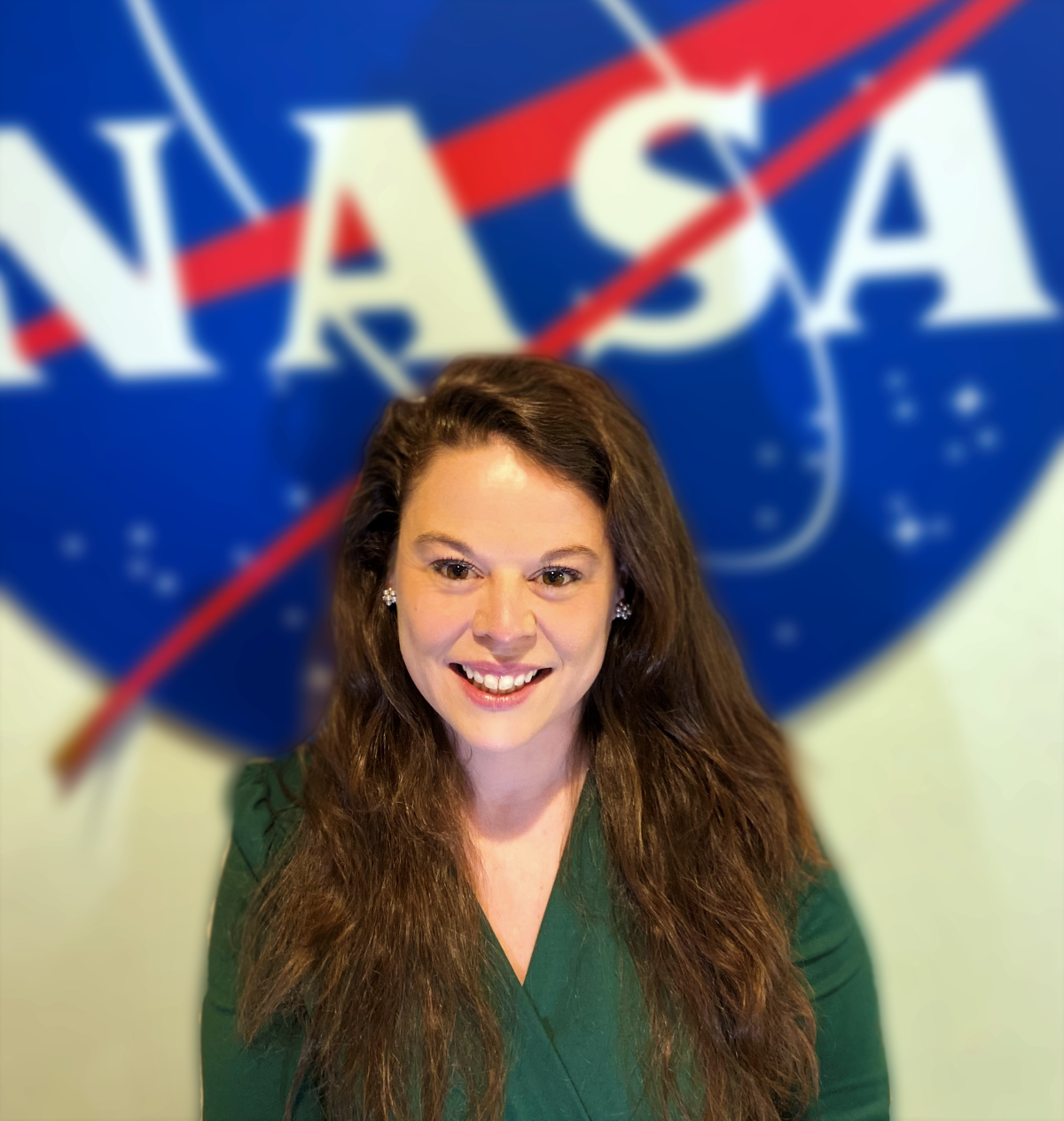 Blank Space (medium)
(text and background only visible when logged in)
She knew at a young age that she wanted to study aerospace thanks to her father and two older brothers who frequently worked on mechanical projects at home. She enjoyed using her imagination and watching airplanes fly with her father at the local airport – all indicators of an aerospace engineer in the making. When deciding where she would go to school to nurture her interests, Schatzman shared, "it was a no-brainer" that Tech was her top choice.
Image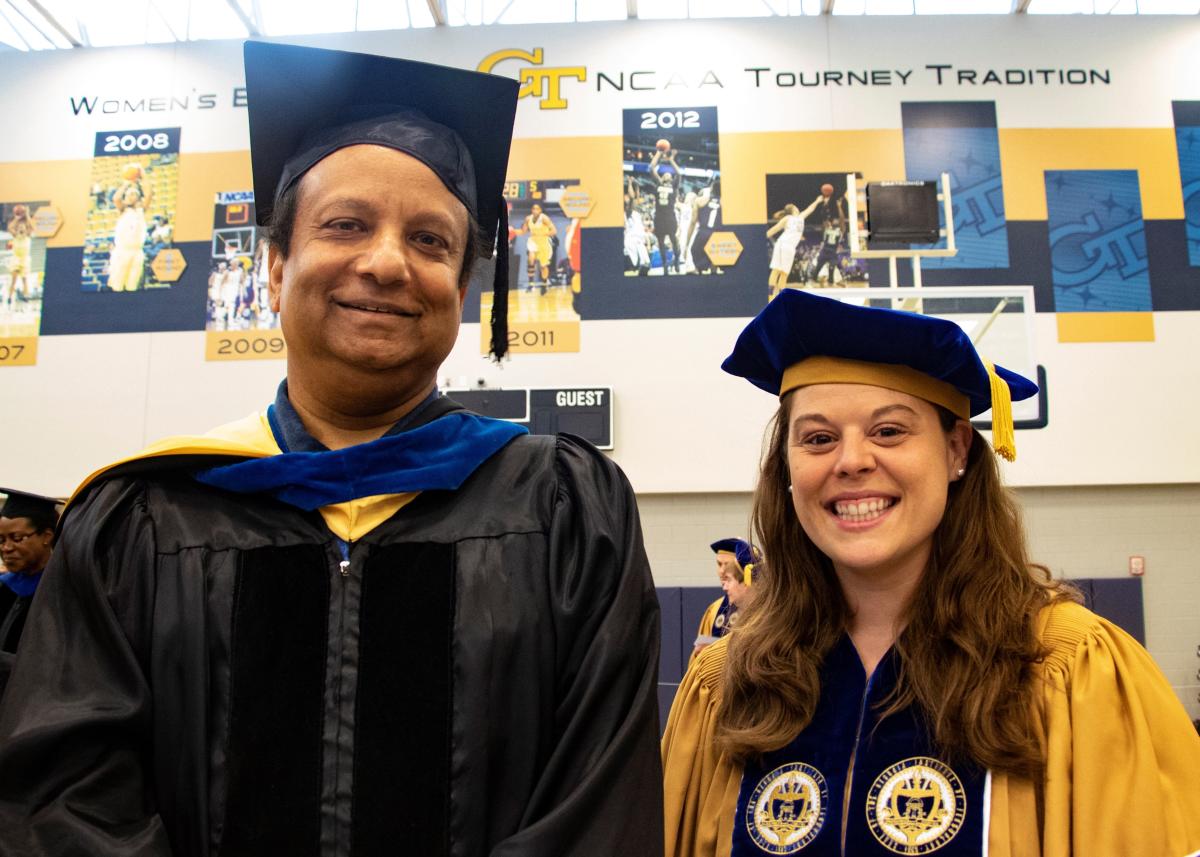 Natasha and her graduate
advisor Prof. Narayanan Komerath 
Image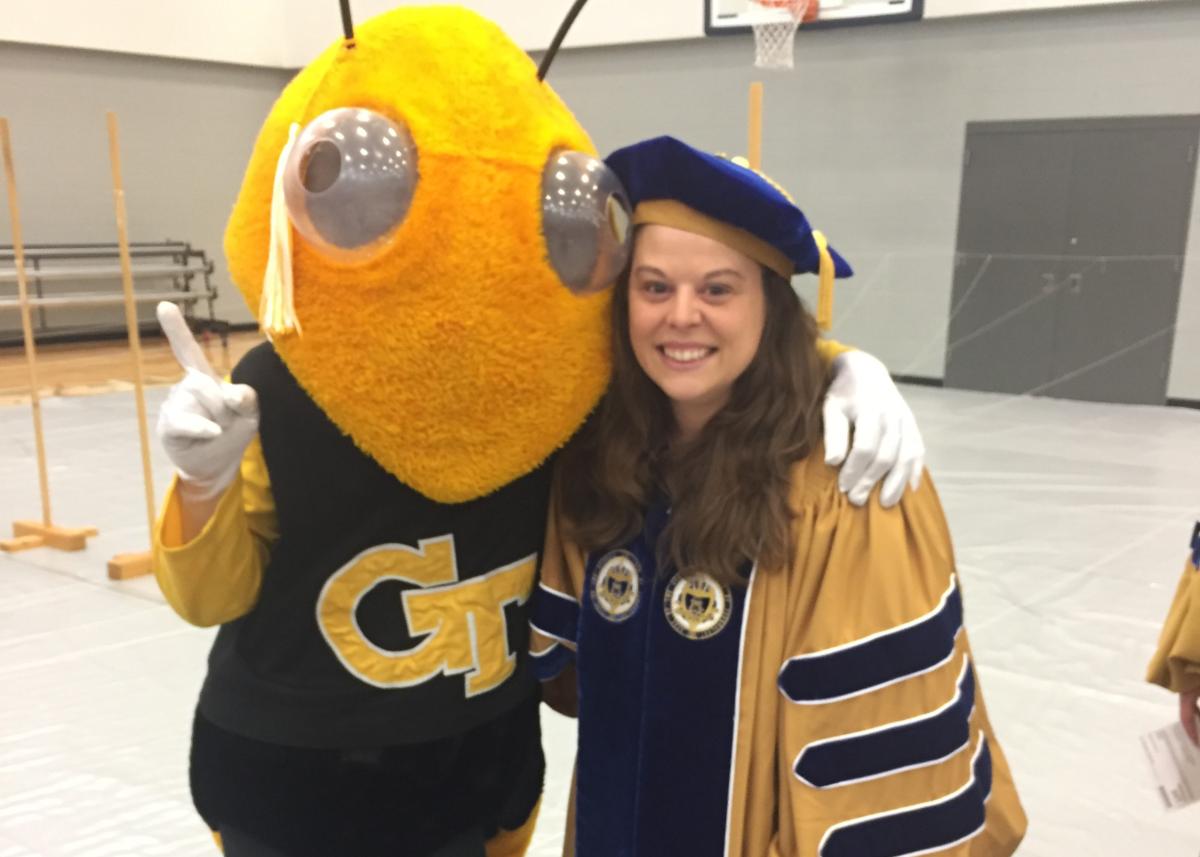 Natasha and Buzz before commencement

The Triple Jacket found her love of vertical flight when she interned at NASA Ames Research Center under the supervision of William Warmbrodt during her sophomore year at Tech. During her internship, she acquired acoustic measurements of the Boeing Smart Material Actuated Rotor Technology (SMART) rotor in the National Full-scale Aerodynamics Complex (NFAC) 40-by 80-Foot Wind Tunnel. 
When she returned to Tech, she had a newfound appreciation of the field and jumped at the opportunity to conduct undergraduate research with Professor Sankar and Research Engineer Jeremy Bain. Through their mentorship, she found a passion for vertical flight, and she wanted to learn more.
"Call it luck or a blessing, but the choice to continue my graduate studies at Georgia Tech was an easy decision because it is a Vertical Lift Research Center of Excellence (VLRCOE)! Georgia Tech was tough, but it gave me grit and lit a fire in my belly to be a strong engineer. I was never top of the class, but I had the perseverance to never give up when I failed," said Schatzman.
Her determination led her to successfully defending her dissertation, Aerodynamics and Aeroacoustic Sources of a Coaxial Rotor, which identifies several unique aerodynamic phenomena that occur in coaxial rotor configurations. She dedicated her defense to her mentor and friend Wel Chong (Ben) Sim, who passed away during the completion of her dissertation.
Image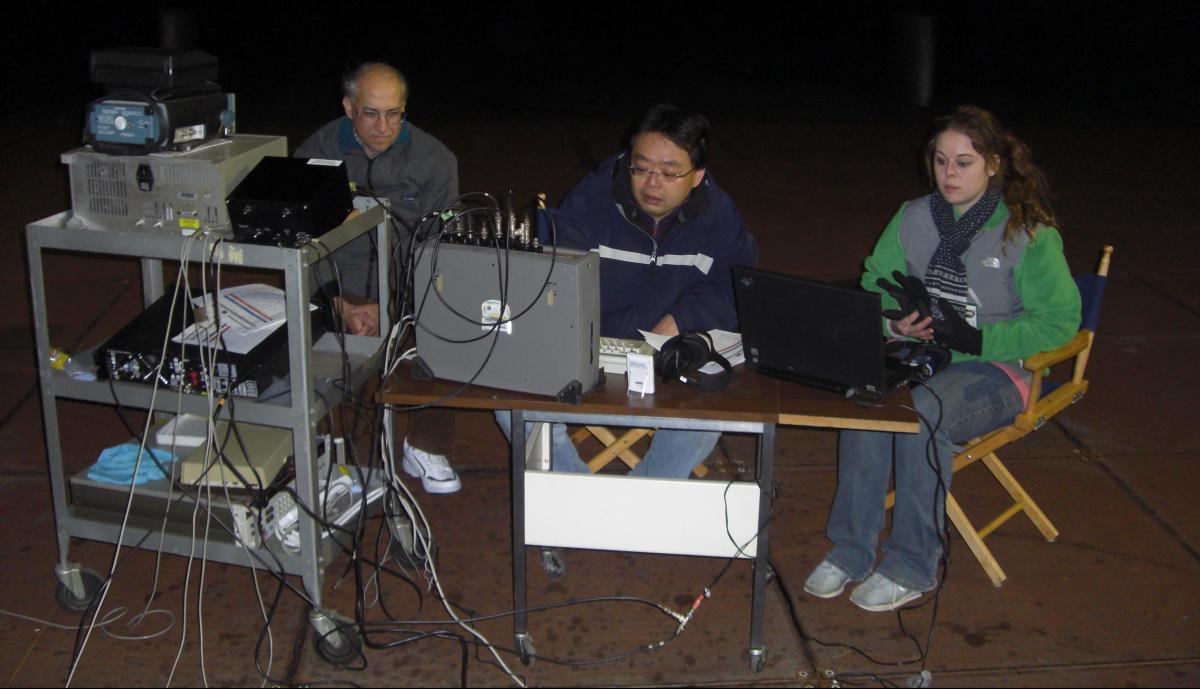 (from right) Natasha Schatzman, Cahit Kitaplioglu, and the late Dr. Ben W. Sim working on the Boeing SMART rotor research
Image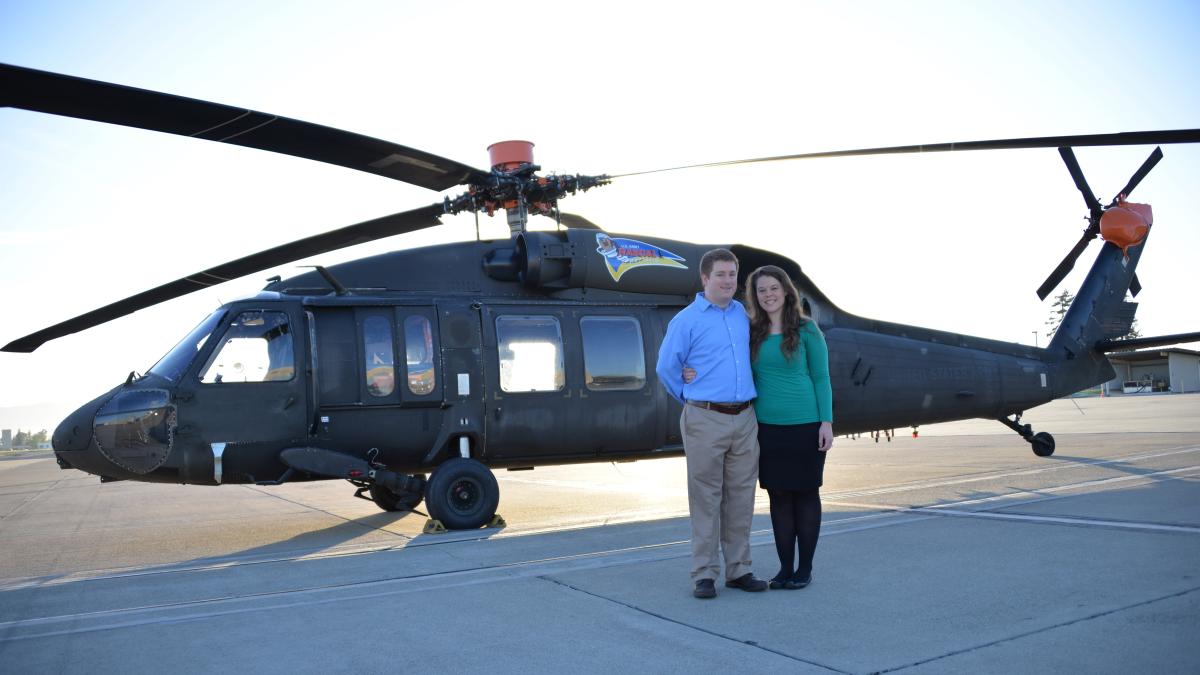 Natasha poses in front of a UH-60 helicopter with her husband David Schatzman
"I am grateful for the patience and selflessness that each of my professors and mentors showed me. Getting through graduate school was not always smooth sailing, but the dedication I had and the true belief that others had in me is why I made it through," she shared.
As a result, she's made mentorship a priority and has personally mentored over 50 undergraduate and graduate students. Today, she works at NASA Ames Research Center as a research aerospace engineer in the Aeromechanics Office. She's currently involved with multiple planetary vehicle development efforts, including the Mars Sample Return mission.
Blank Space (small)
(text and background only visible when logged in)
Image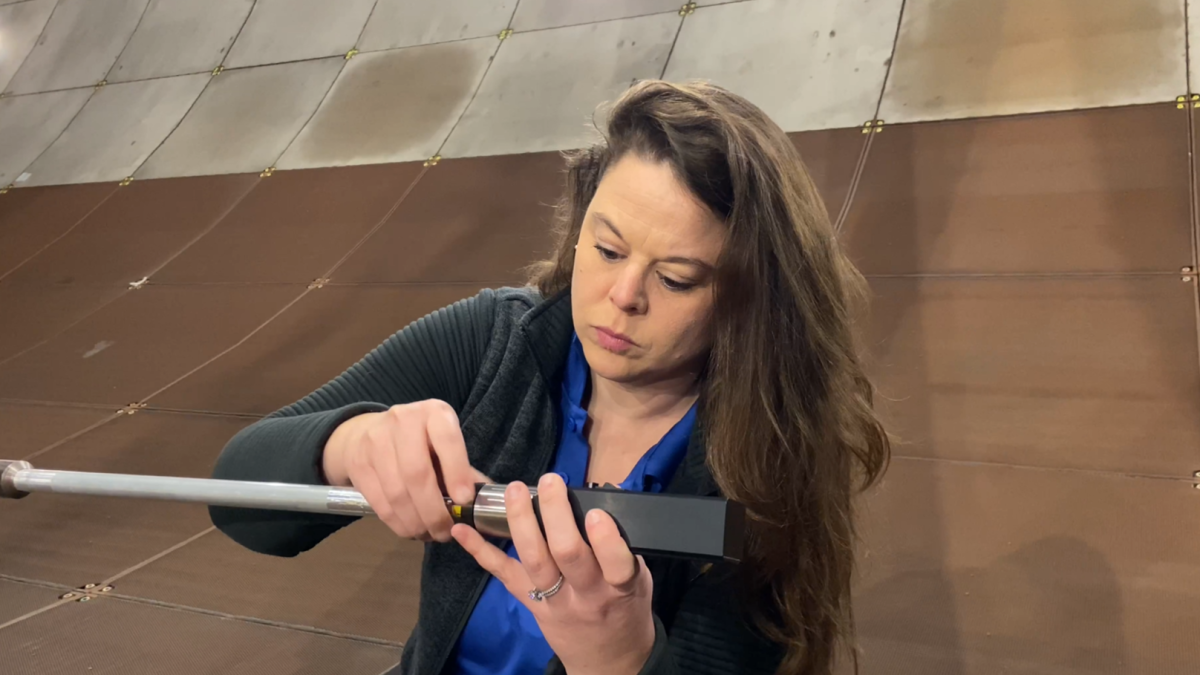 Natasha working at NASA Ames
Image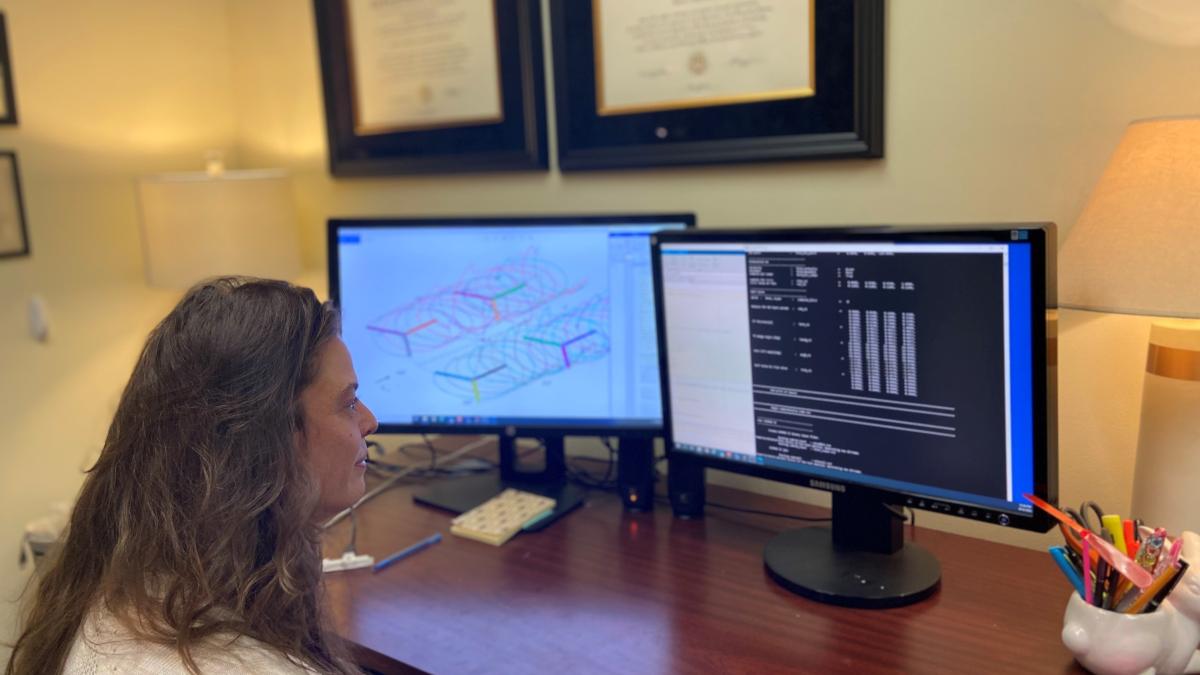 Natasha reviewing rotorcraft data as her GT degrees proudly hang in the background
Blank Space (small)
(text and background only visible when logged in)
About the Vertical Flight Society:
The Vertical Flight Society was founded as the American Helicopter Society in 1943 by the pioneers of the helicopter industry, who believed that technological cooperation and collaboration were essential to advancing vertical flight. VFS is the global non-profit society for engineers, scientists, and others working on vertical flight technology. For 80 years, the Society has led technology, safety, advocacy, and other important initiatives, and has been the primary forum for the exchange of information on vertical flight technology.