Georgia Tech Selected to Lead a $5 Million Grant to Make Space Development More Sustainable
Tuesday, 12 September 2023
Georgia Tech was selected for an Air Force Office of Scientific Research, Space University Research Initiative (SURI) grant for up to $5 million to enhance logistic frameworks in space. AE Professor Koki Ho will serve as the director and principal investigator (PI) and AE Professor Panagiotis Tsiotras will serve as a Co-PI. They will work with Co-PIs from Georgia Tech, the University of Illinois, and Redwire. Their proposal, ATLAS (Advancing Technologies for Logistics Architecture in Space) aims to conduct basic and applied research to discover ways to improve space logistics and mobility and remove the barriers in system-level designs, robotics, and spacecraft health monitoring.
Realization of an effective space logistics paradigm requires innovations in all aspects of its ecosystem, including the system-level multi-spacecraft coordination, robotics technologies for the servicing vehicles, and the design of the subsystems for spacecraft to be serviced, particularly the thrusters to be refueled. In response to this background, the project focuses on three areas: a network-based space logistics chain model, a hybrid soft-rigid robotics service arm as well as its controls, and an intelligent health monitoring and remaining life thruster assessment.
Building the Network
Refueling can be an issue in space. The ATLAS project will provide cis-lunar space with refueling and repairing stations through strategically placed depots and equipped servicers. Based on analysis and research, the project will determine the best places to locate these fuel-carrying depots and the best strategy to deploy the servicers.
"For example, FedEx and Amazon deliver products to customers. The customers are scattered over a large area. They have a limited number of trucks and warehouses of materials. The trucks travel between the warehouse and the customers," Ho explained. "FedEx and Amazon have to determine the most strategic and cost-efficient places to put a warehouse and how many trucks they will need to provide services to their customers. In space, our warehouses are depots, and trucks are servicers. We must develop similar types of logistics models in Earth orbits and cis-lunar space in addition to developing specific technologies."
Not only will the servicers provide fuel, but they will also offer repair services. These repairs are more sustainable and can save time and money. Conventionally, if a subsystem of a satellite fails or if its fuel runs out, we would have to discard it and launch a new one, but with on-orbit repair and refueling, we could repair or refuel the satellite and continue using it in a sustainable way.
In addition to the complex logistics network design, cis-lunar space presents a significant challenge to the project. Ho has done similar work in synchronous orbit through a project with DARPA, but this far into space is different and more complex.
"From an astrodynamics perspective, it's a challenging domain. In cis-lunar orbit, we have what is called a three-body problem. We need to consider the Earth's gravity, the Moon's gravity, and the spacecraft. The three-body trajectories are more complex than the two-body problem we use close to Earth," Ho said.
Ho's extensive expertise in space logistics modeling is demonstrated through his work with the Department of Defense, NASA, and industry partners, as well as his leadership role as the Chair of the AIAA Space Logistics Technical Committee, which positions him as a prominent figure in the field of In-space Servicing, Assembly, and Manufacturing (ISAM) logistics design.
Blank Space (small)
(text and background only visible when logged in)
Image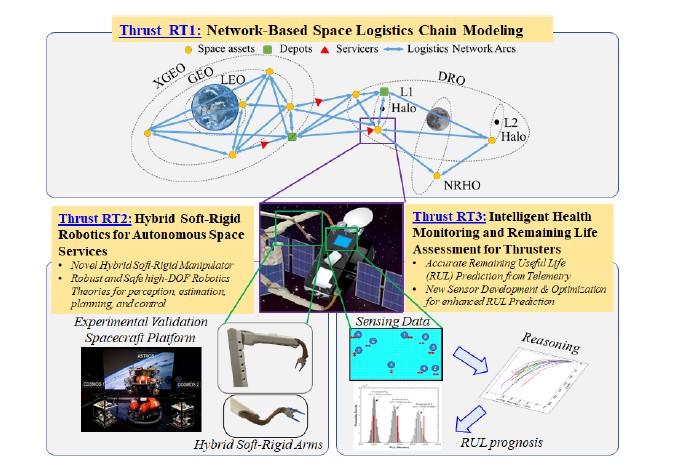 Space Logistics Ecosystem
AI Pit Crew
According to the proposal, the arm will have a unique hybrid concept that combines the accuracy and speed of rigid robotic arms with the adaptability and dexterity of soft robotic arms. The research team will delve into the design method for this innovative concept. They will also explore the associated robotics perception, estimation, planning, and control algorithms. Their primary objective is to develop a framework that can ensure robust and safe minimally invasive services for a wide range of spacecraft. This includes spacecraft that may exhibit high levels of uncertainty.
Each servicer will have multiple hybrid robotic arms. ATLAS will provide repair through the specialized arm that Tsiotras and the team will develop. Tsiotras is a senior leader in the space robotics field, with extensive experience working with DoD, NASA, and industry on dynamics and control of robotic systems. He is a member of the AIAA Space Robotics Technical Committee and the editor-in-chief of the Frontiers in Robotics and AI in Space Robotics.
Blank Space (small)
(text and background only visible when logged in)
Time for a Thruster Check
The proposal's third component focuses on monitoring satellites' thrusters through new and improved sensor technology. 
"It is important for us to know whether the thruster is still operating correctly. We need to know the remaining use life of the thruster. If the thruster's life limit is approaching, refueling doesn't make sense. So, we are trying to develop a way to predict the remaining useful life of thrusters."
All in all, the project aims to create a space logistics ecosystem that will make cis-lunar space exploration easier, more efficient, and more cost-effective.
"The project's research will also generate new fundamental knowledge in space logistics and mobility from multiple perspectives," Ho said.