NASA astronaut Yvonne Cagle lands in Atlanta to inspire the next generation.
Image
Georgia Tech Volunteers and Professor Stephen Ruffin, Director of the Georgia Space Grant Consortium
More than 55 Georgia Tech students volunteered for Space Day Atlanta during World Space Week to ignite interest in science, technology, engineering, and mathematics (STEM) for local K-12 children.
Atlanta University Center (AUC) hosted the event under the direction of Justin Ballenger, Ph.D., Assistant Professor of Morehouse College and Associate Director of Atlanta University Center's Data Science Initiative. Partner organizations for the event included the Hines Family Foundation, Georgia Space Grant Consortium, and Georgia Tech's Center for Education Integrating Science, Mathematics, and Computing (CEISMC). Norman "Storm" Robinson III, Ph.D. from CEISMC, and Ph.D. student Simeon Salia from the Daniel Guggenheim School of Aerospace Engineering (AE) organized Georgia Tech's participation.
"This event is important because we need to inspire the next generation of students to come and pursue STEM degrees, particularly in astronomy and aerospace engineering. As these fields continue to advance, we need a more skilled workforce to make new discoveries and perhaps to colonize planets in the future, as well as invent new technologies," Salia declared.
Image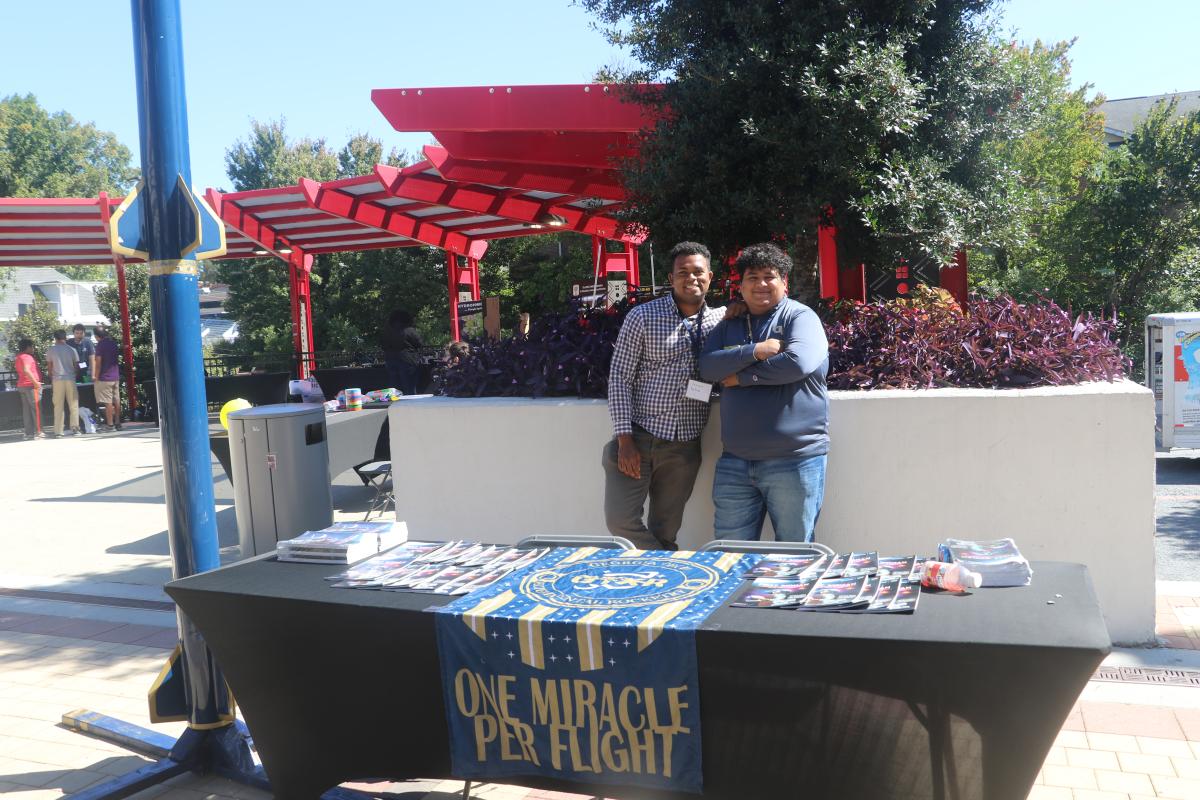 Simeon Salia and Michael Pena 
Image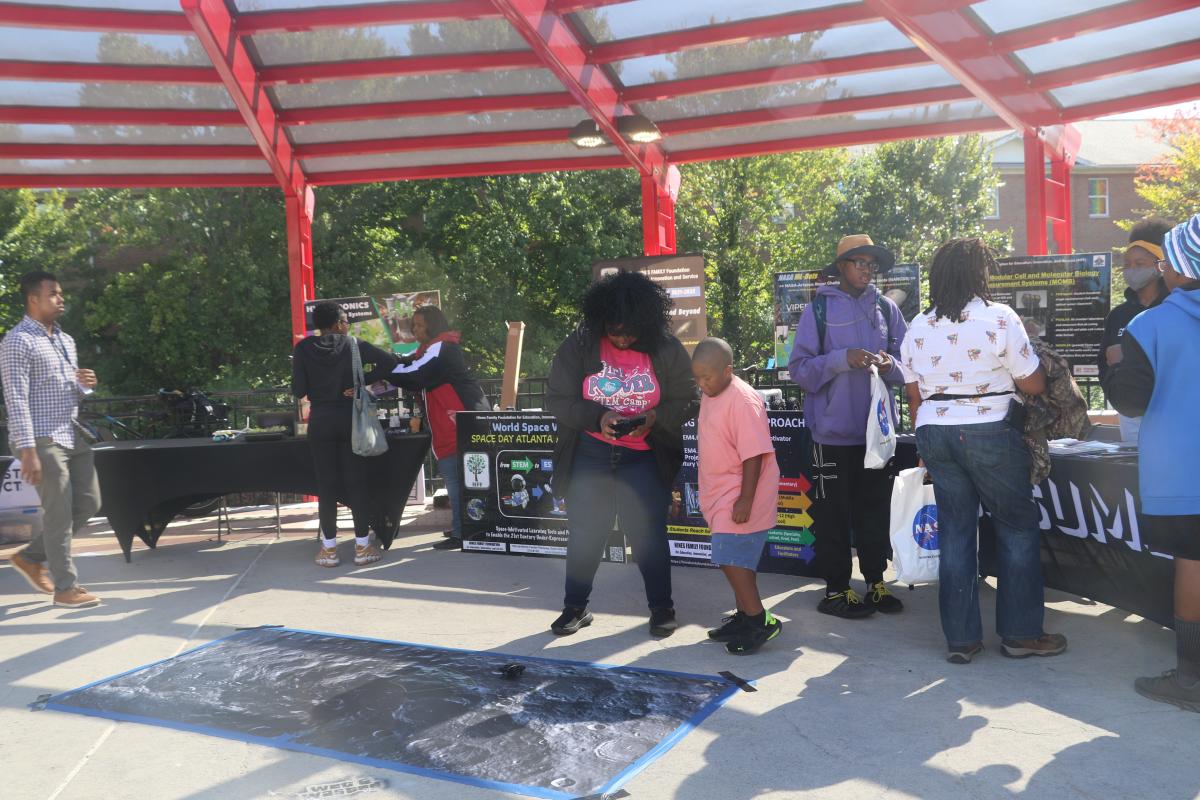 NASA astronaut Yvonne Cagle, Ph.D. gave the keynote address where she encouraged students to pursue their dreams. The physician's session was dynamic and interactive. She grabbed the audience's attention by informing them that DNA changes and the body adapts in space. She asked the future scientist to put their hands on their chests to locate their heartbeat; then she revealed that the heart floats in space and that you may be unable to feel it in the same place. She also explained that they would grow two inches taller in space because their spines would expand, but they would return to standard height once back on Earth.
Cagle shared her educational journey, including her experience in medical school and her thrilling tenure as a doctor for fighter pilots in the U.S. Air Force, where she served across the world. The astronaut also recounted her remarkable achievement of becoming a part of NASA's Astronaut Class of 1996 at the Johnson Space Center. Additionally, she emphasized the significance of mentorship, highlighting her mentor, the renowned mathematician Katherine Johnson, whose life was prominently featured in the film "Hidden Figures."
Image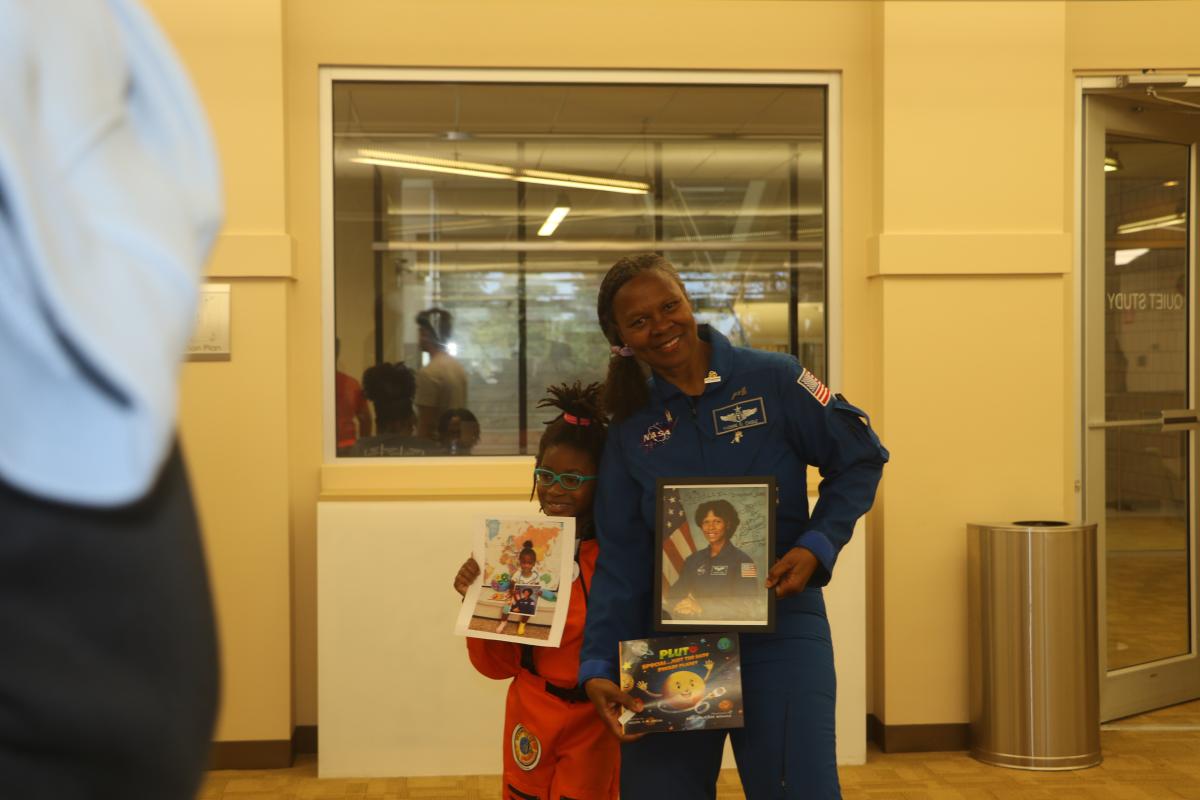 Astronaut Yvonne Cagle with student writer
Image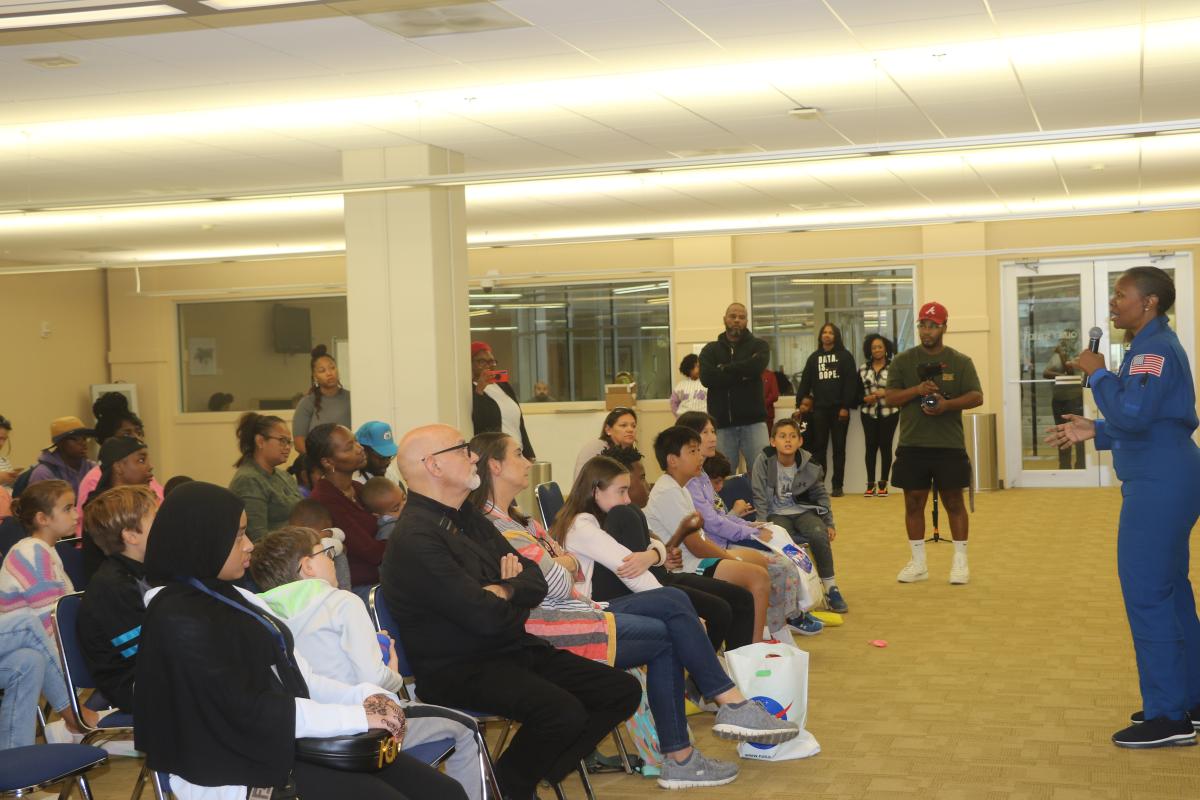 Yvonne Cagle speaking to group
Students Get Hands-On Experience 
Under the organization of Salia, Georgia Tech students commandeered booths stocked with experiments ranging from space origami to robotic demonstrations with rovers.
One of the most popular exhibits demonstrated how vacuums work in space by using a jar, marshmallows, and a vacuum pump to show students the effects of pressure. Students looked in amazement as the marshmallow grew with each pump and shrunk back when the jar was opened. Volunteers related the experiment to aerospace by explaining the importance of space suits and what could happen to an object if it was put in space-like conditions.
Another highly popular experiment was the balloon and straw exhibit, which effectively showed how rocket engines work. Students saw firsthand that when the air confined within a balloon was expelled through the open end, it propelled the balloon in a forward direction. The force exerted by the escaping air represented the "action," while the resulting forward motion of the balloon corresponded to the "reaction" as anticipated by Newton's Third Law of Motion.
"Seeing the attendees glow with curiosity and excitement about all the exhibits and activities was inspirational," Robinson said.
For the past two years, the 100 Scholars Robotic Alliance, has hosted a booth led by a high school student who aspires to attend Georgia Tech. The exhibit features rovers and rockets, and she enthusiastically details how they are built and how they function.
Image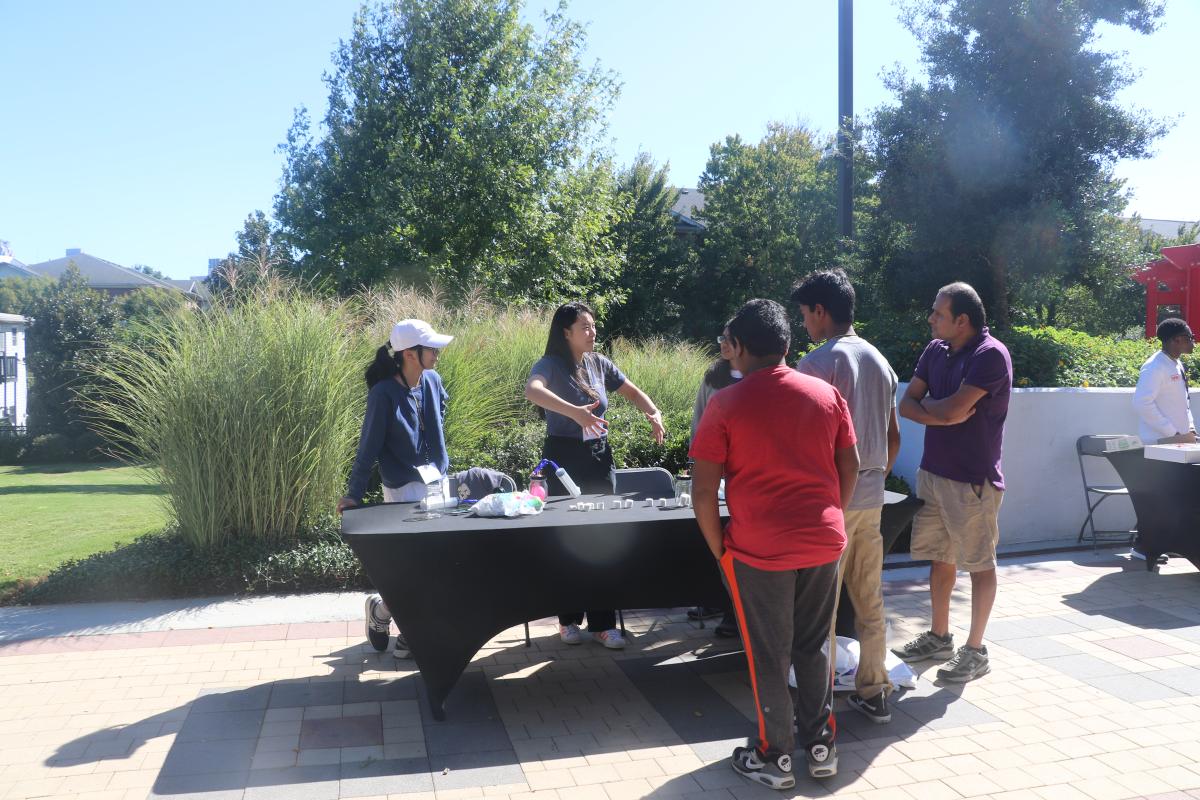 GT Volunteers explain the mason jar experiment
Image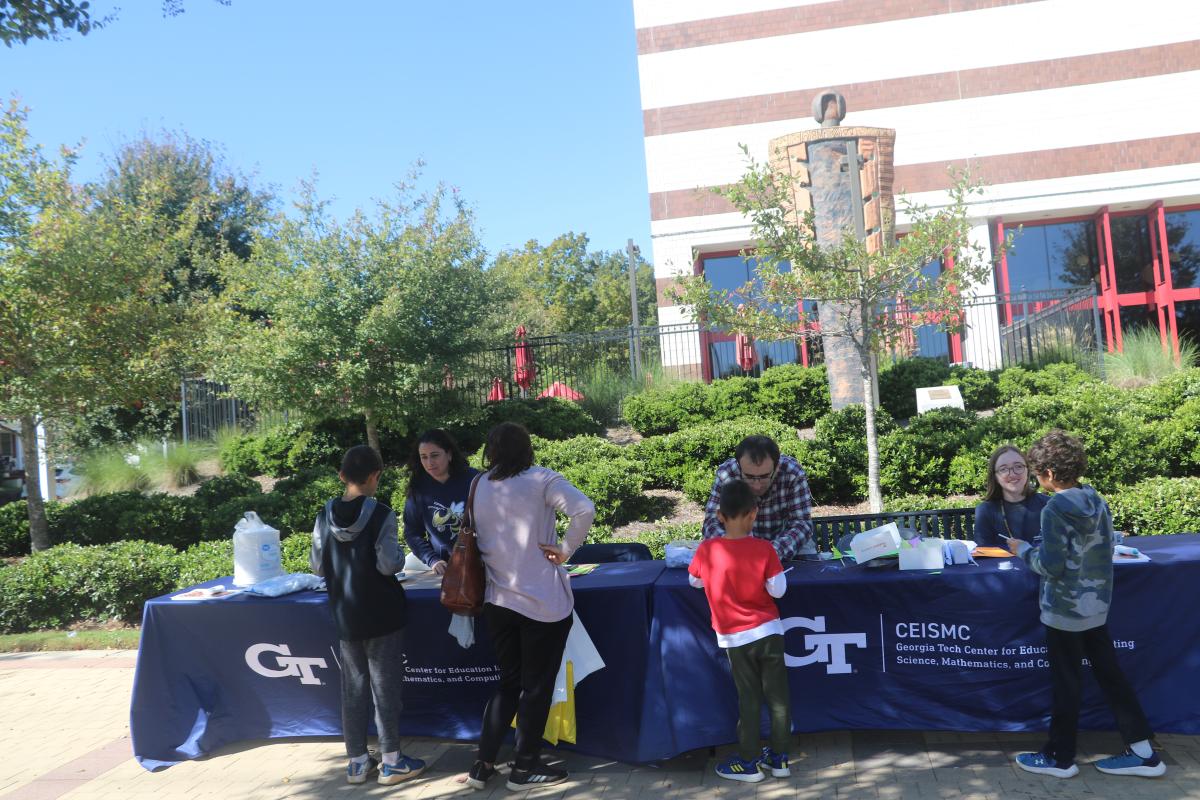 Students learning at the balloon straw exhibit
Georgia Tech Volunteers:
Arushi Agrawal, Mohammed Al-Mahrouqi, Fatmah  Alyammahi, Nourhen Amdouni, Katherine Anderson, Mehak Arora, Anupama Bagade, Haja Bah, Zack Barker, Isadora Bokas, Carlotta Bresciani, Jalen Cauley, Benjamin, CheeKarthik Chilakapati, Matthew Cooper, Leah Crespo, Sarah Dea, Lalitha Dhyaram, Paul Evans, Stephanie Fernandez, Tiana Fontejon, Caterina Fratta, Olivia Graham, Kenneth Grant, Khalil Harruna, Carolina Hau Loo, Enrique Iglesias de Cristobal, Aparnaa Iyer, Hyeonbi Jee, Ashley Jeong, Sillvya Jeyaseelan, Emma Johnson, Toi Kingsby, Femke Kovoor, Veena Krishnan, King Solomon Ladzekpo, Tam Le, Tobey Le, Jessica Lee, Emma Li, Niki Lu, Daniel Marquez, Zahra Mehtar, Lateefah Mutiu, Asante Ndlela, Gabriel Nixon, Michael Pena, Christie Peng, Isabelle Pinto, Owen Pollack, Lilian Qu, Avijeet Ranawat, Rohan Rathod, Shanmathi Selvamurugan, Brice Shearwood, Erin Taylor, Nia Thompson, and Alekhya Vemuri.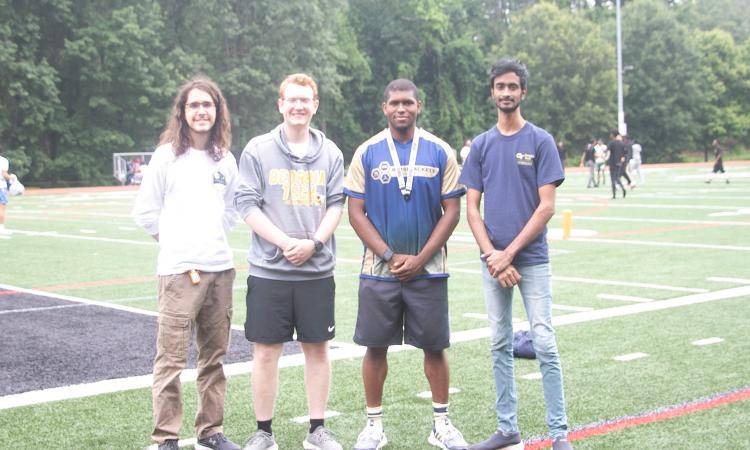 Three groups collaborate to open young minds to the wonders of engineering.