Image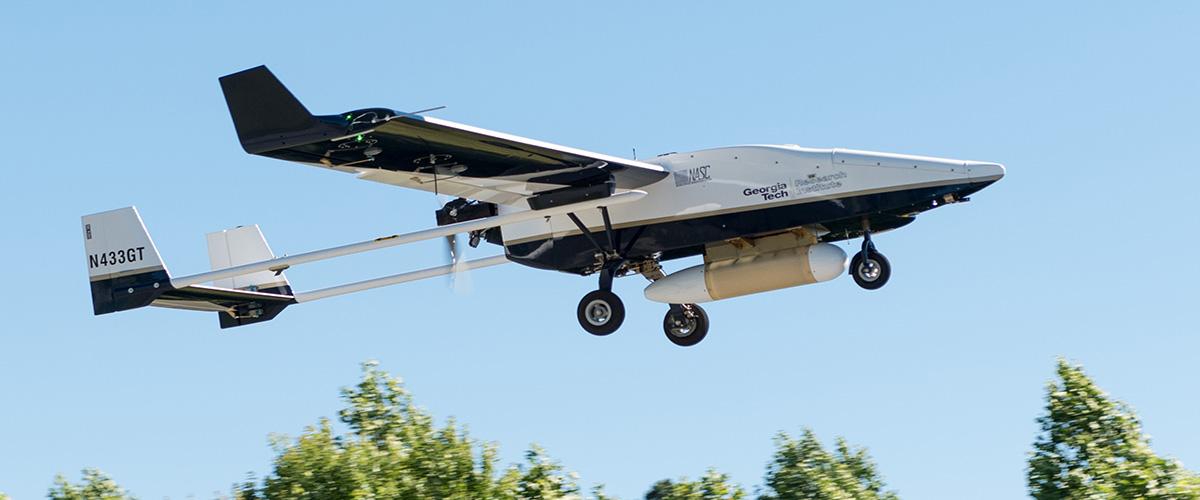 The MSAE Degree
The Master of Science in Aerospace Engineering (MSAE) program includes 33 credit-hours of coursework and research. Students may choose to earn an MSAE that includes a Master's Thesis or one that is designated Non-Thesis. High-achieving undergraduates who are considering applying to this program should review the AE Graduate Handbook for a complete description of MSAE degree requirements.
Requirements for Non-Thesis Master's Degrees
The Non-Thesis master's degree option requires students to earn 30 credit-hours from classwork, and three (3) credit-hours from the pursuit of a specialty research problem, to be determined with the academic advisor. At least 12 credit-hours must be from courses offered by the School of Aerospace Engineering. Distance Learning Program students are required to take the Non-Thesis option.
Requirements for the Thesis Master's Degree
The Thesis master's degree option requires students take 24 credit-hours of classwork and nine (9) credit-hours of research. MS thesis students may take no more than nine (9) credit-hours of non-AE classes. Students enrolled in this option should familiarize themselves with the thesis proposal and defense requirements that are outlined here. This option is not available to Distance Learning program students.
The chart and explanations, below, summarize the overall distribution of credit-hours that all MSAE students must follow.
MS Credit-hour Requirements
MS without Thesis
(33 cr. hr. total)
MS with Thesis
(33 cr. hr. total)
AE Graduate Seminar
AE 8002*
AE8002*
Formal Courses
(not including thesis, research AE 8900)
30
24
12
9
6
6
6
3

6000-level or above (minimum)

21
15
Research Coursework
3 

(AE 8900)

9 

(AE 7000)
Blank Space (medium)
(text and background only visible when logged in)
Interdisciplinary Master's Degrees
Georgia Tech offers several interdisciplinary degrees in addition to the MSAE. This option gives students an in-depth knowledge in multiple disciplines.
Master of Science in Computational Science & Engineering
The MSCSEprogram is an interdisciplinary program offered by the colleges of Computing, Engineering, and Sciences. Students develop knowledge, skills, and practices associated with the study of computer-based models of natural phenomena and engineered systems. Students will be required to obtain a breadth of knowledge across a set of core areas in the CSE discipline, depth of knowledge in a specific computational specialization (e.g., numerical computing), and knowledge to apply computational techniques in a domain of application.
Master of Science in Robotics
This 36 credit-hour, cohort-based program is a professional Master of Science in Robotics over four semesters designed to produce industry-ready engineers and scientists with the theoretical knowledge and practical skills needed to meet the challenges of rapidly growing interdisciplinary technologies in professional careers related to designing and developing robotics and automation solutions.
Blank Space (small)
(text and background only visible when logged in)
AE Certificate Programs
The Georgia Tech Astrobiology Graduate Certification Program

The 12-credit Astrobiology Graduate Certificate Program is a degree enhancer, not a stand-alone degree. The program is intended to expand opportunities for students in the interdisciplinary field of 'astrobiology,' and to forge innovative links between astrobiology research at Georgia Tech, mission technology, and science communication.

The Graduate Certificate in International Security and Aerospace Systems 

This 12 credit-hour certificate is offered through a collaboration between the Daniel Guggenheim School of Aerospace Engineering and the Sam Nunn School of International Affairs. The certificate is for graduate students and post-baccalaureate professionals studying on a non-degree basis. The interdisciplinary program exposes students to topics in international security, military gaming and modeling, and aerospace systems
Blank Space (small)
(text and background only visible when logged in)
Blank Space (medium)
(text and background only visible when logged in)