Vertical Flight Foundation Scholarships, Most Valuable Professor Award among the latest honors bestowed upon the AE community. 
2023 AE Senior Banquet, hosted by Sigma Gamma Tau
Most Valuable Professor
Professor Kelly Griendling received the coveted Most Valuable Professor award at the 2023 Sigma Gamma Tau Banquet held April 28 at the Georgia Tech Student Success Center.
Griendling is a lecturer in the AE School - a place she is familiar with being a Triple Yellow Jacket -primarily teaching undergraduate AE courses and leading the AE School's K-12 outreach programs. The comments that accompanied Griendling's nomination give a clear reason why AE students selected her for the honor. 
"she's very interactive and caring for her students, does an excellent job teaching the information in a way that is easy to understand and able to be easily retained."

"Dr. Griendling is very easy to talk to (in the classroom and outside) and is one of the happiest AE professors I've seen, and her happiness is contagious. She is a major part of AE K-12 Outreach and the Georgia Space Grant Consortium, and I've enjoyed working a little with her for volunteering events," said one graduating student."

"Dr. Griendling epitomizes a professor that works tirelessly to help students learn. Dr. Griendling fosters a classroom environment that focuses on enjoying the content and learning crucial skills in a practical and low stress way."
Image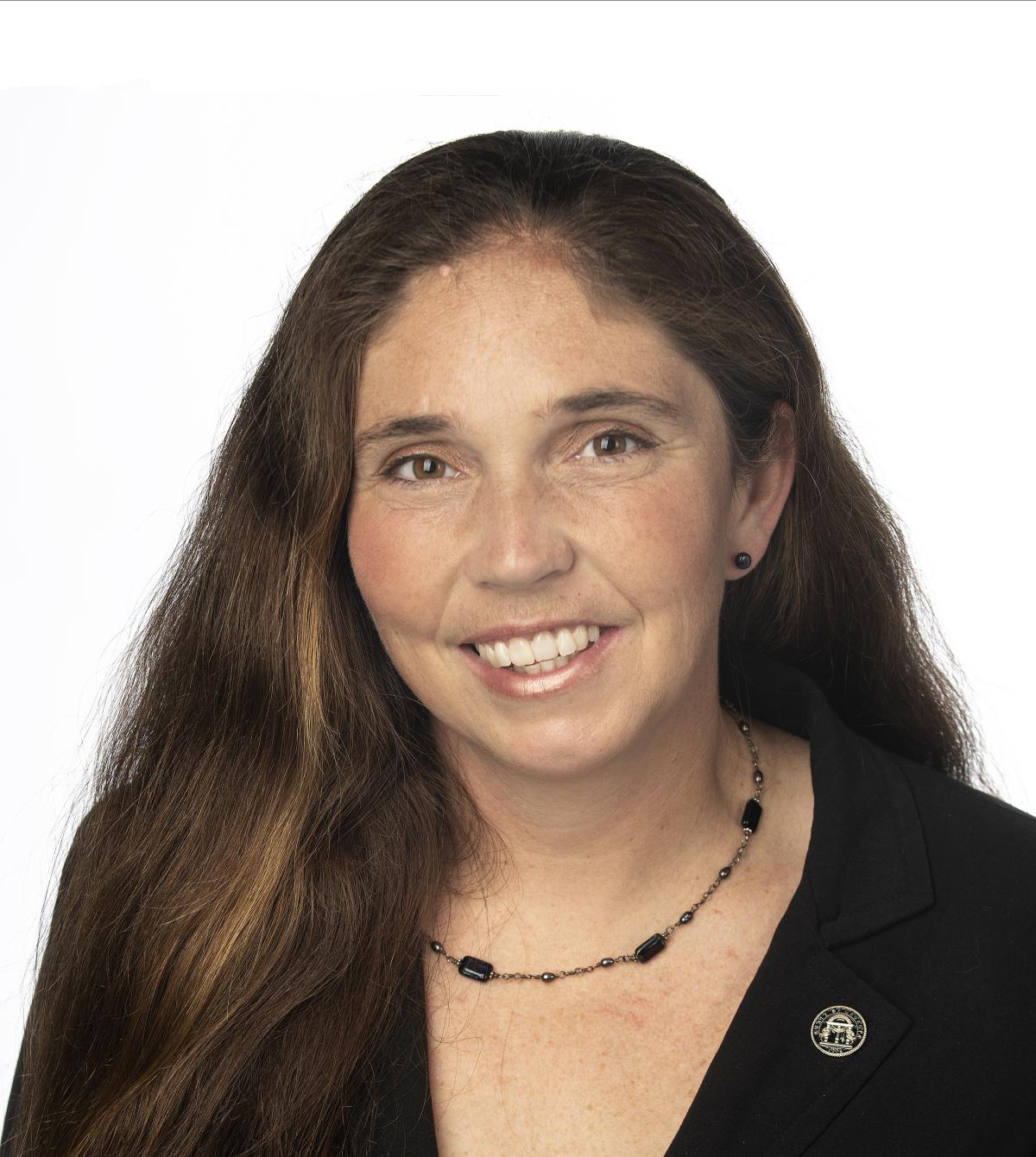 Blank Space (xlarge)
(text and background only visible when logged in)
Donnell W. Dutton Outstanding Senior in Aerospace Engineering Award
AE student Mollie Johnson has been awarded the Donnell W. Dutton Outstanding Senior in Aerospace Engineering Award. The $1,000 award honors a senior student who has attained high academic achievement within the Daniel Guggenheim School of Aerospace Engineering. Johnson works in the Space Systems Design Lab (SSDL) under Professor Glenn Lightsey, where she served on the Lunar Flashlight Research team and the Mission Operations team. SSDL facilitated the first undergraduate team to have ever commanded an interplanetary NASA spacecraft. She also worked on the LOTUS team, which is in the finals of the NASA Revolutionary Aerospace Systems Concepts-Academic Linkage (RASC-AL) Competition. Johnson will be working at the NASA Jet Propulsion Lab this summer in Pasadena, CA, and is assigned to the Near-Earth Object Surveyor Mission known as NEO Surveyor. After graduation she plans to pursue her master's degree in Aero Astro at MIT in the fall.
Image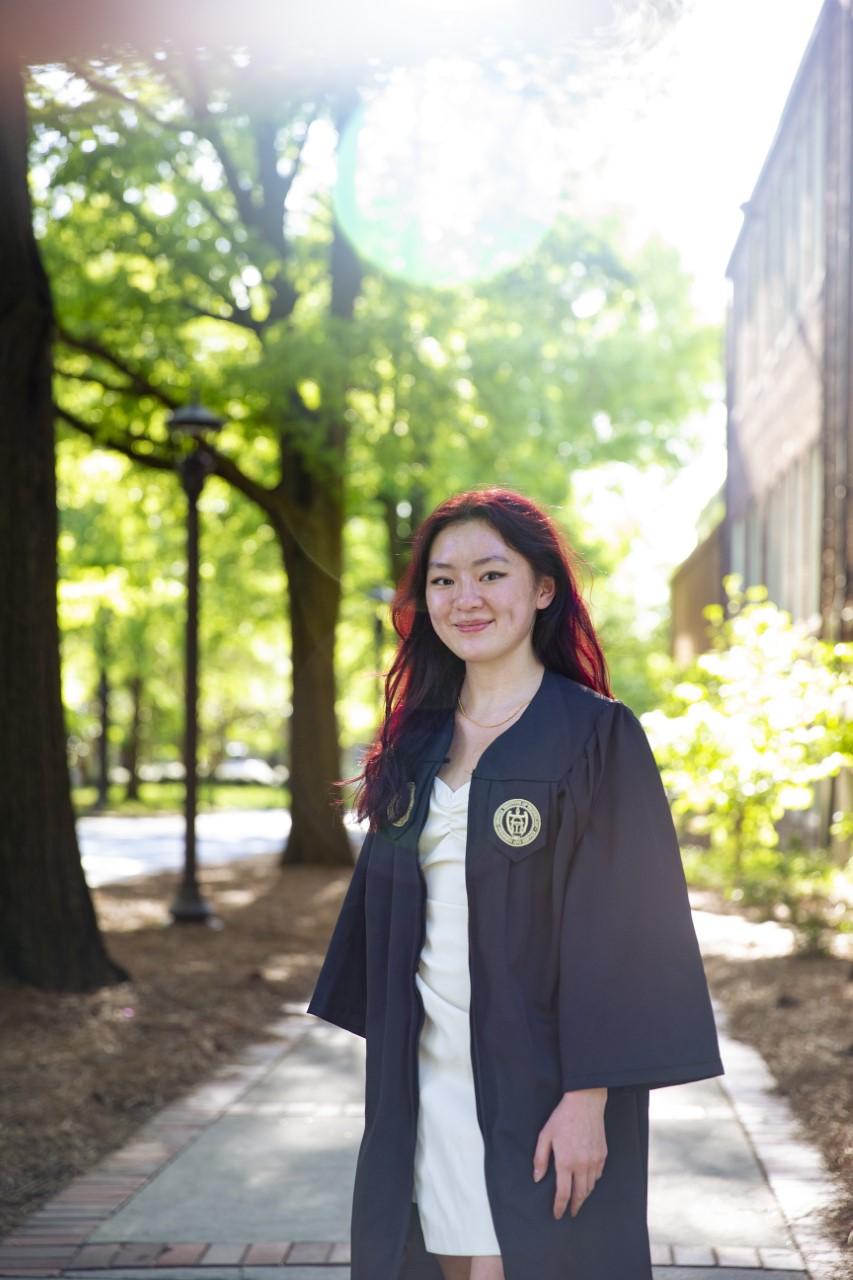 Aerospace Engineering Outstanding Senior Scholar Award
Satvik Kumar was awarded the Aerospace Engineering Outstanding Senior Scholar Award. Funded through an endowment established by former school chair Donnel W. Dutton, AE '40, the $1,000 award is given annually to the graduating student with highest cumulative GPA.
"I am honored and thankful to receive this award and am so glad to have achieved my dream," Since 5th grade," said the recent AE grad. "I have dreamt of pursuing a degree in aerospace engineering and it is such an honor that I will be graduating as one of the top students at one of the top aerospace schools."
Kumar shared his appreciation for the people who supported him throughout his undergraduate career.
"I have had a lot of mentors at Georgia Tech but I would definitely like to thank Prof. Jonathan Rogers, Samuel Kemp (PhD Student), Dr. Tejas Puranik, and Prof. Dimitri Mavris. They have been amazing research mentors and have helped me succeed doing research throughout my time at Georgia Tech."
Next, he plans on pursing his doctoral degree in aerospace engineering at California Institute of Technology.
Blank Space (medium)
(text and background only visible when logged in)
Image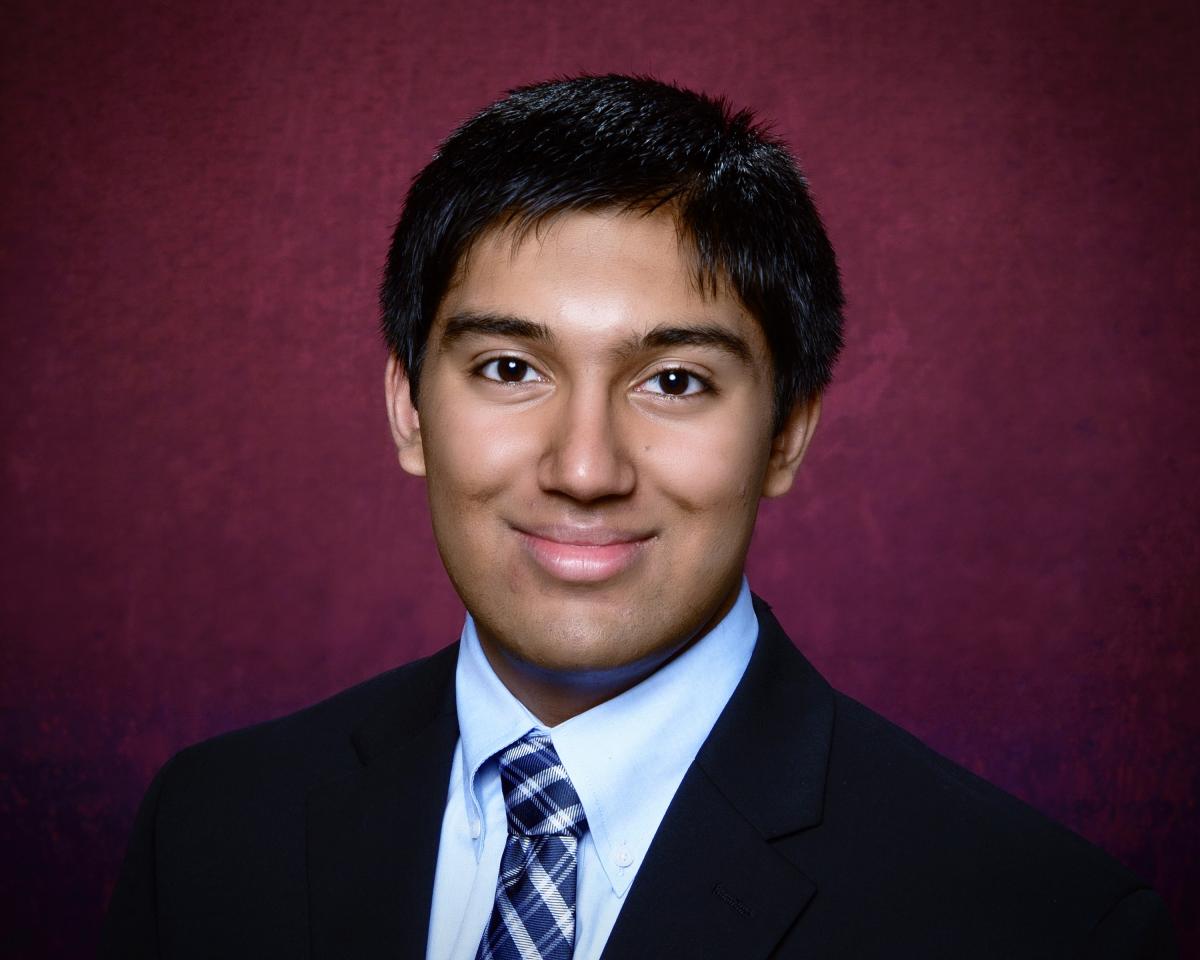 NASA Space Technology Graduate Research Opportunities (NSTGRO) Fellowship
Ph.D. student Logan Feld has received the NASA Space Technology Graduate Research Opportunities (NSTGRO) Fellowship with an award of up to $84,000. According to NASA, the fellowship is awarded to students who show potential to contribute to NASA's space goals of creating innovative new space technologies for the United States' science, exploration, and economic future. Feld works with the Space Systems Optimization group through the advisement of Professor Koki Ho. Feld's research includes work on control systems, orbital mechanics, trajectory optimization, hazard detection, machine/deep learning for aerospace applications, and navigation and mission design.
Blank Space (medium)
(text and background only visible when logged in)
Image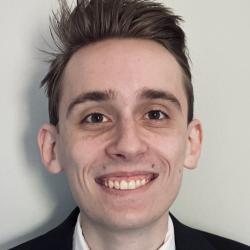 Goizueta Foundation Fellowship
AE doctoral student Marilyn Braojos Gutierrez has received Georgia Tech's Goizueta Foundation Fellowship. She will receive an annual stipend of $4,000 distributed for twelve months which is renewable for a second year. Braojos Gutierrez works in the Space Systems Design Laboratory (SSDL) under the advisement of Professor Glenn Lightsey. Her research interests include control systems, GNC, and robotics.
Blank Space (medium)
(text and background only visible when logged in)
Image
Marilyn Braojos Gutierrez
Astrobiology Fellowship
AE doctoral student Mohamed Nassif and AE undergraduate Colin Burnett were admitted into the Astrobiology Fellows group for 2023-2024. The Astrobiology Fellowship recognizes the work of those in the astrobiology community for their leadership and excellence. Each fellow will be awarded $4,000 as a graduate fellowship.
Nassif is a 5th year Ph.D. student in the Space Systems Design Lab (SSDL) under the advisement of Professor Brian Gunter. His research focuses on developing new mission architectures to enable low-cost exploration of icy moons/oceans worlds. Nassif also serves as an officer on the School of Aerospace Engineering Student Advisory Council (SAESAC).
Burnett is a graduating senior with a minor in Geophysics through the School of Earth and Atmospheric Sciences. After graduation, Colin will be continuing his studies through the BS/MS program as a Graduate Research Assistant in the Aerospace Systems Design Laboratory (ASDL).
Blank Space (medium)
(text and background only visible when logged in)
Image
Image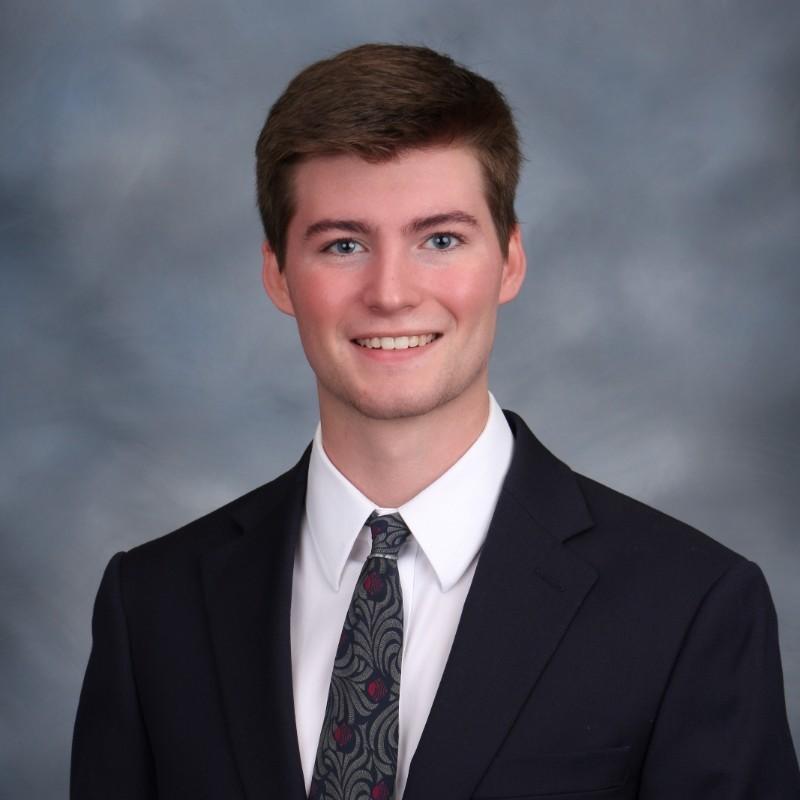 Vertical Flight Foundation (VFF) scholarships
Six Daniel Guggenheim School students have been awarded Vertical Flight Foundation (VFF) scholarships for their vertical flight research, totaling 28,000 dollars. Shreyas Ashok, Aishwerya Singh Gahlot, Eleni Sotiropoulos-Georgiopoulos, Brenden Oates, Audrey Putri Waliliong, and Zoelle Wong are among the 22 selected scholars who will be recognized during the Vertical Flight Society's Grand Awards Program to be held on May 18 in West Palm Beach, Florida.
Shreyas Ashok 
Ashok is the recipient of the Dr. Frank Caradonna Scholarship, the $5,000 scholarship honors the beloved U.S. Army Emeritus Scientist who worked for 43 years at the NASA Ames Research Center in flight dynamics as a researcher and mentor. ­­
Ashok's college career began in mechanical engineering, but after taking an undergraduate fluid dynamics course, he discovered he wanted to study computational fluid dynamics (CFD) and aerodynamics in graduate school. Today, he is conducting rotorcraft aerodynamics and CFD research, primarily working on rotorcraft ship-deck landing simulations.
"Ship-deck landings are one of the toughest challenges for rotorcraft pilots because the interaction of the ship's air wake with the rotor inflow dynamics creates a chaotic, turbulent environment that is difficult to control," he explained. "Current simulation techniques do not adequately simulate these interactions; my research seeks to use fast, real-time CFD to model the interactional phenomena more accurately."
Image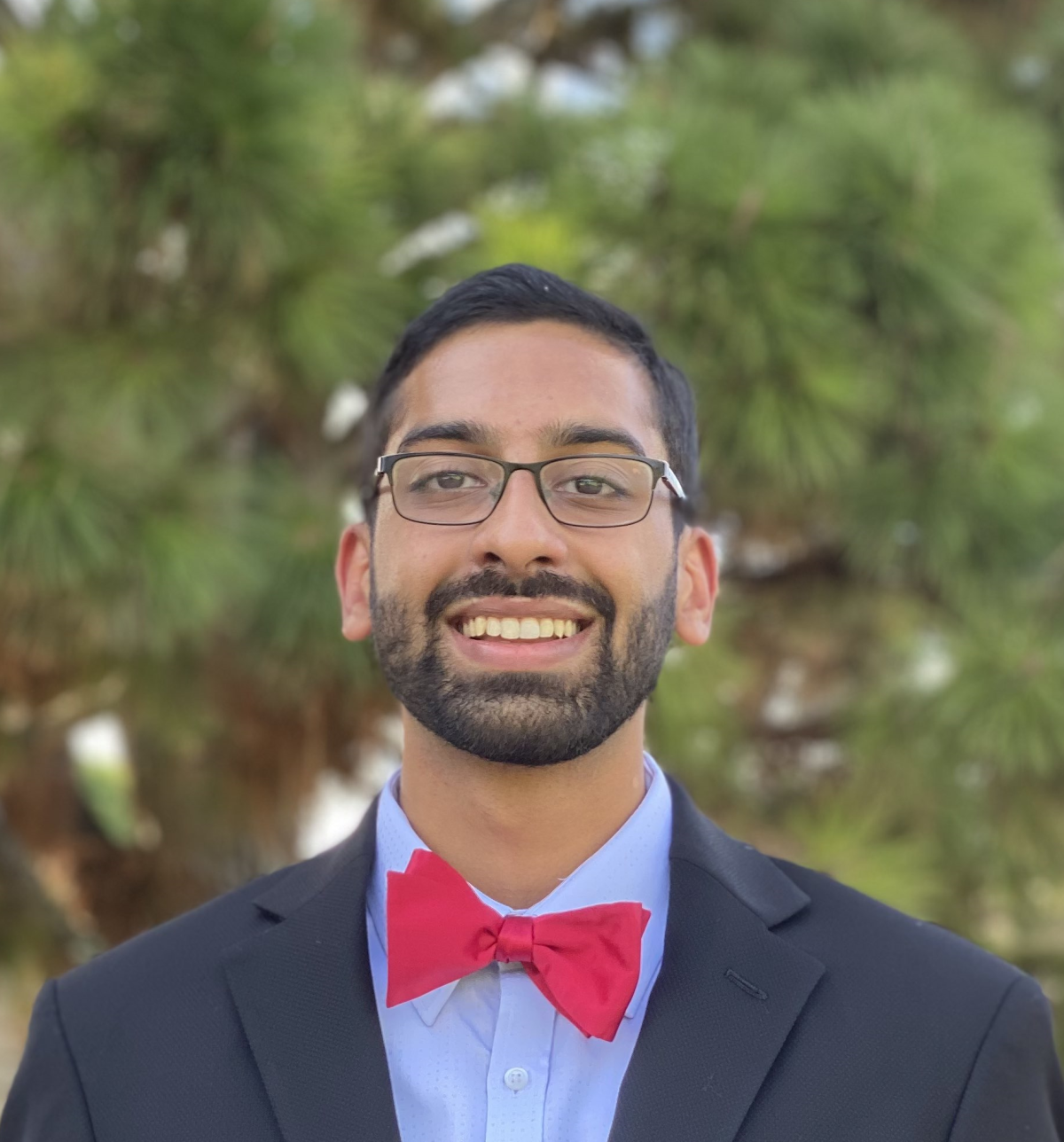 Gahlot is the recipient of the Jing Yen Scholarship for Cost Awareness award which is presented to a student who has demonstrated detailed interest and appreciation of the importance of affordability and how it might be improved within the vertical flight community. The $6,000 award honors the former director of flight technology at Bell Helicopter.
Her doctoral research focuses on aerodynamic modeling of air mobility configurations under rain and icing conditions, with the goal of improving the reliability and safety of urban air mobility systems. This area of research is becoming increasingly important as air mobility systems are seen as a key solution to the challenges of modern urban transportation.
"Receiving this scholarship is a tremendous honor, and I am extremely grateful for it. I am also deeply grateful to my mother, who has been my biggest motivator and source of inspiration throughout my academic journey," she said. "Overall, receiving this scholarship has been a humbling and inspiring experience, and I am excited to see where this opportunity will take me in my future academic and professional pursuits."
Image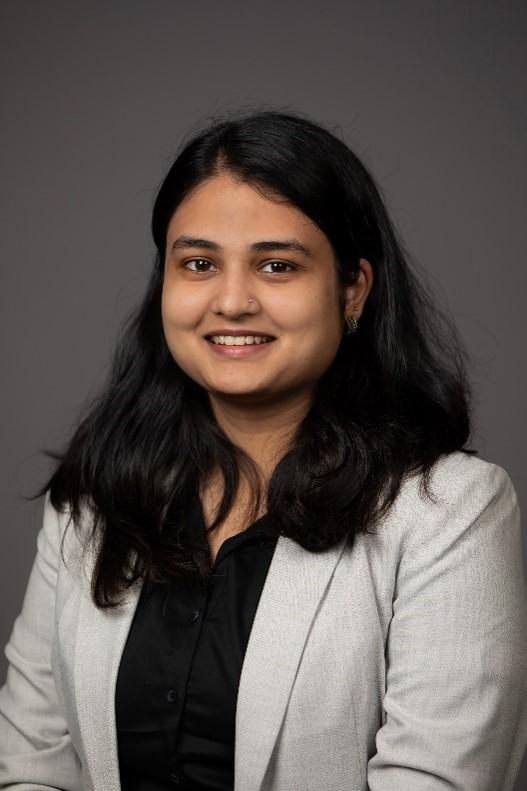 Brenden Oates
Oates is the recipient of the Dr. Dewey H. Hodges Scholarship, the $4,000 scholarship honors the beloved Georgia Tech professor, decorated engineer, and one of the foremost aerospace researchers of his generation.
Oates received his undergraduate degree in aerospace engineering from Georgia Tech in 2022 and continued his graduate studies because of the great personal and academic friendships and connections he built. As an undergrad, he joined the Nonlinear Computational Aeroelasticity Laboratory (NCAEL) and has continued his research there through graduate school. His research focuses on high-fidelity computational fluid dynamics of ship airwake interactions to enhance pilot training and safety as well as offer cost-effective solutions.
"I'd like to thank my advisor, Dr. Marilyn Smith, and my peers in Nonlinear Computational Aeroelasticity Lab (NCAEL) and Computational and Experimental Rotorcraft Engineering and Aerodynamics Laboratory (CEREAL) for the help and support throughout the application process," shared Oates.
Image
Eleni Sotiropoulos-Georgiopoulos
Sotiropoulos-Georgiopoulos is the recipient of the Dr. Robin Gray Scholarship, the $5,000 scholarship honors the beloved Georgia Tech professor who taught generations of students. She flew for the first time when she was 15 years old, and that experience ignited her passion for aircraft and showed her a brand-new career path.
As an undergraduate student in France at the Institut Supérieur de l'Aéronautique et de l'Espace (ISAE-SUPAERO), the oldest aerospace engineering school in the world, she was given the opportunity to pursue a double-degree with Georgia Tech.
"I naturally went for it since I had always hoped to study abroad, and I wanted to benefit from a different, more hands-on approach to topics I had already studied in France. But most of all, I was drawn by the opportunity to work as a research assistant in the Aerospace System Design Laboratory (ASDL)."
Today, she's a first-year Ph.D. student working on PEGASAS (Partnership to Enhance General Aviation Safety Accessibility and Sustainability), a project for the FAA working on vortex ring state (VRS) recovery techniques from the operational and aerodynamic perspective.
"The aim of this research is to mitigate VRS-related accidents, one of the most prominent causes of helicopter accidents resulting from a loss-of-control in flight in the US."
Image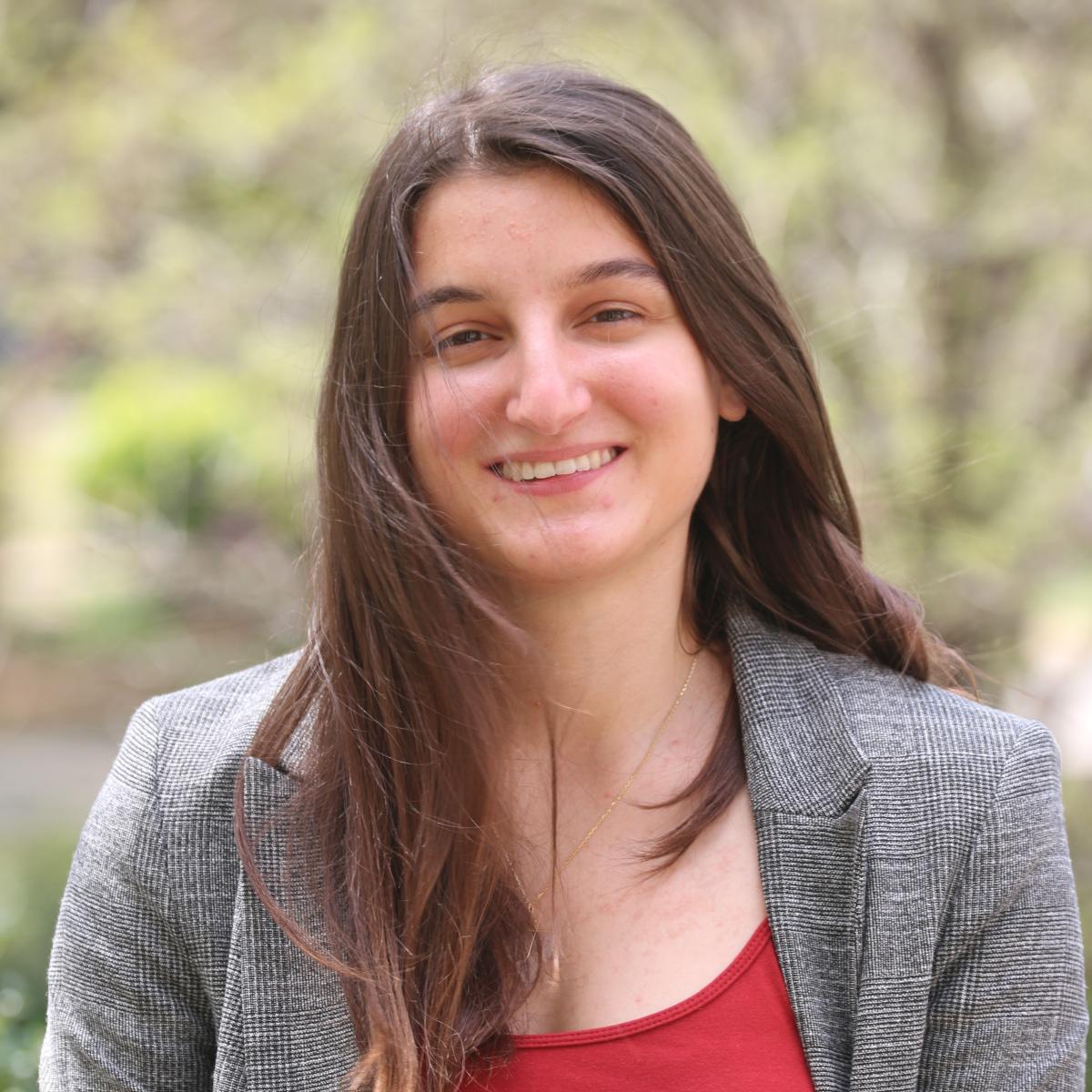 Eleni Sotiropoulos-Georgiopoulos
Audrey Putri Waliliong
Waliliong is the recipient of the Barry J. Baskett Scholarship, $4,000 scholarship honors the memory of a career U.S. Army engineer who led Aviation Engineering and later managed the Aviation Technology Base Program.
An a student in Indonesia, she chose to study aerospace engineering at Georgia Tech because of the variety of research areas offered and aerospace industry access. Her current research covers mission task elements and handling qualities for vertical take-off and landing (VTOL) of unpiloted aerial systems, which specifically covers how well a vehicle can be maneuvered.
"With the rise of autonomous vehicles, it is important to have updated performance metrics for this new technology," she shared. "I got involved with this research area because I was interested in rotorcraft, controls systems, and simulations, and initially found the lab through the AE student research opportunities webpage."
"I am truly grateful for the scholarship and the Vertical Flight Foundation for this opportunity. This has given me extra confidence in my place in this industry, especially as an international student," said Waliliong.
Image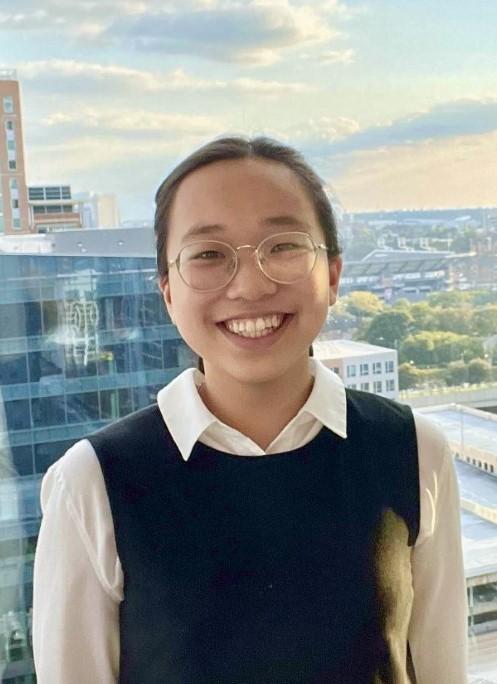 Zoelle Wong
Wong is the recipient of the Frank Robinson Scholarship, the $4,000 scholarship honors the accomplished rotorcraft expert and founder of Robinson Helicopter Corp. Wong's research focuses on CFD analysis in arc-quenching and plasma-assisted combustion and is currently working on an Advanced Research Projects Agency–Energy (ARPA-E) funded project to design eco-friendly substation grid circuit breaker nozzles.
"Through collaboration with the University of Wisconsin-Milwaukee, our goal is to reduce the carbon emission footprint of high-voltage circuit breakers by replacing sulfur hexafluoride, the industry standard arc-quenching medium, with supercritical carbon-dioxide," she explained.
The first-year Ph.D. student selected Georgia Tech because she fell in love with the Computational and Experimental Rotorcraft Engineering and Aerodynamics Laboratory's (CEREAL) community and culture and was excited to hear that the Guggenheim School had extensive involvement in fluid-structure-interactions and turbulence, an area she's passionate about.
Image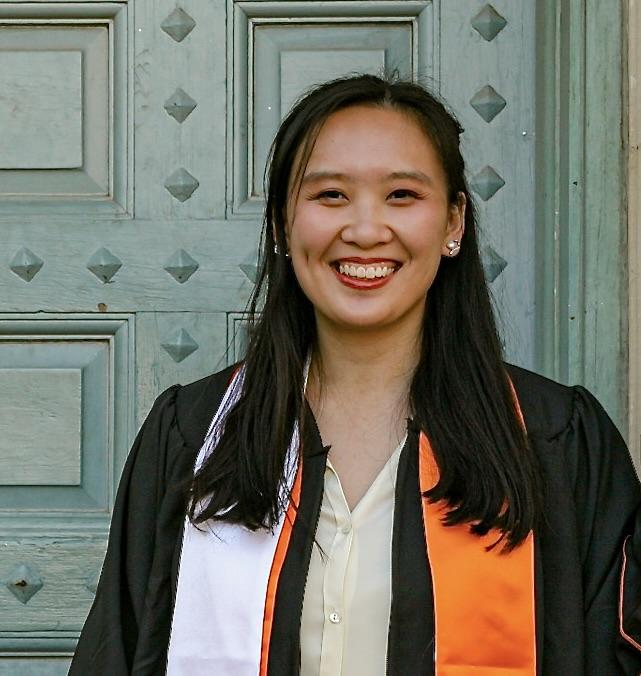 AE Students Honored for Academic Excellence at WIE Banquet
15 AE Students Receive Sponsored Scholarships
Fifteen aerospace engineering students were recognized with $15,000 in total scholarships at the 2023 Georgia Tech Women in Engineering (WIE) Banquet held on April 13 at the Georgia Tech Exhibition Hall.
Over $150,000 in scholarships were awarded overall. This year's banquet is the largest for the College of Engineering post-Covid and over 400 students, alumni, corporate partners, and leaders of the Institute gathered to acknowledge and honor the achievements of female engineering students who attained a cumulative GPA of 3.0 or higher. It is a celebratory event that recognizes the hard work and dedication of these students and provides them with a platform to showcase their accomplishments.
The mission of the Women in Engineering (WIE) program is to attract highly talented female students to pursue engineering majors and to support them in reaching their full potential as engineers and leaders.
Georgia Tech has been a national leader in producing female engineers, with the university graduating more women in this field than any other institution in the United States since 2009.
Boeing  $1,00 Scholarship
Suhanna Bamzai (sophomore), Hannah Fischer (freshman), Morgan Gregg (freshman), and Mollie Johnson (senior)
L3 Harris $1,000 Scholarship
Lindsey Chiu (junior), Sana Churi (freshman), Lauren Forcey (junior), Irelyn Meckley (junior), Jami Milliken (junior) Kylie Phelps (senior)
Cummins $1,000 Scholarship
Nyla Duhon (junior), and Jaffa Heryudono (sophomore)
Northrop Grumman $1,000 Scholarship
Madeline Barnes (sophomore)
Illumina $1,000 Scholarship
Sabrina Mayor (sophomore)
Blank Space (medium)
(text and background only visible when logged in)