The day-long event invites Atlanta area K-12 students for a day of STEM exploration and demonstrations.


Blast off! Space Day Atlanta will feature hands-on activities for aspiring K-12 scientists and engineers. Register now! 
---
The Daniel Guggenheim School of Aerospace Engineering at Georgia Tech will host Space Day Atlanta on October 9th as an effort to launch local K-12 students' interest in science, technology, engineering, and mathematics (STEM).  
The day-long event on campus, organized by NASA's Georgia Space Grant Consortium (GSGC), will allow local schoolchildren to see demonstrations of current aerospace research at Georgia Tech, as well as participate in various hands-on activities such as virtual flights to Mars and rocket building/launching.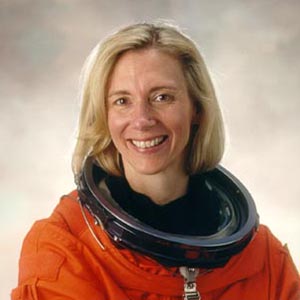 Susan Kilrain
"K-12 students are learning a lot of the fundamentals of math and science, but for them to really understand it well and get excited about it, they need to see applications of it," said Stephen Ruffin, professor in the Daniel Guggenheim School of Aerospace Engineering and GSGC director. "We're really thrilled to create more motivation for them to study their curriculum and get them excited about what their careers might hold and what they might major in college."
In addition to unpiloted aerial vehicle demonstrations and engaging activities with the Ramblin' Rocket Club (a student organization that builds rockets and launches them in collegiate competitions), visitors will have a chance to meet and hear from former NASA astronaut and Georgia Tech alumna Susan Kilrain (MSAE 1985).
"I love speaking with students, especially those from less than perfect situations," said Kilrain, who launched to space twice in 1997 and has spent nearly 20 days in orbit. "When I grew up in Georgia, we had very little money and my parents weren't very active in my life during those years. Obstacles just made me stronger and more determined to go after my dream of flying in space. My message to these students will be if I can become an astronaut, you can become anything you dream to be."
This is the first year that Georgia Tech will host Space Day Atlanta on its campus. The event is part of a week-long initiative called World Space Week, which will include a series of livestreams available to Atlanta Public Schools and other metro Atlanta schools. The videos will focus on different space themes that showcase viable pathways to successful and fulfilling careers in tech, science, and space.
The livestreams will also include presentations from astronauts and subject matter experts on space engineering and technology, space nutrition and food, space robotics, planetary science, and space fashion.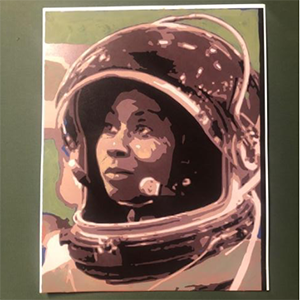 Rendering of the earthwork, featuring Stephanie Wilson
"It's all an effort to increase diversity in the STEM and STEAM pipeline in Georgia," said Ruffin.  "We're here in Atlanta, but Georgia Space Grant Consortium initiatives spread across the entire state of Georgia, urban and rural areas. About 40% of the students we engage with are underrepresented minorities and around 50% of our initiatives are directed towards women." World Space Week will end on October 11 (International Day of the Girl) with the unveiling of an earthwork in downtown Atlanta featuring current NASA Artemis astronaut Stephanie Wilson, the second African American woman to go into space. Her 42 days in space are the most of any female African American astronaut. 
The earthwork will be created in Woodruff Park by world renowned artist Stan Herd, using only organic materials. Atlanta Public School students will participate by creating artwork on individual tiles that will be brought together to form a frame around the earthwork. The project will be on public display for at least a week. 

--
More Information: 
The GSGC (funded by NASA and managed by Georgia Tech) is a statewide network of academic, industry, and non-profit partners dedicated to maximize the number of Georgia students from all backgrounds who are well-prepared in STEM fields and who are motivated to support space and aeronautics programs vital to the U.S. It includes 21 affiliate members and 10 partner organizations serving both metropolitan and rural areas of the state.
Georgia ranks 8th in U.S. aerospace industry employment with more than 800 aerospace companies with operations in Georgia, ranking 5th in the U.S. for aerospace exports. 
Related Links: